Gingerbread Men Cookie Garland
There's something about the Christmas season that just makes me want to bake things. You know what I mean? More than any other time of the year, Christmas is the time when I want to pull out my baking supplies and ingredients and make all the cookies!
And when I'm in a baking mood, I want my kitchen to feel like a cute little bakery. You know, the kind you picture in your head when you think of a perfect adorable bakery? No? That's just me? ????
Think of pretty glass jars filled to the top with cookies, and gorgeous gingerbread houses on display. Amazingly decorated sugar cookies and the best little gingerbread men in a cute Christmas tin!
This post contains affiliate links for your convenience. For more information, see my disclosures here.
Ok, so my kitchen isn't the pretty bakery of my dreams, but that doesn't mean I can't add some decorations to make it resemble one! So, I decided that my first baking project of the Christmas season was going to be making some gingerbread men. But these aren't just any gingerbread men, they actually aren't even edible!
What?! I know, what kind of bakery is this? They may not be edible, but they smell AMAZING and will last so much longer than real cookies. I thought that these cute little faux gingerbread cookies would make the perfect garland for my Christmas bakery kitchen. They are super easy to make and would be a really fun craft to make with little ones too!
When I was growing up, my mom, little sister and I used to make a ton of these as ornaments for our tree. I remember how they used to make the house smell while they were baking, and making them again brought back all those memories.
Gingerbread Men Cookie Garland
Materials:
Baking Supplies:
First, pre-heat your oven to 200 degrees F.
Start by making the super simple dough. In a mixing bowl, combine 2 cups of applesauce with 2 cups of ground cinnamon. Mix the ingredients together until they are well combined and a dough forms.
Lay out a piece of parchment paper on your work surface and turn out the dough onto the paper. The dough is going to be a little sticky.
Place another sheet of parchment paper on top of the dough to cover it.
Use a rolling pin to roll the dough out like regular cookie dough to your desired thickness. I have never been good at keeping the dough super even, but I think mine was about ¼" thick.
Once the dough is rolled out completely, remove the top piece of parchment paper. Then, use your cookie cutter to cut out shapes from the dough.
Once you have cut as many gingerbread men as you can, grab a straw and use it to make two holes in the hands of the men. This will be where the ribbon goes to string them together into a garland.
Now, it's time to transfer the cookies for baking. Line a baking sheet with parchment paper. I like to use these pre-cut pieces – they are the best for baking! Peel away the dough from the gingerbread men and carefully use a spatula to transfer them to the baking sheet.
Don't worry about jagged edges or making them look perfect, you will be able to fix the edges once they are fully cooked.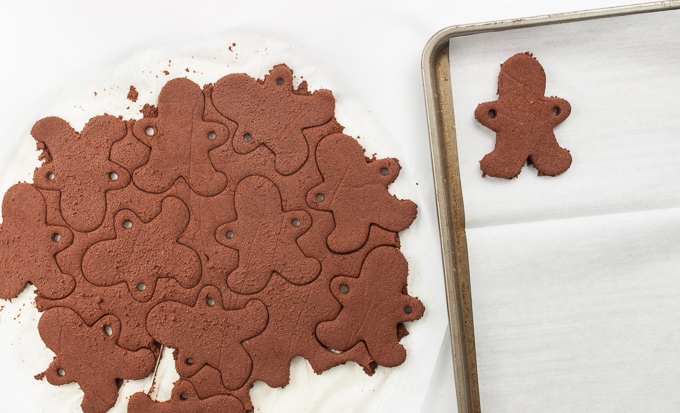 Once all of your gingerbread men are transferred to the baking sheet, re-roll the dough and cut more cookies until all of your dough is gone.
Put the cookies into the oven and set a timer for 2.5 hours. I know it's a long time, but while these are baking your house will smell amazing!
Once the cookies are done baking, remove them from the baking sheets and let them cool and completely dry. It's best to leave them overnight.

After the cookies are completely cooled and dried, take a piece of sandpaper and clean off all of the edges to get rid of the jagged pieces.
Now it's time to decorate the cookies! Outline each gingerbread man cookie with a thin layer of white puffy paint. You can add more features like faces or buttons, but I chose to keep my cookies looking simple.

Let the puffy paint dry completely until it is hard to the touch. This may take a few hours – I actually left mine overnight to make sure they were definitely dry.
Time to assemble your gingerbread men cookie garland. Cut a piece of ribbon to the length that you want for your garland. Working one cookie at a time, string each gingerbread man onto the ribbon leaving about an inch of ribbon between them.
Then you're done! Isn't this garland adorable? It's exactly what I would picture in my imaginary perfect Christmas bake shop! ????
I hung my garland by making a small loop on either end of the ribbon and attaching the loop to some Command hooks.
I love making these faux cookies because they look almost good enough to eat! But definitely do not eat these – they are only for decoration.
I am obsessed with how this project turned out, and I'm thinking about making a little mini gingerbread house ornament with this dough. How cute would that be? Check out this adorable cookie cutter that would make it easier than ever! All the baking possibilities.
Let me know if you make this garland too! I would love to see a picture of it in your home or on your Christmas tree. Well, I'm off to start baking some REAL cookies in my imaginary Christmas bakery!