Budget Friendly Fall Decor
Currently, I'm in the middle of decorating our home for fall. I know, it's kind of early to be decorating for fall. There aren't even pumpkins in the stores yet (to my frustration). But I am excited to make our home feel a little cozier and incorporate some aspects of my favorite season into our décor.
I've been browsing through the stores trying to find all the new arrivals for fall. There are some great fall décor items out right now, and I've been treating myself to some shopping time. As much as I love shopping for décor and seeing all the new things out for each season, I've still got to keep our budget in mind. I love decorating our home, but seasonal items like fall decorations are temporary décor. They aren't meant to be kept up all year, so I can't justify spending a ton of money on something that is only going to be out once a year.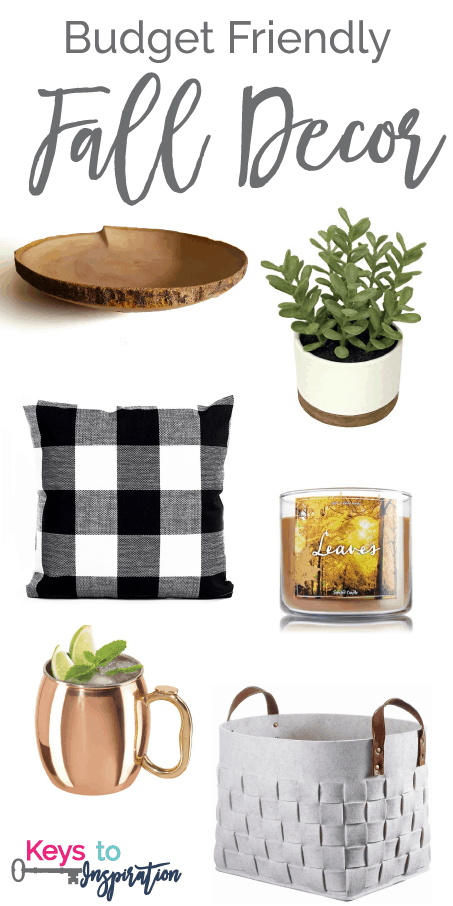 This post contains affiliate links for your convenience. For more information, see my disclosures here.
That's where my inner bargain hunter takes over. That's right, I'm a bargain hunter at heart. I love finding deals! I never pay full price for anything because I'm always looking for deals and coupons whenever I'm shopping.
So in an effort to stay within our budget, I've been trying to find some budget friendly fall décor items this year. And, do you know what the best part about searching for deals is? You can share the best deals with friends!
So, I wanted to pass along to you a few of the budget friendly items that I've found this year for fall. Here are the things that I'm loving this fall.

Natural Wooden Bowl
Adding wooden items into your décor adds a ton of warmth. The perfect addition for fall. This gorgeous wooden bowl would look great just about anywhere, but I'm picturing it filled with bright red apples in the kitchen.
Faux Succulent Planter
Greenery is a great way to add some life into your décor. This faux succulent planter is so cute and the neutral pot is perfect for fall.

Black and White Gingham Pillow
Nothing says fall to me like checked textiles. Switch out your pillow covers and add this gingham design into your living room. It adds the perfect touch of fall that fits into all types of décor styles.

Leaves Candle
My favorite scent for fall is definitely Leaves from Bath and Body Works. This candle will be burning all season long in your home and filling the air with the perfect fall aroma.

Copper Mugs
Fall décor takes cues from nature. The orange tones of the changing leaves complement copper so well. This set of copper mugs would look great with any fall décor and the metal finish is unique and eye-catching!
Gray Felt Basket
I had to include at least one gray item in my fall décor list. This gray felt basket is perfect for fall! You can use it to store just about anything, even those cozy warm throw blankets you'll be cuddling under.
I hope you enjoyed my budget friendly fall décor finds. I'm off to find some eucalyptus and pumpkins to finish off my fall décor.
Let me know what your favorite fall décor is this year. And, if you've found a deal on some fall décor, let me know! I'm always excited to save some money.