Best Fall Bucket List Family Ideas: Free Printable
Fun Things to Do in Autumn
Fall is the perfect time for family fun, and creating a fall bucket list is a great way to make the most of this beautiful season.
Fall is definitely my favorite season of the year. Every year, I like to create a fall bucket list. It's a fun way to keep track of all of my favorite fall activities.
Whether you're enjoying the cooler weather, cozying up in your favorite sweater, or indulging in pumpkin-spiced treats, there are plenty of opportunities to create cherished memories with your loved ones.
To help you get started, I've put together a list of the best fall bucket list ideas for families, and the best part is, I've got a free printable to get you started!
Download the Free Fall Family Bucket List Printable
Ready to make this fall unforgettable? Download the free fall bucket list printable and start planning all of the fun fall activities.
With this fall bucket list in hand, you're all set to savor every moment of the season and create cherished memories with your family.
Personalize Your Fall Bucket List
While the free printable fall bucket list is a fantastic starting point, there are tons of additional activities and ideas to make your fall even more fun.
Feel free to add your own unique bucket list items that resonate with your family's preferences and interests.
The beauty of creating your fall bucket list is the flexibility to tailor it to your family's tastes and traditions.
Whether you're seeking outdoor escapades, festive celebrations, cozy indoor moments, or family traditions, we've got you covered. So, keep reading to discover a wide array of activities that will make this fall truly unforgettable for your family.
35+ Fall Bucket List Items for your Family
Outdoor Activities
As the leaves change colors and the temperatures drop, it's best to get outside and enjoy the natural beauty of autumn.
Fall is the perfect time for outdoor adventures. Explore new places and create lasting memories with these exciting activities:
Going on a Nature Hike
Take a nature walk through the vibrant fall foliage. Collect colorful leaves, acorns, and pinecones for fun fall crafts.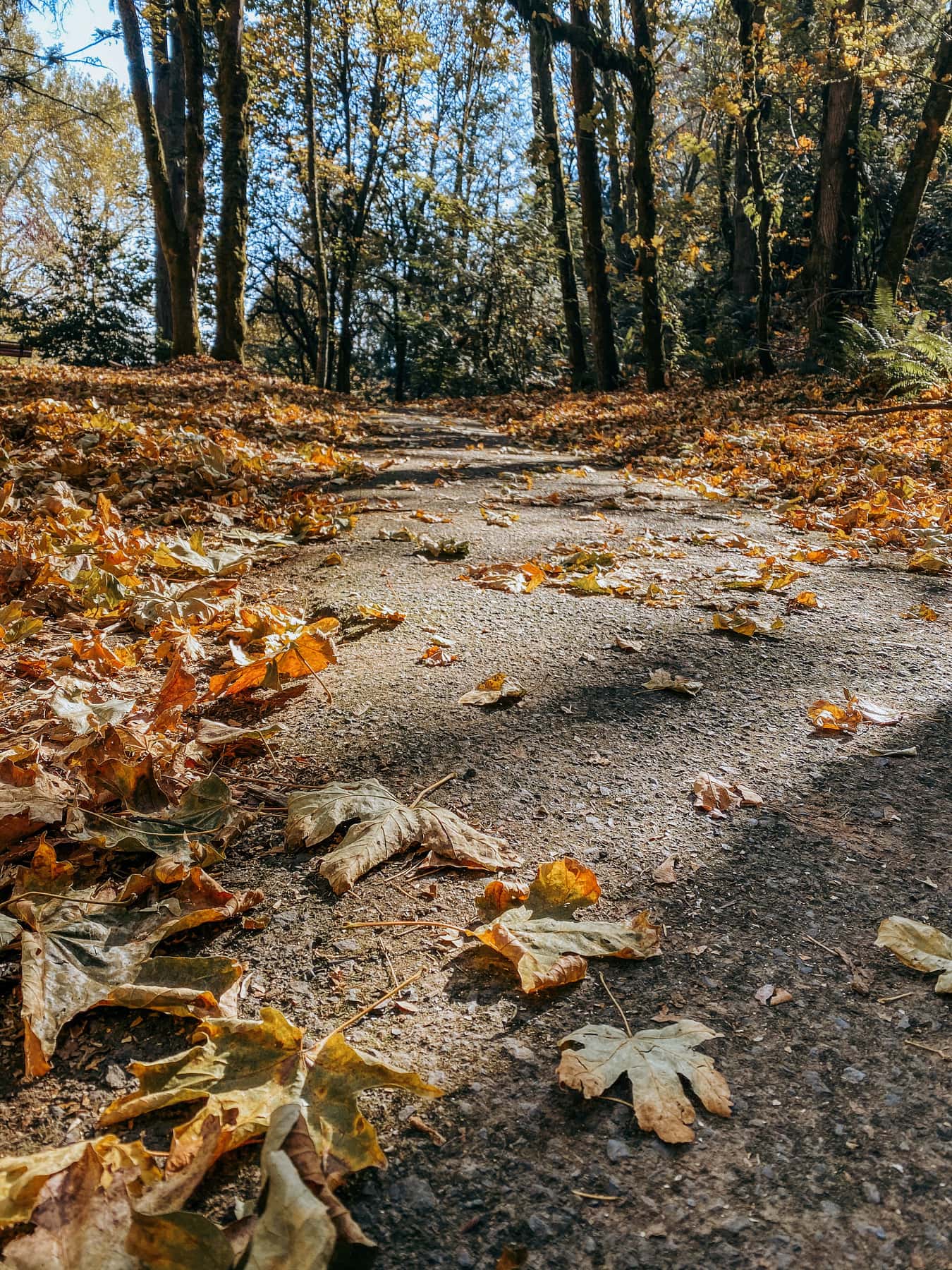 Playing in Piles of Leaves
Rake up a big pile of leaves in your yard and let the kids jump in. It's a classic autumn activity that's always a hit with the little ones.
Going for a Bike Ride
Enjoy the crisp fall air with a family bike ride. Explore your neighborhood or local trails and take in the scenic beauty of the season.
Scenic Drives to Admire Fall Foliage
Plan a scenic drive to witness the breathtaking fall colors that are beautiful this time of year. Pack a picnic and make it a day of adventure.
Stops at Local Orchards for Apple Picking
Visit a local apple orchard to pick apples, enjoy fresh apple cider, and indulge in caramel apples.
Host a Fall Picnic
Pack a basket with your favorite fall foods, such as sandwiches, apple slices, and cider. Find a scenic spot, lay out a cozy blanket, and have a picnic amidst the autumn beauty.
Attend a Football Game
Fall brings the excitement of football season. Whether you're a passionate fan or just enjoy the atmosphere of a game, attending a football match is a great way to spend a crisp fall afternoon or evening.
Open the Windows
One of the underrated joys of fall is being able to throw open your windows and let in the cool, fresh air. After a long summer of air conditioning, there's nothing quite like the cool weather that fall offers.
Enjoy the gentle breeze and the sound of rustling leaves as you bring the outside in.
Festive Fall Fun
Fall festivals and gatherings are a great way to embrace the season's spirit. Here are some fun activities for your family to enjoy:
Visiting Pumpkin Patches
There's nothing quite like wandering through a local farm's pumpkin patch to get into the fall spirit.
Pumpkin picking is a classic fall family event. Pick out the perfect pumpkins to decorate your home and carve into spooky jack-o'-lanterns.
Indulge in Pumpkin-Spiced Foods
The arrival of fall is synonymous with the return of everyone's favorite pumpkin-spiced treats.
From the famous pumpkin spice latte to muffins to pancakes, there's no shortage of pumpkin-flavored goodies to enjoy. Visit local bakeries or coffee shops, or try your hand at making your own pumpkin-spiced creations at home.
Attending Fall Festivals
Check out your local fall festival for carnival rides, games, and delicious autumn treats like caramel apples and funnel cakes.
Going to a Corn Maze
Navigate your way through a challenging corn maze—a perfect activity for families with older kids who enjoy puzzles.
Take a Hayride
One of the quintessential fall experiences is hopping on a hayride with your family.
Keep an eye out for pumpkin patches and apple orchards that offer hayrides. Many places include stops for picking your favorite fall goodies.
Have a Campfire and Roast Marshmallows
Gather around the fire pit in your backyard or at a local park for some marshmallow roasting fun. Don't forget to bring along the ingredients for s'mores!
Visit a Haunted House
If your family enjoys a good scare, explore a local haunted house or haunted trail. It's a thrilling way to get into the Halloween spirit.
Family Traditions
The fall season is all about creating cherished family traditions that everyone looks forward to year after year. Here are some heartwarming family activities to include in your fall traditions:
Carving Pumpkins
Gather the family to carve pumpkins into spooky or silly faces. Display them on your front porch for a festive touch to your home. You could even have a contest to see who carved the best pumpkins.
Roast Pumpkin Seeds
After carving your pumpkins, don't let those seeds go to waste! Roast them with your choice of seasonings for a crunchy, nutritious snack.
Baking Apple Pie
Get into the kitchen with the kids and bake a delicious apple pie using apples you picked at a local orchard. The aroma alone will make it feel like fall. Get the whole family involved in preparing and savoring this seasonal treat.
Baking a Homemade Pumpkin Pie
Fall and pumpkin pie are a match made in culinary heaven.
Gather your family for a fun baking session to create a classic pumpkin pie from scratch. It's a simple yet delightful fall baking tradition that everyone can take part in and enjoy.
Decorate for Fall
Transform your home into a cozy haven for fall by decorating. There's nothing like incorporating the colors, textures, and feelings of the season in your home.
I also love to put up a seasonal fall wreath on my front door.
See my fall home tours in the past to get lots of fall decorating ideas.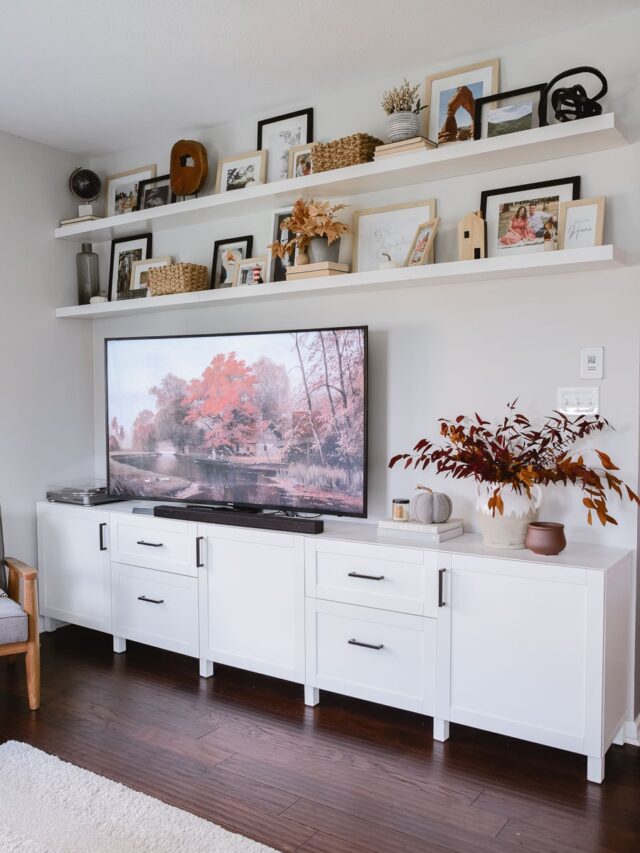 Capture the Essence of Fall with a Family Photoshoot
Autumn's vibrant colors and cozy atmosphere provide the perfect backdrop for classic fall family photos.
Fall is my favorite time to take yearly family photos. It's also a great way to get updated photos for your yearly Christmas cards.
The resulting photos will not only become cherished mementos but also beautifully encapsulate the essence of the season.
Watching a Favorite Autumn-Themed Movie
Cozy up in the living room with blankets and popcorn to watch a classic fall-themed movie like "Charlie Brown's The Great Pumpkin."
Enjoy a Scary Movie Night
As the nights grow longer, embrace the spooky season by watching classic Halloween or scary movies together. Make it extra special with popcorn and cozy blankets.
Trick-or-Treating as a Family
Don't forget the best part of Halloween: trick-or-treating! Dress up in your spookiest, silliest, or most creative costumes, and hit the streets with your family.
Making a Thankful Tree
Create a thankful tree by collecting colorful fall leaves and writing what you're thankful for on them. Hang the leaves on branches in a vase for a beautiful decoration.
Cozy Indoor Activities
When the weather turns cooler, it's time to enjoy indoor activities that bring warmth and joy to your home. Here are some cozy indoor activities for your fall bucket list:
Making Caramel Apples
Gather the family in the kitchen to dip apples in caramel and decorate them with your favorite toppings.
Doing Fall Crafts
Get creative with fall-themed crafts. Try making wreaths, decorating pumpkins, or creating leaf rubbings. Choose your favorite fall craft and have some quality family time.
Create DIY Halloween Decor
Spend a crafty afternoon together making your own Halloween decorations. Craft paper ghosts, spooky garlands, and bat silhouettes to adorn your home.
Related: DIY Halloween Bat Decor
Making Homemade Apple Cider
One of the joys of fall is drinking apple cider. Whether you choose to make it on the stove or in a slow cooker, the aroma of simmering apples and spices will fill your home with the essence of autumn.
Sipping on Hot Chocolate
Nothing beats sipping on a steaming cup of hot chocolate on a chilly fall evening. Add marshmallows for extra coziness.
Participating in a Chili Cook-Off
Host a chili cook-off with family members or friends. Everyone can bring their unique chili recipes for a friendly competition.
Creating Leaf Rubbings
Collect leaves from your nature hike and make leaf rubbings using crayons and paper. It's a simple yet delightful activity for all ages.
Get Cozy on the Couch and Read a Book
As the evenings grow cooler, take advantage of the opportunity to snuggle up on the couch with your family and a good book.
Everyone can choose their favorite reads, grab a cozy blanket, and spend quality time lost in captivating stories.
Burn Fall Candles
Fall is the ideal time to infuse your home with the warm, inviting scents of autumn. Light up your favorite fall-scented candles and let their comforting fragrances fill the air.
I love the candles from Antique Candle Co. They are my go-to source for yummy fall candles.
Rock a Cozy Sweater
The arrival of fall means it's finally time to break out your favorite cozy sweaters. Whether you're lounging at home or venturing out, a cozy sweater adds an extra layer of warmth and style to your fall adventures.
Wrap Up in a Cozy Scarf
Accessorize your fall wardrobe with a cozy scarf. Whether you're heading out for a brisk walk or simply want to make a fashion statement, a cozy scarf is a versatile accessory for the season.
Create a Fall Playlist
Curate a family fall playlist filled with your favorite autumn tunes. Play it during car rides, while cooking, or during cozy evenings at home.
Final Thoughts About the Fall Family Bucket List
In conclusion, fall is undoubtedly the best season to spend quality time with your family, create wonderful memories, and check off your fall bucket list.
From outdoor adventures to cozy indoor activities and cherished traditions, there are countless ways to make this season special.
Don't forget to download the free printable fall bucket list for inspiration.
This ultimate fall bucket list is perfect for the autumn season. I hope that it has given you some new ideas for the best things to do this season.
Make the most of this beautiful season, and enjoy every moment with your loved ones. Happy fall!
More Fall Ideas
Autumn Bucket List Ideas for Your Family