Easy Upcycled Basket Planters
I've never really had good luck finding treasures at Goodwill. And, it kind of bugged me! I know that a lot of people can go there and find these amazing things and transform them into beautiful decor for their home. But, I've tried so many times in the past and can never seem to find something that will really fit into our home.
Is it weird that I'm a little jealous of the bloggers who can make decor for their home at Goodwill prices? I'm always amazed at what they can create. And, a little disappointed when I go to Goodwill and can't really figure out anything to make with what I find.
Take these baskets for example. One day over a year ago I happened to find these two baskets sitting on the shelves of my local Goodwill store.
They are technically planter baskets because they have a plastic liner on the inside of both. At $3 a piece, I couldn't pass them up!
When I first saw them, I wanted to make them into decorative storage baskets for our living room. Once I got them home, I was stumped. They just didn't really seem like the type of basket to become a decorative storage basket. The wicker that they are made out of was hard and rigid. Not soft and flexible like a lot of decorative baskets are.
So instead of doing anything with them, they sat in a closet for over a year! And every time we tried to purge that closet, Ben would ask if we could just throw them away.
Every time I said "No! I want to make something out of them." But honestly, I thought I would never figure out how to use them. Afterall, I have a whole bin of failed Goodwill finds.
This year, I finally found a use for these Goodwill baskets! When I was trying to decorate our front porch for fall, I knew I was missing something — Flowers! And while I could have just bought some flowers and used the planters that they came in, I wanted to add a little more texture to the display.

So, I grabbed these baskets out of my Goodwill finds bin and decided to do a little upcycling. I turned these old and dated looking baskets into bright and modern basket planters! Let me show you how easy it was.
Easy Upcycled Basket Planters
This post contains affiliate links for your convenience. For more information, see my disclosures here.
Materials:
I started by cleaning off my baskets. Afterall, they were pretty dirty from sitting in the Goodwill store for a while. I took a stiff bristle scrub brush and some soap and water and just scrubbed the baskets down to get some of the dirt and dust off of them.
After they were cleaned and dried, it was time to paint them. Since these baskets were made out of a plastic-y rigid material, I knew that I would need a paint that would adhere to that surface. So, I reached for my jar of Fusion Mineral Paint in the color Pebble.
Fusion Mineral Paint is made for refinishing furniture. It's a one-coat paint that requires zero prep work and creates a beautiful matte finish. I've used it before on a few other projects like our game cabinet makeover and this DIY gather wooden sign.
It also adheres to just about any surface — hence the name "fusion." So I knew that it would be perfect for this type of application.
To paint the baskets, I just used a short angled paint brush that I had on hand and began to brush on the paint all over the baskets.
Because of the texture of the baskets, I had to apply some pressure and paint from different angles to get into all the gaps in the weaving.
This is how the baskets started to look after only one coat! The coverage of this paint is amazing! Bye bye old yellow-y baskets and hello pretty, modern baskets!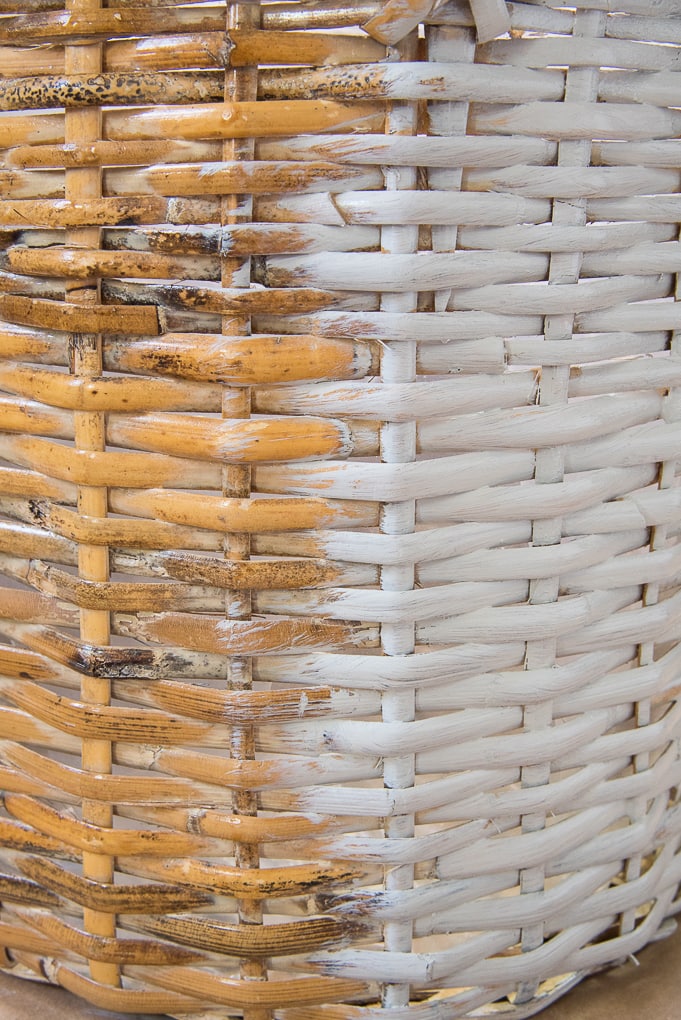 After I finished painting the sides, I applied a coat to the top rim and the handles.
Then I let everything dry and my baskets were ready to be used.
I love the color of the Pebble Fusion Mineral Paint. It's almost white but has some gray and brown undertones in it to give it some depth. It's the perfect bright gray!
Overall, I'm really happy with my first upcycle Goodwill project. It was super easy to completely transform these baskets from old and dated to bright and modern.
I think I may just have the confidence to tackle a future Goodwill upcycle project.
This pretty set of planter baskets was all ready for our porch. But, not before Widget had some time to hide behind them first!
Once I got them outside, they fit in perfectly with my fresh and modern fall decor!
So next time you are in Goodwill, be on the lookout for treasures like these baskets. It might not be evident at first, but after a little upcycling, those finds can fit right in with your home decor.