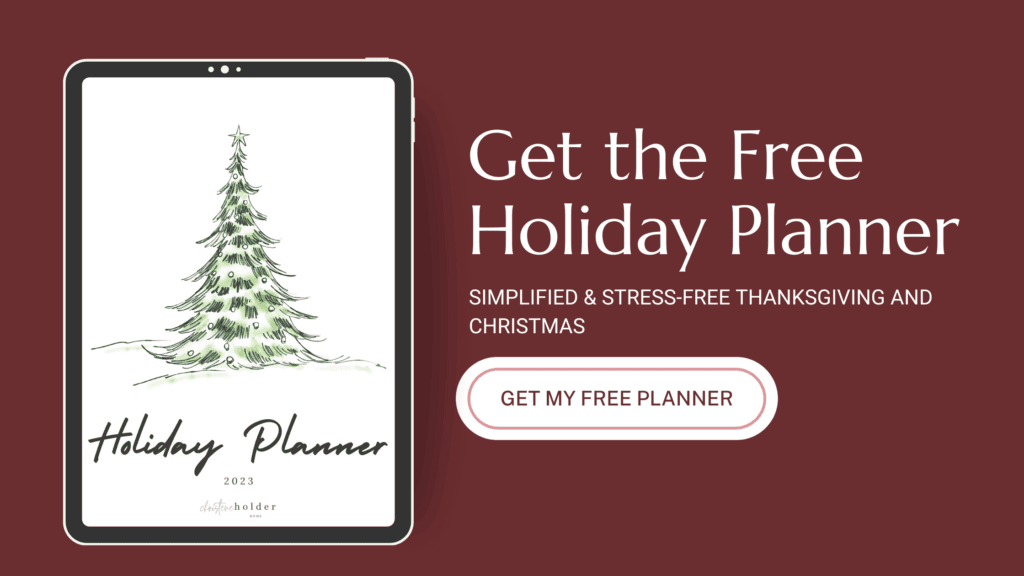 Blank bookshelves can be a little intimidating, right? You have all this open space to decorate, and no idea where to start!
At least, that's how I felt when I first put this gray bookshelf in our master bedroom. I knew that it would be perfect for this space. But with all of those empty shelves, I was a little nervous that I wouldn't be able to get the look I wanted.
When styling a bookshelf, you want it to look put together and intentional without looking too matchy and boring. You want balance, cohesiveness, and also a little bit of interest.
Since decorating our home is basically my hobby, I've had a little bit of practice styling shelves. But this bookshelf in our master bedroom was my biggest shelf decorating project yet.
I spent an afternoon decorating and adjusting until I came up with a decorating arrangement that I was really happy with. And in the process, I figured out some tips and tricks that I think will help you the next time you're faced with a bunch of empty shelves to decorate.
How to Style Bookshelves
Gather Items & Shop Your Home
The first thing that I did before I started trying to decorate was I gathered all of my decor items together in one place. I took a laundry basket and collected anything that I thought might work on the bookshelf. The idea is to gather more items than you think you will need.
When styling shelves, you don't have to go out and buy all new items. Shop around your own home and collect items from other areas of your home, or from storage that you aren't using.
And don't worry about getting the perfect items. Just grab whatever you can find because you will pair it down later in the process. Nothing is really a "wrong" item when it comes to your shelf decor. So, try out new and unexpected things. You'll never know if it will work or not without trying.
Use a Variety of Different Items
To get that collected and interesting look for your bookshelves, you will want to have a variety of different items. Think beyond books here and try to get a mix of large and small items.
Here are some of my favorite shelf decorating items:
Bowls, Baskets, & Vases
Containers of all different types are always great items to use as shelf decor.
I love styling shelves with different bowls. Sometimes I leave them empty and other times I'll fill them with another item.
Vases make it easy to add height and dimension to bookshelves. They also look great grouped together.
Baskets are also great shelf decorating items. And, if your shelves need to be double as functional storage, baskets are the perfect addition.
Photos & Artwork
Photos are a great way to add a personal touch to your shelf decor. I normally try to stick with framed photos in a variety of different sizes.
Artwork is another great way to add height to bookshelves. Different pieces of art can be layered behind other items to add dimension.
Natural Elements
Natural elements like plants, wood tones, and woven items add warmth and a casual feel to a styled bookshelf. Try to incorporate a few different items with a natural feel to bring life into your decor.
Make sure you pay attention to textures when choosing your items. You want to get a variety of different textures to add interest and contribute to the overall collected feel.
Books
Ok, I know I said to think outside of just books. But, books also work as great decorative items. I just like to use them in smaller quantities when I'm styling a bookshelf. Try to find hardcover books for a classic look.
I found these books at Goodwill for $0.50 each! I tried to look for books that had good spines and a fairly neutral look to them. And since I was just going to be using them for decorating, I wasn't really concerned about the content of the books.
Place Large Items First
After you've collected a bunch of items for the bookshelf, it's time to start arranging.
Part of styling bookshelves is a lot of trial and error. I always start by adding the largest items first where I think they will fit best.
For example, on this particular bookshelf, I added one of my favorite pieces — this amazing vase — to one of the large openings first. I knew that it would fit here the best and that I could add other items around it as I decorated.
I also placed this large woven basket in another large opening to fill the space without making it feel too cramped.
I knew that I wanted to incorporate these amazing gold wire baskets with the wooden tops somewhere. To balance the shelves, I decided to place them in opposite corners of the bookshelf.
Once the large items are in place, you can go back in and start adding medium sized items. Finish with the smallest items.
Group Items
As you are adding things to your shelves, try to group items together.
Groupings of items in odd numbers are the most visually pleasing. So, for the book groupings, I tried to have three books together instead of two.
Consider the different heights of items as you group them together. Try to vary the heights so that you have a grouping with visual interest.
For example, I grouped these two vases together on one side of the shelf. One is taller and one is shorter. Next to the vases, I have a picture frame that is a similar height to one of the vases, but I've placed it off to the side to visually separate the two.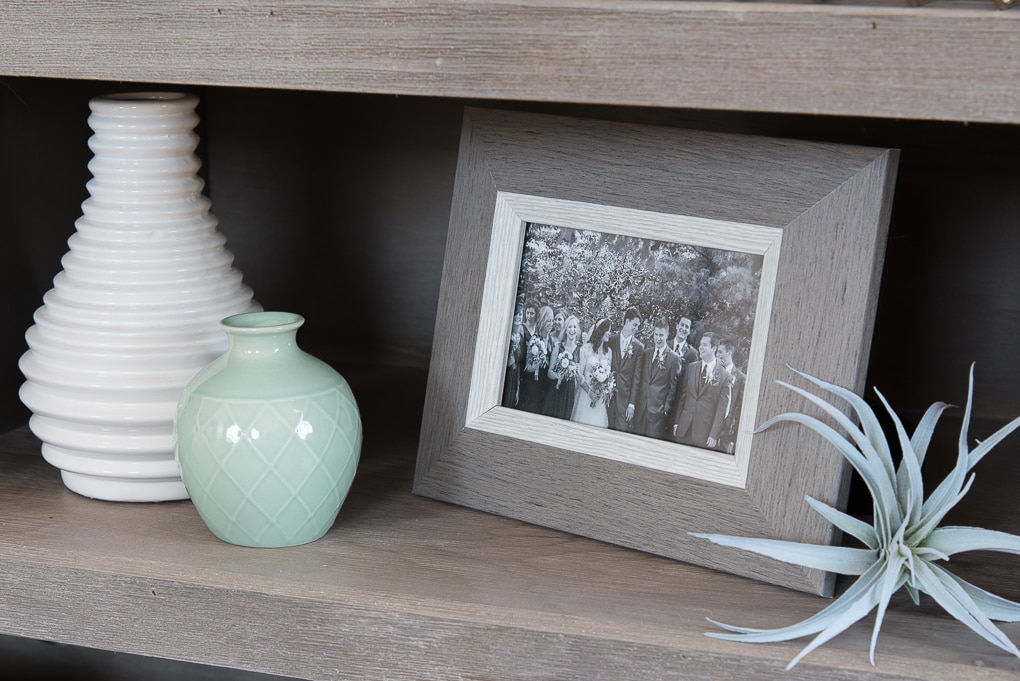 As you continue, try not to make all of your groupings exactly the same. You don't want your shelves to look too matchy. Instead, you want to have a variety of different groupings to create lots of interest.
Leave More White Space Than You Think
One of the key tips that I can give you when decorating bookshelves is to leave more "white space" than you think you should have. I think our natural tendency is to want to fill up the shelves as much as we can. We tend to think that more is better.
But, when it comes to decorating shelves, less is definitely better. It looks much prettier to have a few, intentionally placed items on your shelves than to cram them full of trinkets.
So, as you are decorating your bookshelves, try to leave some intentional blank space and gaps between your items. This will help your space feel more put together, clean, and more balanced overall.
Tweak and Adjust as You Go
Finally, decorating shelves is a process! No matter how many times you style shelves, it's never going to look right the first time you place items on your shelves. You will always need to tweak and adjust the placement and arrangement as you go.
That's part of the fun (I think) of decorating and styling shelves. You are discovering the look that you want as you go.
When I decorated these bookshelves in our master bedroom, I moved things around many MANY times before I got to the finished look that you are seeing in these pictures. And there is nothing wrong with that!
That's why you should always gather more decor items than you think you will need. Some of the items that I originally had on these shelves I moved four or five times, and then decided that they just didn't belong.
Let yourself try out different arrangements and groupings until you start to see something that works. It's ok to be imperfect as you go because that's how you style bookshelves!
So now that you've seen the finished product of my styled bookshelves, what do you think? I'm still playing around with the idea of adding something else to the top of the bookshelf.
I am kind of obsessed with these shelves right now. I had so much fun styling and decorating them. I think that they add so much to our master bedroom and make everything look more put together. And, they help to incorporate that relaxing, casual feel that I was going for in our master bedroom.
The master bedroom is getting closer and closer to being complete! Stay tuned for a few more projects and then later, the full room reveal!