How to Decorate Shelves in 5 Easy Steps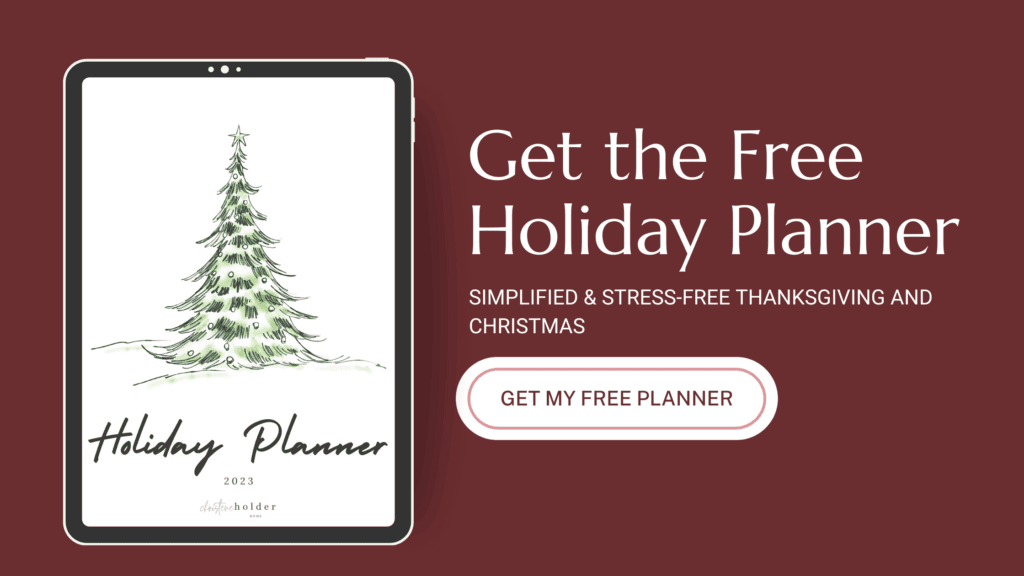 Does decorating and styling shelves seem intimidating? You can create beautifully decorated shelves in your home easily by following these easy steps.
Want more shelf styling ideas? Check out this styled bookshelf and these bathroom shelves.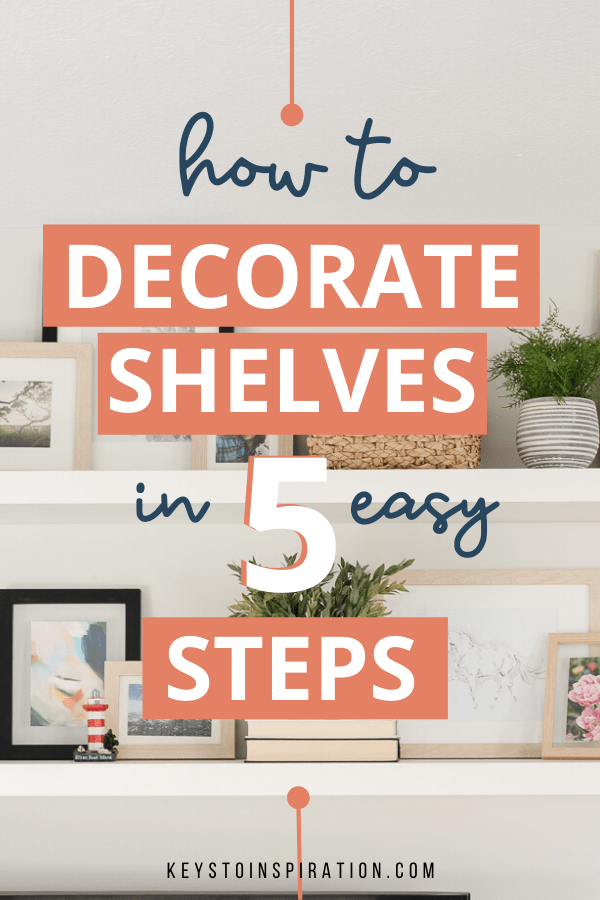 This post contains affiliate links for your convenience. For more information, see my disclosures here.
Do you have empty shelves in your home that you just don't know how to decorate?
It can be completely intimidating to try and decorate a large area of shelves from scratch. You want it to look pretty and put together. But, where do you even start? And how do you make it look intentional and not cluttered?
We recently added these beautiful floating shelves to our living room.
I was so excited to decorate them, but I was also a little nervous. After all, it's easy to feel like you're going to mess it up when you start with completely empty shelves.
Before you start trying to decorate shelves, you need a plan.
After decorating and styling lots of shelves in our home, I've come up with a simple process that helps me every time. And it makes decorating so much easier and less intimidating!
Black Frame (large), Black Frame (floating), Natural Frame (large), Natural Frame (medium), Natural Frame (small)
How to Decorate Shelves in 5 Easy Steps
Step 1 – Choose the Look
Before you start adding a bunch of items to your shelves, you first need to choose what kind of shelf look that you want.
A shelf look can be many different things.
Maybe you want your shelves to be full of books and just a few decorative objects. Or maybe you want the shelves to act as a gallery of photos and art.
Maybe you want your shelves to be mostly decorative objects, intentionally spaced out. Or, you might want a combination of some books, decorative objects, and a few pieces of art.
Think about the look that you want for your shelves. Decide what types of items will take up the majority of the space.
Black Frame (large), Black Frame (floating), Natural Frame (large), Natural Frame (medium), Natural Frame (small)
For my living room floating shelves, I wanted to create a gallery wall shelf look. I really wanted to display a bunch of family photos on the shelves. But, I didn't want the shelves to only have picture frames. Instead, I wanted a combination of pictures and decorative objects.
Step 2 – Gather More Items Than You Need
Once you've established the look for your shelves, it's time to start gathering items.
One thing that I've learned about styling and decorating shelves is that you should always gather more items than you think you will need.
Some of my favorite shelf styling items are:
Picture Frames

Art

Books

Baskets

Vases

Trays

Decorative Boxes

Candle Holders

Bookends

Small Figurines

Faux Plants & Flowers

Real Plants

Large Decorative Objects

Small Decorative Objects
Gather as many items as you can find that might work for your shelves. Don't think too hard or edit too much at this stage. Just collect anything from around your home that you think could work on a shelf.
Black Frame (large), Black Frame (floating), Natural Frame (large), Natural Frame (medium), Natural Frame (small)
You can also go shopping for shelf styling items, but be sure to keep the receipts in case you need to return anything.
You want to have a variety of options to choose from and to try out on the shelves.
Step 3 – Work from the Back Forward
Now it's time to actually start decorating your shelves.
The best way to start is to work from the back of the shelves and then move forward.
I like to start with the larger items on the back of the shelves. For my living room shelves, the larger items were the tall picture frames and large decorative objects.
I first placed all of the large frames along the back of the shelves. I also placed some of the large items like this wooden sculpture and this tall vase.
Next, I layered some medium and small frames in front of the large frames. I also added some medium sized decorative objects like baskets and books.
Finally, I added in the smallest items towards the front of the shelves. Personal items and mementos work great as small shelf decorations.
This tiny lighthouse was from our favorite vacation spot, Hilton Head Island. And it's also where we got engaged. I love displaying this on our shelves because it's pretty and has meaning for our family.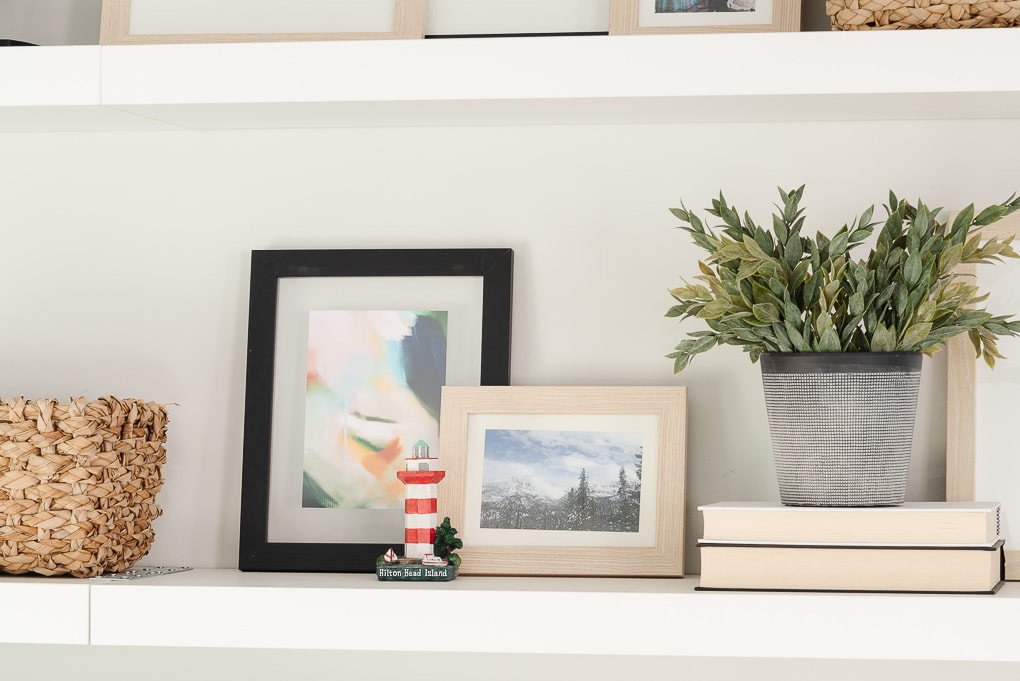 Working from the back of the shelves forward allows you to layer your decor and create depth.
Step 4 – Pay Attention to Balance
Balance is such an important part of decorating shelves. And it can be difficult to get this just right. When you are styling and decorating shelves, pay attention to how the items look visually.
Maybe your decor looks too heavy in one area. Or maybe there's a section that has almost nothing in it.
While you are decorating, be sure to step back and see if the shelves feel balanced. Do this a few times as you add decor and move things around. Stepping back and seeing the overall picture will help as you create balance.
Another helpful trick is to take a picture of your shelves with your phone. I don't know why, but there's something about looking at the photo that can help you see where things might be unbalanced.
If you need to fix the balance on your shelves, here are a few helpful tips:
Add height by stacking some books and adding a vase or decorative item on top of the stack.
Alternate the orientation of your picture frames. That way they aren't all vertical or all horizontal.

Keep visually heavy items on the ends of the shelves, like large boxes or vases.
Leave some white space so your shelves don't feel cluttered. It's ok to have some intentional empty space.
Step 5 – Edit and Adjust
It's going to take some time to figure out what items look best and where they should go on your shelves.
Give yourself some grace and just know that you will definitely need to re-arrange and move things around. No one gets shelf styling right on the first shot.
I always end up tweaking and adjusting items many times before I get an arrangement that I'm happy with.
That's why it's so helpful to have a bunch of different items available to use when you are styling and decorating.
You might end up completely scraping some of your original ideas and decorating with things you didn't think would work at the beginning.
Make time to re-arrange, re-decorate, and refine your shelves. Decorating is going to take some time and will be a process. But that doesn't mean you are doing anything wrong.
The more you practice, the better you will get at decorating your shelves.
Black Frame (large), Black Frame (floating), Natural Frame (large), Natural Frame (medium), Natural Frame (small)
I hope that these steps will help you with your next shelf decorating project.
Just remember to go with the flow, give yourself grace, and have fun!