What I got for Christmas 2015
Hello everyone! I hope you all had a very Merry Christmas and got to take some time off to relax. Thankfully this year I had a nice long break away from work to relax and see family. Our family had a wonderful Christmas this year celebrating the birth of our Savior. We enjoyed lots of food, movies, and good company.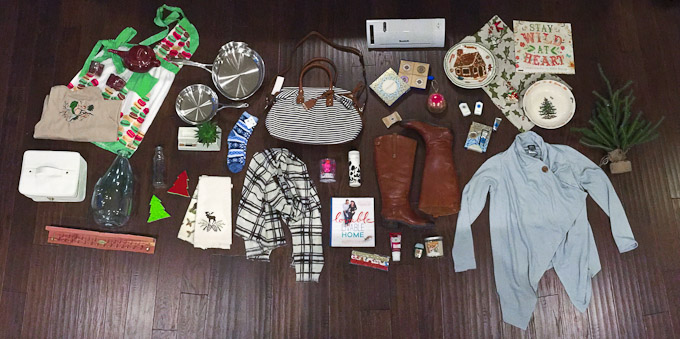 This year, I got some really thoughtful and generous gifts. I love being a little nosy and reading about what others get for Christmas. It gives me so many ideas for things that I could grab at an after Christmas sale or add to my future wish list. I also find out about so many products I haven't heard of before by reading reviews from others. I thought that I would share with you some of the things I received this Christmas. Hopefully you find some inspiration and ideas for Christmas next year!
This post contains affiliate links. For more information, see my disclosures here.
Aprons || Macy's (similar) and Handmade
I am always cooking dinners in our kitchen and a lot of times it can be messy. An apron is so nice to have on hand. My mom got me both of these really cute aprons and I think I will alternate them with the seasons. The Macaroon one is from Macy's. I think it's adorable and perfect for the spring and summer. The squirrel one was actually made by my mom and I think it's just the right style for the fall and winter.
Tea Set || Handmade
The beautiful tea set was handmade by my sister-in-law Jessie. It's amazing and I absolutely love the color! She is so creative and I can't believe that she actually made us a whole tea set!
Travel Jewelry Case || HSN
I have too many tiny travel bags for my makeup, jewelry, and hair items. I've been looking for one that is big enough to hold all of my things without being way too big to travel with. This case is the perfect solution. It has stacking trays inside where I can organize all my makeup, jewelry, and hair items for a trip. The whole thing zips up into the perfect rectangle shape so packing it in my suitcase will be a breeze.
Cedar Wood Closet Organizer || Amazon
This cedar organizer is going to go right into our updated Master Closet. It has all these little hooks for organizing necklaces and other jewelry items. It even has a shelf on the top with an indent so smaller items like earrings have a place and don't go rolling around.
This glass vase was on my wish list and I actually completely forgot about it. I was so surprised when I opened it up on Christmas. The blue color is beautiful! I have so many ideas for using it to decorate in our home.
Christmas Tree Kitchen Sponges || Home Depot
I got these cute sponges in my stocking! They are actually from Home Depot. I'm going to store them under my sink until next Christmas when I can break them out and have "festive" sponges.
Dressing Container with Recipe || Amazon
This is one of the coolest yet simplest kitchen "gadgets" ever. To make a salad dressing all you do is browse through the recipes that are printed RIGHT ON the bottle, and then use the guidelines to fill the bottle with each ingredient working from the bottom up. Mix everything and you have a homemade salad dressing! Super easy and such a great gift from my mother-in-law.
Succulent Planter & Phone Holder || Stak Ceramics
When my sister-in-law Kim visited us a few months ago, she noticed that I used the app Paprika on my phone when I was cooking. I always had my phone just lying around on the counter and never in a good location. She found this stylish succulent planter and phone holder at a craft fair in Chicago and thought it would be perfect for me. I love succulents and the fact that it's also a phone holder is a bonus! It's modern too so it fits in as a decoration in my kitchen instead of just looking like a clunky phone holder. I use this all of the time now when I'm cooking.
Fuzzy Socks || (similar)
These fuzzy socks were in my stocking. They are lined with an even fuzzier material inside and are so warm. They are great for the cold winter months.
These rustic dishtowels will be perfect for our kitchen in the fall!
Wolfgang Puck Cookware || HSN
We desperately need new cookware because our old stuff is really starting to show wear. We had been talking about buying a new piece here and there but I didn't even think to put it on my Christmas list. I was so surprised when I opened this gift from my mom! She knew exactly what we needed! This stainless set is ten times better than our previous skillets. I can't wait to get more pieces from the whole collection on HSN.
I think this might be my new favorite scarf! It's large but it's also lightweight so it's not very bulky. It does look full when you are wearing it. I just love everything about it.
I've had this bag on my wish list for a while. I love the navy stripes and all of the gold hardware. It's a large purse, but it's the perfect size for me. I like to carry a lot in my purse with me when I'm going to work. This purse is big enough to hold all my things and even my 32 oz Hydro Flask water bottle!
Beauty Blender || Amazon
I've wanted to try out the beauty blender after hearing some great reviews beauty bloggers and a good friend who is amazing with makeup. This one even comes with a solid cleanser to clean the blender and your brushes.
This quirky "lazy cow" lotion is awesome! I had never heard of these lotions before, but my sister in law Kim swears by how amazing they feel on your hands. She told me that she keeps a bottle next to her kitchen sink to nourish her dry hands after doing dishes – such a great idea!
PS: It even came in a bag lined with cow-print! I saved the bag!
Young House Love Book || Amazon
I have the first book from Young House Love and it was so fun to read through and get some great inspiration from. When their second book came out, I just couldn't pass it up. I love their blog and still go into their archives for tips and tricks.
Nail Files, Lotions, Hand Sanitizers || Bath and Body Works
These tiny items are purse essentials. The nail files are always handy to have around and the lotion is perfect for when my hands are super dry in the winter. My favorite is the hand sanitizers! I love their new container design and the Christmas scents smell so great!
Holiday Treats Candle || Kohl's
This candle smells like baking Christmas cookies and is going to be burning in my kitchen all next December.
These boots were my BIG Christmas wish list item. I've been trying to find a great pair of riding boots in the color and style that I liked for a long time now. I found these during the Nordstrom sale and they were perfect! Thanks to my husband, who was tired of me buying cheap boots that fell apart over and over, I now have a pair of real leather boots, and I love them!
Laminator || Amazon
I'm a nerd and I asked for a laminator for Christmas and I totally didn't think I would get it because it's such an odd gift, but I DID! I can't wait to use this for some organizing projects I have in mind. It's such a useful tool for labels and other organization printables.
My dad loves L'occitane soaps, and I have never really tried them for myself. This year, I got this wonderful gift set of 4 bar soaps and a few travel-sized items to try. The bar soaps smell amazing, and are really gentle on my skin. The Shea butter hand lotion and tin went right into my purse and are so great for my dry hands and lips when I'm on the go. I love that they make their products with natural ingredients that are great for the skin.
Gingerbread House Plate || Anthropologie
I love this adorable plate that my sister got for me. It's from Anthropologie's holiday collection this year. She suggested that I make it a Christmas cookie plate for future holidays and I can't wait to make it a tradition in our home!
Christmas Bowl || Macy's
Spode is a family tradition. We always break out the "Christmas plates" each year after thanksgiving. Last year I got a 4 piece set for Christmas and this year I got this great bowl to add to my collection.
Every year at Christmas I ask for a new wall calendar for my desk at work. I like to see my schedule visually and having a bright and pretty "desk wall art" makes my drab cubicle a little happier. I love the colors and the quotes for each month. I also have a fun desktop page-a-day calendar. Everyday there is a new cute typography print to look at. I save all of them as I go because they are so beautiful.
Ornaments || Macy's and TJ Maxx
I can't go one Christmas without getting an ornament! I have way too many already, but really at this point it just expected that you buy and get ornaments at Christmas. This toy soldier and sleigh are both cute and traditional and I can't wait to put them on my tree next year.
This cardigan is the most comfortable and softest wrap I have ever owned! It comes in a bunch of different colors, but I asked for the silver – which looks a little like a lighter whiter gray. Seriously, if you are looking for a cute wrap, go buy one of these you won't regret it. I think I'm going to have to grab a few more in the other colors.
Holly Table Runner & Table Top Christmas Tree || Crate and Barrel (Runner, Tree)
Every year growing up, my Grandma would put out this little "feather tree" on her table, decorate it with tiny ornaments, and put a pretty table runner underneath. I loved how perfectly traditional it was and it always made the dining room table look festive. My dad has the tree now, and he and my mom put it up each year at their house. This year, my sister bought me this tiny tree and holly table runner so that I could continue the tradition on my own. Now I just need some tiny ornaments!
So clearly I was spoiled this year! I am so thankful for everything that I received from such a loving family.
What did you get for Christmas?
Did you get anything practical and useful, or maybe something that's just fun? If you've done a similar post, let me know in the comments. I would love to take a look!