Beautiful Coffee Table Books
Welcome back my decorating series
Get the Modern Classic Look for Less!
My favorite home decorating style is a mix of contemporary modern and classic traditional. I think the two styles pair so well together and create a fresh, and casual atmosphere in a home. Whenever I'm browsing through Pinterest, "Modern Classic" is a style that I see all throughout designer homes. I love the look, but I don't love the price!
I'm a big believer that you can have a stylish home on a regular budget. There's no reason that you need to spend $90 on a pillow cover (for example) in order to have a beautiful home. That's just crazy! So, I decided it was time to start figuring out how I could get that modern classic look for less.
Today I'm sharing my favorite beautiful coffee table books.
Coffee table books are great styling accessories. They can be layered with other decorative items to create a lived-in look in your space. Coffee table books can be used on coffee tables, but you can also use them in other areas of your home to add as a decorative accent.
The best coffee table books are large, hardcover books that have lots of beautiful pictures. Here are some of my favorites!
This post contains affiliate links for your convenience. For more information, see my disclosures here.
Beautiful Coffee Table Books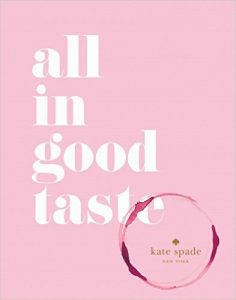 I love this modern Kate Spade book. The pink color of the book is so pretty and the illustrations inside are modern and fun!
This book is full of amazing ideas for incorporating and layers patterns and textures in your home. It's full of great content and the cover will also look great with your decor.
This pretty book has a gorgeous gold patterned cover. I love how stylish the book itself is, but it's also filled with tons of traditional home decor inspiration.
This book is filled with home decor inspiration. I love all the modern and contemporary ideas. The cover is also such a pretty pattern.
I've heard such great things about this book! It's on my wishlist because it's all about finding your home style. The cover is gorgeous and it looks great layered with other pretty coffee table books.
This book cover is gorgeous! I love the blues! I also love that inside this book is filled with amazing overhead shots of different parts of the world. Each one looks like an abstract piece of art, but it's actually a picture.
This is such a fun and colorful book. It is bold and inside is filled with photos organized by color! I love it!
---
I hope you enjoyed my latest finds! Have a great week!