Build Your Ultimate Bed: Our New Bed & Casper Mattress
It's "Build Your Ultimate Bed" week on the blog!
Recently we made some changes in our master bedroom to upgrade our bed and move one step closer to our dream bedroom. The first upgrades that we made were buying a new bed and a new mattress. Let's take a look at what we started with.
Our previous bed was a nice queen size sleigh bed. Now, there was nothing wrong with our previous bed, but we were in definite need of a new mattress. Our old one was pretty basic and it was starting to hurt my back.
So, we decided it was time to invest in a nicer mattress, but we weren't sure what size to get. See, we've wanted a king size bed for a while, but we didn't really have a reason to replace our queen bed.
Needing a new mattress was what finally pushed us over the edge to get that king size bed.
Buying a queen mattress would kind of be a waste if we planned to upgrade to a king size bed within a year for a full master bedroom makeover.
This post contains affiliate links for your convenience. For more information, see my disclosures here.
Casper Mattress
Once we decided on a size, we went online and ordered our new king size Casper Mattress.
We've been eyeing the Casper Mattress for a long time because it has amazing reviews and is so much more affordable than other mattresses.
Casper is an online company that makes high-quality memory foam mattresses and ships them (with free shipping) directly to your house.
If you have ever researched memory foam mattresses, you know that some of them (like Tempur-pedic) can cost over $3000! But the king size Casper Mattress was only $1100. We had a $50 off coupon and I've got one for you too! Click here to get $50 off your Casper Mattress!
After reading the reviews and the 100-night trial guarantee*, we decided to order our new mattress. It showed up at our door like this.
*You can order a Casper Mattress and sleep on it for 100 nights. If you don't like it they will come pick it up at your home and refund you with no questions asked! It's a great deal that's too good not to try.
Yes, there's a king size mattress in there! And I'm not going to lie, this box was HEAVY!
Once we got it into our room, we opened the box and removed the plastic packaging around the mattress. It was vacuum sealed, so once the plastic came off, it started to "inflate" into a full sized king mattress.
Upholstered Bed
For our new king size bed, we decided to go with a modern upholstered bed. I love the cozy look of upholstered beds, and this one was the perfect gray color that I was looking for!
The headboard has a pretty, tufted look while still being modern. It's also tall, so when you have a bunch of pillows piled up on the bed, you can still see the headboard behind them.
The new bed is a lot shorter than our previous bed. And, since the Casper Mattress also has a low profile, we definitely needed a box spring. Technically, the website says you don't need a box spring with the Casper Mattress. But, I didn't want to feel like we were literally sleeping on the ground!
Normal box springs are pretty large and would peek out above the upholstered sides of our bed. After doing some research, I found this 5" low profile box spring that was the perfect height and an awesome price.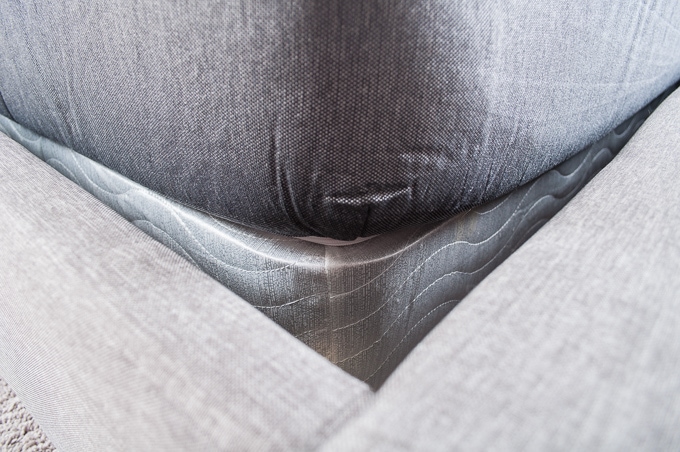 You can see that the top of the box spring comes just to the edge of the upholstered bed siding and the Casper Mattress sits right on top of it.
Our Review
We love our Casper Mattress! It's so much more comfortable than our previous mattress and we've slept a lot better since we've had it. I really like the memory foam because it's the perfect balance of soft and firm. And for the price, I feel like it was a steal!
The only issue that we have had is finding a fitted sheet that fits the mattress. The mattress is only 10" thick which is much thinner than traditional pillow top mattresses. Our original fitted sheet was way too loose and it was driving me crazy at night. I finally found a fitted sheet for 10" thick mattresses at IKEA – the DVALA fitted sheet. It fits perfectly and stays tight on the mattress.
I'm really happy with the changes we have made so far. The bed upgrades already make the master bedroom feel a lot more upscale.
Budget Breakdown:
Upholstered Bed: $730
Low Profile 5" Box Spring: $156
Casper Mattress: $1100 (that's $50 off the price using the coupon code here)
Total: $1999
We were able to get a new bed, a new box spring, a new mattress, and a fitted sheet for just under $2000. That's less expensive than the cheapest Tempur-Pedic mattresses alone!
---
"Build Your Ultimate Bed" week is off to a great start! Later this week, I'm going to share the next upgrade to our bed that's transformed it from a basic bed to a smart bed! You can see that post here!
Build Your Ultimate Bed – Our New Bed & Casper Mattress (You're Here)
Build Your Ultimate Bed – Our New Eight – the Smart Mattress Cover