Modern Classic Thanksgiving Table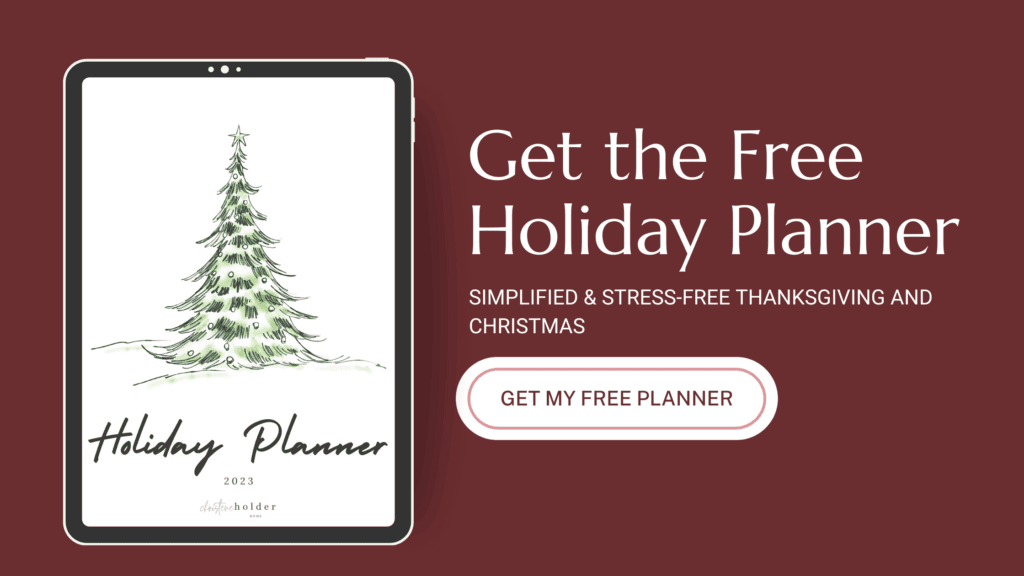 Thanksgiving is this week! Can you believe it? I feel like this month flew by and then all of the sudden it was Thanksgiving.
Thanksgiving is the official end of what I'd consider the fall season. Because after Thanksgiving, everything is all Christmas all the time. Decorations go up, Christmas music is playing, and fall kind of gets forgotten about.
So why not usher fall out in style with a beautiful Thanksgiving table? It's your last chance to play around with fall colors, textures, and patterns before you break out all of the Christmas decorations.
This post contains affiliate links for your convenience. For more information, see my disclosures here.
This year, I decided to create a modern classic Thanksgiving table using mostly items that I already had in my home. I also picked up a few new items that fit in perfectly for Thanksgiving but are neutral enough to be used year round.

To start creating this modern classic Thanksgiving table, I grabbed one of my fall blanket scarves (similar) and used it as a table runner. I love the light colors contrasting with the black stripes in the pattern. It was the perfect base for my table.
Next, I grabbed a cutting board from my kitchen to use as a centerpiece for the table. This is one that my husband Ben actually made for me and I love using it as a decoration!
The "Give Thanks" accent piece is actually just from Joann Fabrics. I picked it up last year and gave it a few coats of gold spray paint to make it fit in with my fall decor. It works perfectly as the focal point for this Thanksgiving table.
On both sides of the centerpiece, I added in these new candle holders that I got from the Hearth & Hand collection at Target.
I love the terrarium like look that they have. You can add anything to the base portion of the candle holder or just leave it empty. I decided to fill them with these beautiful faux air plants.
These look amazing on a Thanksgiving table but will also work throughout the rest of the year will all of my other decor.
You can see all of my favorites from the Hearth & Hand with Magnolia Collection in this post.
After I had the base pieces in place for the centerpiece, it was time to add some accents. I scattered a few small tealight candle holders around the table. Then I added these pretty cement pumpkins that I found at Hobby Lobby this year. I love the neutral texture that they bring to the table.
And of course, I had to add in my favorite greenery – eucalyptus! I just placed two of these stems behind each of the candle holders to lay across the table. This added a beautiful muted green color to the table and played really well with the gold accents.
To actually set the Thanksgiving table, I decided to keep things really casual. I used some basic white dinner plates layered with these pretty matte black appetizer plates – also from the Hearth & Hand collection!
Instead of folding the napkins, I just casually draped them to create a more relaxed look.
The flatware is actually a set that I found on clearance at Target after the last fall season. Each table setting was only $3! I couldn't pass them up. Gold flatware always looks extra special when you're creating a holiday table.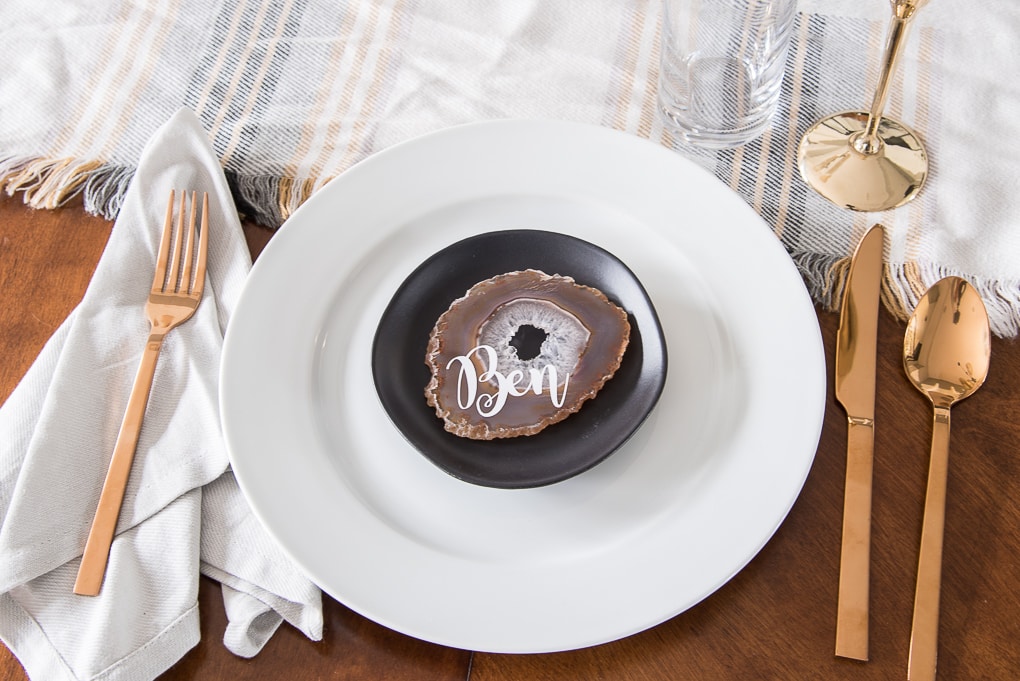 The water glasses were just ones that we already had for everyday use. Next to the drinking glasses, I added these beautiful gold flutes.
I actually found them at Goodwill for $0.99 each! They were kind of in rough shape but Ben helped me polish them to get them all shiny again. I just love how they look with the rest of the table decor!
Finally, what's a Thanksgiving table without place cards? For a modern look, I decided to use agate slices as my place cards. I love the colors that geodes have and these slices were the perfect way to bring the rich fall jewel tones into the table decor.
I used my Cricut Explore to cut each person's name out of white vinyl in a script font (the font I used is called Magnolia Sky).
I used the technique from this post to get the script letters to connect and look like hand lettering.
Then, I transferred the vinyl to the agate slices (similar) to create these unique and gorgeous place cards!
Aren't they just beautiful?! I love the way that that details and colors of the agate slices contrast with the matte black plates. These were my favorite part of this whole table and I love how they turned out.
I hope that you enjoyed my modern classic take on a Thanksgiving table. I love how all of the details work together to create a beautiful and sophisticated display. Here's to enjoying just a little more of fall!
Have a Happy Thanksgiving friends!