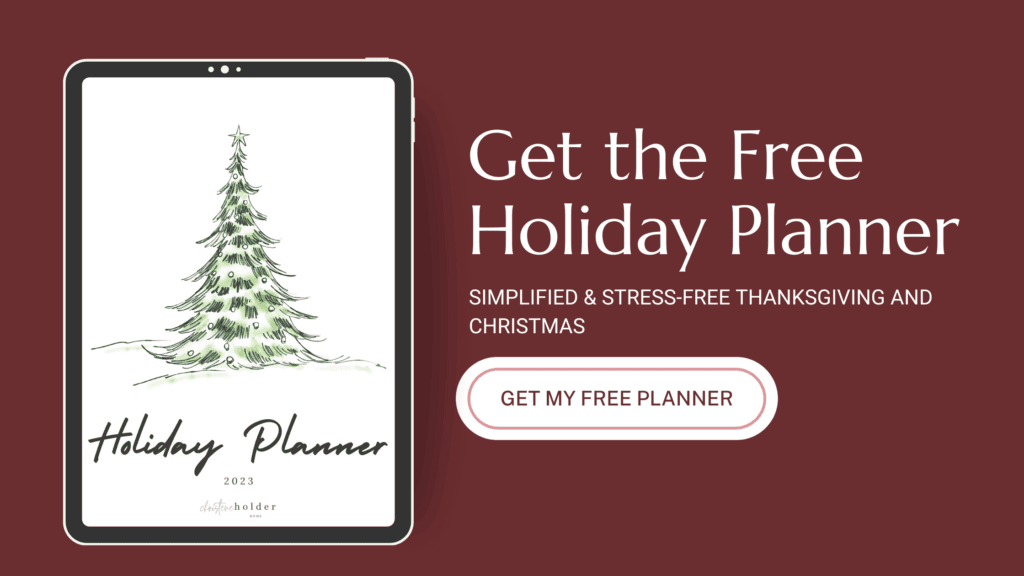 It's time for a room renovation! I'm ready for winter to be over and to get back into working on projects around the house. Ben and I have already been talking about and planning what we want to work on in our home next. One of the first rooms that I'm excited to tackle this year is our powder room.
If you're new to the blog, in 2015 we moved into our townhome! It's a new build home so we started with a totally clean slate. Since then, we've been updating the house little by little to make it more our style.
Psst! You can check out our home tour here!
Here's what the powder room looked like shortly after we moved in:
Pretty basic and boring! The powder room hasn't really changed much since we moved in. We added some bathroom essentials, but other than that, we haven't done anything to the space.
Some time ago here on the blog, I shared my initial plans and inspiration for the powder room. You can see that post here.
The powder room is on the main level of the house between the kitchen and the living room. It's right in the middle of all the main living spaces, and it's the main bathroom when we have guests over.
Our main focus after moving into our townhome was updating the main living spaces. We started by painting the kitchen, dining room, and living room. The powder room was the only room left with the dreaded yellow walls and ceiling. Yep, the builders painted our walls and ceilings yellow! Technically they called it "antique white" but it definitely looks yellow.
I'm really excited to share with you my design plans for the space. It's going to be a total transformation and will have a completely different feel!
Let's take a look at the powder room design plans!
This post contains affiliate links for your convenience. For more information, see my disclosures here.
Isn't this a totally different vibe than that boring yellow room? I'm so excited for the transformation!
I don't know if you noticed, but in the background of those design plans, there's some shiplap peeking through! That's the first project that we will be tackling in the tiny room. I want to brighten up the room, so we're going to add in some pretty white shiplap to the lower section of the room. And then above the shiplap, we are going to paint the walls the same gray color that we have in the kitchen and dining room.
Now, if you know me, you know that I'm definitely NOT a farmhouse style girl. Not in the least bit! Actually, I like to describe my style as more Modern Classic.
However, I do enjoy watching Fixer Upper! I'm a big fan and I really love seeing how Joanna designs a home. I just know that it's not exactly the right fit for my house. The one aspect of Fixer Upper that I think can be incorporated into a few different styles is shiplap!
Shiplap can look polished and put together if you do it the right way. Just like a pretty board and batten wall treatment, shiplap can add interest and texture to a room.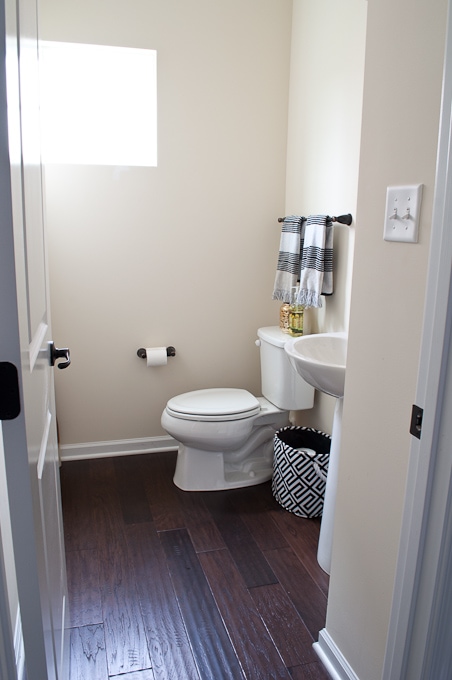 One thing you didn't see in the plans is the window trim. We don't have trim around any of the windows in our home. And, because we went with a basic builder-grade townhome, we didn't have the option to add trim. I've been dreaming of adding some thick craftsman trim to all of our windows. It looks like we will be starting with the tiniest window in the house – the square window in the powder room!
So that's plan for the powder room! It may be a tiny room, but I'm really looking forward to revamping it and giving it a complete makeover. We'll finally have a guest bathroom that's more our style.
Stay tuned for some renovation posts coming up next week! I can't wait to show you our progress.
Powder Room Design Plan (You're Here)
DIY Modern Shiplap Wall Treatment
DIY Modern Craftsman Window Trim
Fresh & Modern Powder Room Reveal