The Best Fall Cleaning Products For Your Home
Fall is here and it's time to get your home clean and in order. Check out this list of the best fall cleaning products for your home.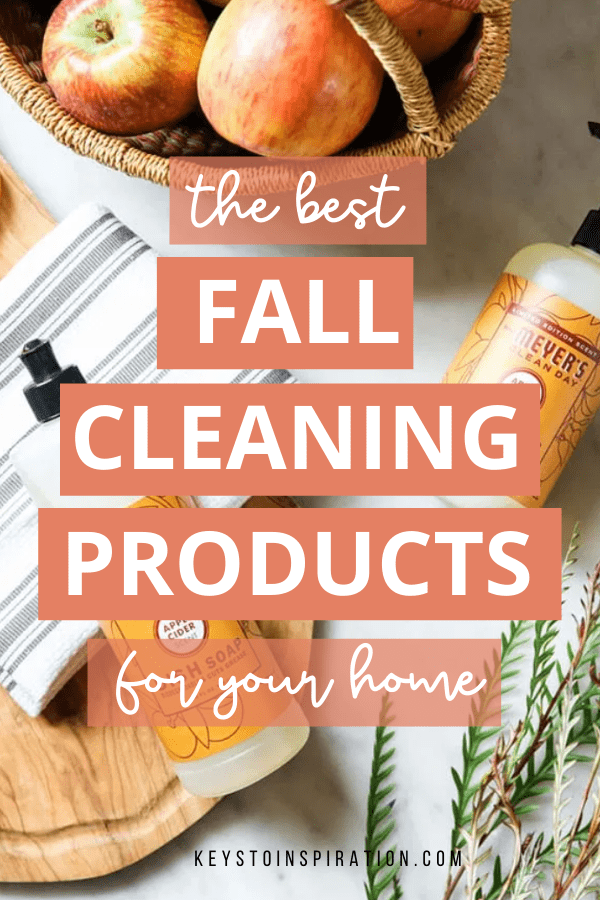 This post contains affiliate links for your convenience. For more information, see my disclosures here.
Fall is almost here!
This year, I'm getting ready for the season early by doing a big "fall cleaning." Just like spring cleaning, fall cleaning is all about getting your home prepped and ready for the upcoming season.
It's so satisfying to do a big clean of your home as the seasons change. It creates a nice clean slate for your home.
I like to do a big clean before I switch out all of my decor for the next season. I can take all of the decor out of the way and make sure the house is super clean.
Once I know that the house is clean, I can start decorating for the next season.
As we go into the fall season, I wanted to share with you some of the best fall cleaning products that I'll be using around our home. These items are my tried and true cleaning favorites.
I use these products all the time. But for the fall season, there are exclusive seasonal scents that I know you will love.
Where I get My Cleaning Supplies
I get most of my cleaning supplies from Grove.co.
Grove is an online cleaning and home essentials supplier that sends affordable products directly to your home. They also have exclusive products that you won't find anywhere else. I love the selection of products that Grove has and I always get the best deals.
I can easily pick my favorite products through their app or online and add them to my cart. Then, they ship everything directly to my home. I can even set up monthly recurring orders, or skip if I don't need something that month.
I am a VIP member, which means I get free shipping. It's only $19.99 for a full year and it basically pays for itself if you place only 4 orders within that year.
If you want to try Grove, you can get a FREE Mrs. Meyer's Cleaning kit for Fall. And, you'll also get a free 60 day trial of VIP, which means free shipping on any products from Grove! Just click HERE to claim your offer.
Here are the best fall cleaning products for your home.
The Best Fall Cleaning Products For Your Home
Mrs. Meyer's Cleaning Trio
Mrs. Meyers has a whole collection of cleaning products. And each season, there are new scents to choose from. I love using seasonal cleaning products because it helps me feel like I'm welcoming in the new season. And my whole house smells amazing after I clean.
For fall, there are three scents to choose from. I ordered the Acorn Spice scent and it's very "fall" smelling. It's actually kind of strong in my opinion but still smells nice. There's also an Apple Cider scent and a Mum scent.
Multi-Surface Cleaner
This is my absolute favorite multi-surface cleaner. I use it just about everywhere in our home. Most of the time you'll find it in my kitchen. It's perfect for cleaning and wiping down the countertops each night.
I also use it all around the house. During my big fall clean, I'll be using it to wipe down all of the surfaces in our home.
Dish Soap
I also love this dish soap. It's my go-to for everyday dishwashing. It doesn't leave my hands dry like other dish soaps, but it still cleans really well. It also makes the whole kitchen smell amazing once I'm done.
Hand Soap
I like to keep a matching scented hand soap in my kitchen. But, I also use these soaps in different bathrooms throughout our home. Just like the dish soap, the hand soap doesn't dry out your hands.
You can get all three of these items FREE, as well as a walnut scrubber sponge, and a FREE trial of VIP by clicking HERE. Claim the offer and stock up on those yummy fall scents.
Pretty Microfiber Cloths
I like to use microfiber cloths when I clean my home. They help pick up the dust and trap dirt and residue, leaving a nice clean surface.
I always keep a bunch of these cloths around. But for fall, I'm stocking up on some new, pretty cloths. These ones come in some great fall colors and will keep you in the fall spirit.
Disinfectant Spray
Whenever I do a deep clean of our home, I like to disinfect some of the most used surfaces. Things like the kitchen countertops, bathroom surfaces, door knobs, and light switches are all places that should be disinfected to help keep your home healthy.
I found this disinfectant spray and I love how easy it is to use. All you do is spray it and leave it for 10 minutes to air dry. No wiping or rinsing required. Then, you have a clean disinfected surface!
Seasonal Hand Soap
I also love having seasonal hand soaps in the bathrooms in our home. When the season changes, I like to switch out my hand soaps and towels in the bathrooms.
This Afternoon Apple Pickin' scent is my absolute favorite. It's the perfect apple smell and it leaves your hands nice and clean. I love that the smell lingers because you can smell the fall scent on you throughout the day. You have got to try it!
Apple Pickin' Candle
This last item isn't really a cleaning product. But, I associate it with cleaning my home.
Every night I try to completely clean up my kitchen. Once I'm done and the dishes are in the dishwasher and the countertops have been wiped down, I always finish my cleaning session by lighting a candle.
I like to switch out my kitchen candle for each season. But my very favorite scent is actually a fall scent. It's called Apple Pickin' and you NEED this candle. I burn it all year long, but it's absolutely perfect in the fall. It's the perfect apple scent and will fill your whole home.
---
I hope you find a new favorite fall cleaning product. And don't forget, if you want to try the Mrs. Meyer's cleaning trio in the new fall scents, you can get them FREE by claiming this offer – just click HERE.
Now that my home is nice and clean, it's time to decorate for fall! I can't wait to show you all of my fall home decor.