13 Insanely Cheap Fall Decor Items From Amazon
Looking for the best fall decor on a budget? Check out these insanely cheap fall decor items that you can get on Amazon.
This post contains affiliate links for your convenience. For more information, see my disclosures here.
Are you as excited as I am for all the fall decor?
It's my favorite time of year! Fall is the season when the weather starts to cool down and we can make our homes cozy. I always find it refreshing to change my decor for the upcoming season. But fall happens to be my favorite!
Every year I wait to see when the stores start putting out their fall decor. And while it does get a little earlier every year, it's still fun to start scoping out the best decor.
I have lots of go-to home decor stores for shopping in person. But I also cannot pass up my favorite "stay-at-home" shopping experience – Amazon!
Did you know that Amazon actually has a ton of home decor? It can be a little hard to find what you are looking for on Amazon, but there are some great hidden treasures.
This year, I've found so many beautiful fall decor items I just had to share them with you. I am loving all of the rich colors and cozy textures. The best part is, these fall decor items are completely budget-friendly. You can pick up a few new items for the fall season without spending a ton of money.
Here are 13 of my favorite fall decor items from Amazon.
13 Insanely Cheap Fall Decor Items From Amazon
Burnt Orange Pillow Covers
I love the color and the texture of these pillow covers. The orange is so rich and cozy! These are the perfect pillow covers to switch out anywhere in your home to make your decor feel more like fall.
I grabbed a set of these in the largest size for the big pillows in our master bedroom. But, these covers come in a variety of different sizes. So you can get whichever size you need.
For a couch or accent chair, I would recommend the 20" x 20" covers to use with 22"x22" pillow inserts. These are my favorite budget-friendly feather pillow inserts that will give you that fluffy feeling and look.
Give Thanks Pillow Cover
This pillow cover is so cute and perfect for the autumn season and Thanksgiving.
The modern typography is pretty and isn't too overwhelming. I try to limit the amount of typography decor that I include in my home. If you overdo it, it ends up making your decor look amaeteur. But I think a few pieces here and there are fun, especially for seasonal decor.
This pillow cover will make a cute accent decor piece in your home. It's also super inexpensive!
Halloween Pom Pom Garland
If you are looking for a cute way to add a subtle Halloween vibe to your decor, this pom pom garland is perfect.
I love the bold, bright colors! This little garland is just plain fun and is modern enough to fit in with the rest of your decor.
You can put a garland just about anywhere, but I think this would look really cute hanging from some hooks in a mudroom or entryway.
Faux Fall Leaves Stems
It's time to switch out the faux stems in your home. For fall, I love to incorporate lots of different stems with texture and color. I also love adding leaves to really incorporate that fall feeling.
These fall leaves stems come in a beautiful dark red color and will look amazing in any vase in your home. They are such a great staple fall decor item to have in your home.
White Mini Pumpkins
Speaking of staple fall decor items – we can't forget pumpkins! This affordable set of white mini pumpkins is a must-have fall decor item. These are simple and neutral and can be added to almost any area of your home.
I love to incorporate pumpkins into my home decor during the fall season. These are also great if you want to keep your fall decor simple and minimal. And you can't beat the price for how many pumpkins you are getting.
Autumn Floral Wreath
I'm always drawn towards the rich autumn colors during this season. This wreath is just gorgeous and includes both florals and greenery.
I cannot get over the deep colors and how perfect they are for fall. You can display this wreath on your front door to create a welcoming entry to your home. Or, you can even hang it on the back of the door as an indoor decoration for fall.
We barely use our front door, so I like to hang wreaths on the inside of the doors in our home. That way I can enjoy looking at them.
Wooden Cutting Board
Fall is when I start to incorporate more dark wood tones into my home decor. Not only does it add texture and warmth, but it also makes your decor feel cozier.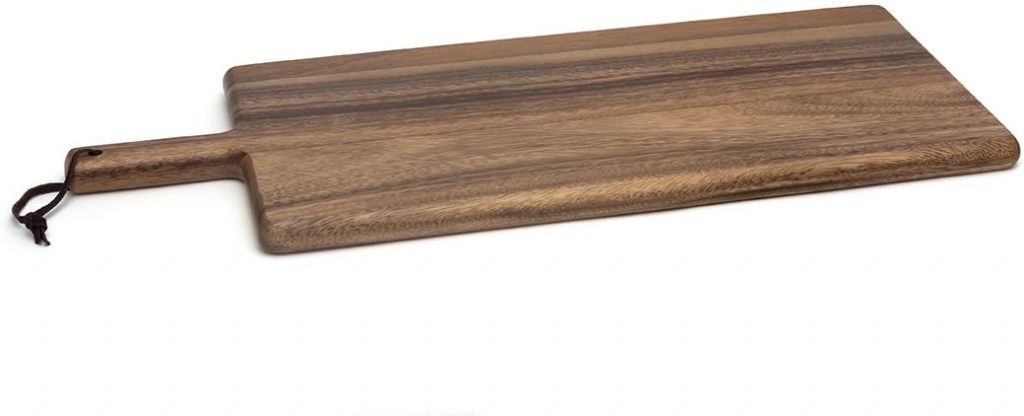 This long wooden cutting board is a great fall decor piece to use in your home. You can prop it up on your countertop as a decorative piece or you can use it as a "tray" for other fall decor.
The simple shape is perfect for a modern home.
Faux Eucalyptus Stems
I can't do a decor roundup without including one of my all-time favorites – eucalyptus!
These faux stems look amazing because of their texture and muted green color. You can style these stems on their own in a vase, or incorporate them with some other fall stems to create a layered look.
Bats Wall Decor
Another fun and subtle Halloween decor item is this set of modern black cutout bats. I have seen these all over Instagram and I love them!
You can put these on the wall behind another fall decor display to give your home a fun, festive vibe this fall. Place them in a slight arch shape on the wall to make it look like they are flying. They would also look pretty on a simple wreath.
If you want some more ideas, just search "instagram bat fall decor" and you'll see a few creative ideas.
I'm not a huge Halloween person, but I think it would be fun to incorporate some modern touches of Halloween for fall this year.
Plaid Pillow Covers
These pillow covers are so pretty and are a great way to incorporate fall into a more neutral home. The subtle colors in the design are perfect. These pillow covers are great for a modern casual home. And the pattern adds some texture to your fall decor.
These covers are a little smaller than others that I have seen. So these will make great accent pillows layered in front of some other larger pillows. You'll want to get a pillow insert that's slightly larger than the cover for a fluffy look.
Modern Gather Doormat
I feel like a cute doormat is an essential fall decor item. Just browse Instagram and you'll see lots of cute doormats with witty sayings. I love all of those too, but I was looking for something classic that I can leave up beyond pumpkin spice season.
This modern gather doormat is a great way to add a hint of fall into your entry. It's simple and modern with bold typography. And the saying won't feel out of place during the rest of the year.
Buffalo Check Rug
Another classic fall item is a buffalo check rug to layer under your doormat. It goes perfectly with the modern gather doormat, but can also be used with any other doormat.
This simple rug is a staple item that you can use throughout your home to add a touch of fall. It doesn't have to just be used under a doormat. You can put it in front of your sink or in your bathroom to add a seasonal feel to your home. The bold and modern pattern is great for adding texture and interest to your decor.
Cozy Orange Throw Blanket
It doesn't feel like fall if you don't bring out all of the cozy throw blankets. This one is such a gorgeous bright orange color and I'm obsessed with it!
I normally stay away from brighter home decor, but it can be fun to incorporate a few pieces here and there. The best way to do that is with smaller accent pieces that can be swapped out with the seasons.
This throw blanket has a knitted texture which makes it super cozy and adds visual interest. Drape it over a chair, or on an ottoman to create a warm and cozy fall vibe in your home.
---
I hope you love this roundup of the best fall home decor from Amazon. I love all of these pieces and I may or may not be adding everything to my cart right now. Let me know in the comments which piece is your favorite.
If you are looking for seasonal decor for fall, I hope this will help you find something beautiful for your home.