Hi friends and welcome to the 2016 Ornament Exchange & Blog Hop! This year, there are 11 pairs of partners or 22 talented ladies participating in the exchange. The rules of the challenge were simple – create a handmade ornament for under $15 to exchange with a partner and create a tutorial to share on the blog hop!
Erlene ⋅ My Pinterventures         Kim · Made In A Day          Amanda · The Kolb Corner
Shirley · Intelligent Domesticatons          Michelle · Our Crafty Mom          
Robin ·Redo It Yourself Inspirations          Sherry · Olives-n-Okra        
Nicki · Sweet Parrish Place          Sherry · Savvy Apron          Megan · C'mon Get Crafty    
Jelica · A Pretty Fix         Emily · Two Purple Couches          Christene · Keys to Inspiration
Kati · Houseful of Handmade         Beverly · Across the Blvd.
Jeanie · Create and Babble          Erin · Suburban Simplicity          
Terri · Christmas Tree Lane          Maureen · Red Cottage Chronicles    
Debra · Shoppe No. 5          Donna · Two Chicks and A Mom
Pamela · Home On The Corner        
---
For this year's ornament exchange, I was paired with Sherry from Savvy Apron! Sherry and I are super similar because we both consider our tree decorating style to be "traditional." Neither of us follows a theme for our Christmas trees. Instead, our trees are more of a collection of ornaments that represent memories. The part that I most look forward to when decorating our tree every year is pulling out the boxes of ornaments and reminiscing.
Sherry said it best when she said …
My tree is full of memories of past Christmases, trips, hobbies, and crafts my kids have made. Like you said, that's the fun of getting the ornaments out every year. So anything you make will work on my tree and be appreciated because I will always remember where it came from.
I was so excited to be able to create a new memory for Sherry's tree this year! When I was trying to think of an ornament to make Sherry, I was totally inspired by the idea of a pretty Christmas fireplace with stockings and cookies waiting for Santa on Christmas Eve. I thought it would be so cute to create that scene in miniature form so that it could fit on a Christmas tree!
I went to the craft store and stumbled on the mini's section and found the perfect pieces! My favorite part is the tiny plate of cookies because it's a cute nod to Sherry's blog. Here's how I made my ornament!
This post contains affiliate links for your convenience. For more information, see my disclosures here.
DIY Christmas Fireplace Ornament
Materials
Mini Garland
Red and White Ribbon
Scissors
The first mini piece that I found was this unfinished fireplace. I took my white spray paint and gave it a few coats of paint to brighten it up and make it look a little more modern and cheery!
The next step was to create the tiny stockings. I found an outline of a stocking online and printed a few out on some regular paper. Then, I cut out the stocking image to create a stencil.
Using the stocking image as a rough guide, I cut out a stocking shape from the red felt. Once I had two shapes resembling stockings, I cut out two square cuffs for the stockings from the white felt.
I used a small amount of hot glue to attach the white cuffs to the red socks and I had two adorable little stockings!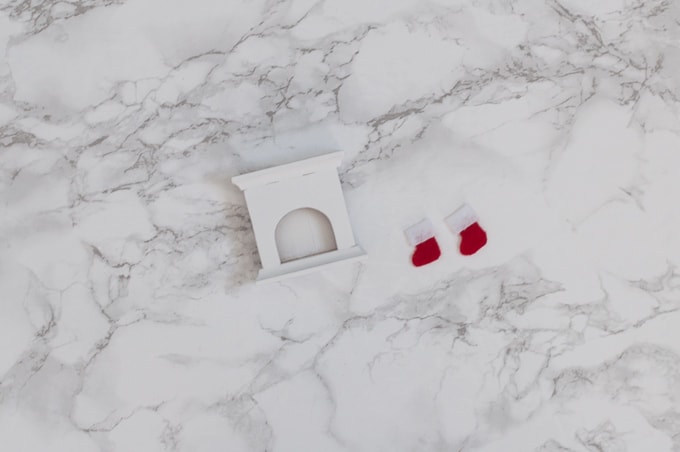 To attach them to the fireplace, I just used a little bit of hot glue and attached them at an angle so they looked like they were hanging. 

To make the garland, I found a small spool of mini garland on a wire at the craft store. The texture of the leaves was perfect for resembling a fresh Christmas garland on a mantle. I cut out a piece of the garland that was twice as long as my fireplace mantle.
Then, I bent the wire in half at the middle and grabbed the mid-point using a pair of pliers. While holding the pliers in one hand, I used my other hand to twist the two sides of the wire together and create a fuller more realistic looking piece of mini garland. 
Once my garland was complete, I used hot glue to attach the garland to the mantle part of my mini fireplace.
Next, I attached my tiny cookie plate! I used some hot glue on the bottom of the tiny plate to attach it to the top right-hand side of the fireplace.

I found this pretty candy striped red and white ribbon that happened to be wired and knew it would be perfect as a string loop to hang my ornament from. I cut a small piece, bent it to create a loop, and used hot glue to attach it to the back of the ornament.

Then I was done! I love that it's the perfect little miniature version of a Christmas Eve scene. It's exactly what I was imagining! I think this ornament turned out so cute and I really hope that Sherry enjoys it!
---
You can find more handmade ornament tutorials from the rest of my blog friends in the 2016 Ornament Exchange below.  And feel free to share your ornament tutorials too!
An InLinkz Link-up