How to Easily Upgrade a Builder Grade Shower
Create a luxury shower experience by switching your shower head to the Moen Velocity Shower Head. It creates a rain shower experience without sacrificing the water pressure. It's a quick and easy way to upgrade a builder grade shower.
Want more easy home renovation projects? Check out these easy home projects: DIY Soft Close Kitchen Cabinets, DIY Custom Wooden Drawer Organizers, The Easiest Way to Update Old Furniture
A huge thanks to eFaucets for providing product for this post! My favorable opinion of our new and improved shower head is 100% my own. This post contains affiliate links for your convenience. For more information, see my disclosures here.
There is one room in the house that has been almost completely neglected since we moved in. And, it also happens to be one of the rooms that we use the most.
It's the master bathroom.
If you have ever taken a tour of our home here on the blog, you may notice that there aren't any updates for the master bathroom. We've been so focused on the other rooms in our home, the most visible spaces, that we just never put any time into our master bathroom.
The master bathroom has been "builder basic" for over 3 years now. It has fixtures and hardware that came standard with our house design. And there's nothing really wrong with our master bathroom. But, in my opinion, it's just a little basic.
Like I said before, the master bathroom is a room that we use frequently. It's where we get ready in the morning and at night. And because of that, It's a space that tends to annoy me. I just want to start changing it!
I would love to someday do a full renovation of the room. But right now, we just don't have the time or the budget for that.
So recently, I've been on the lookout for easy upgrades that we can make in the master bathroom without going for a full room renovation.
The first update that we decided to make was the shower head.
Our shower came with the standard fixtures. The standard shower head was just pretty basic. It has one water pressure setting and basically has zero bells and whistles. I've always wanted a more luxurious feeling shower experience — like those rain showers!
So I started looking for rain shower heads. I needed to find one that didn't have to hang directly overhead because we weren't going to be changing the piping in the shower. I just wanted to be able to switch out the current shower head for a new and improved one.
I also wanted a shower head that offered the rain shower experience but still made you feel like there was enough water pressure. I've used rain shower heads in the past that sometimes make it feel like you aren't getting enough water at all.
I did lots of research and found the Velocity Shower Head from Moen. It's a large 8" sized shower head that has two different water functions — concentrated and full rain shower spray. And it had so many great reviews!
There were lots of reviews saying that it offered the rain shower experience without sacrificing the water pressure. Exactly what I was looking for!
I ordered the shower head and chose the oil rubbed bronze finish to match the existing hardware in our shower. Once it arrived, it was time to install it.
First, we had to remove the existing shower head. Ben used a wrench to loosen it from the pipe and it came right off.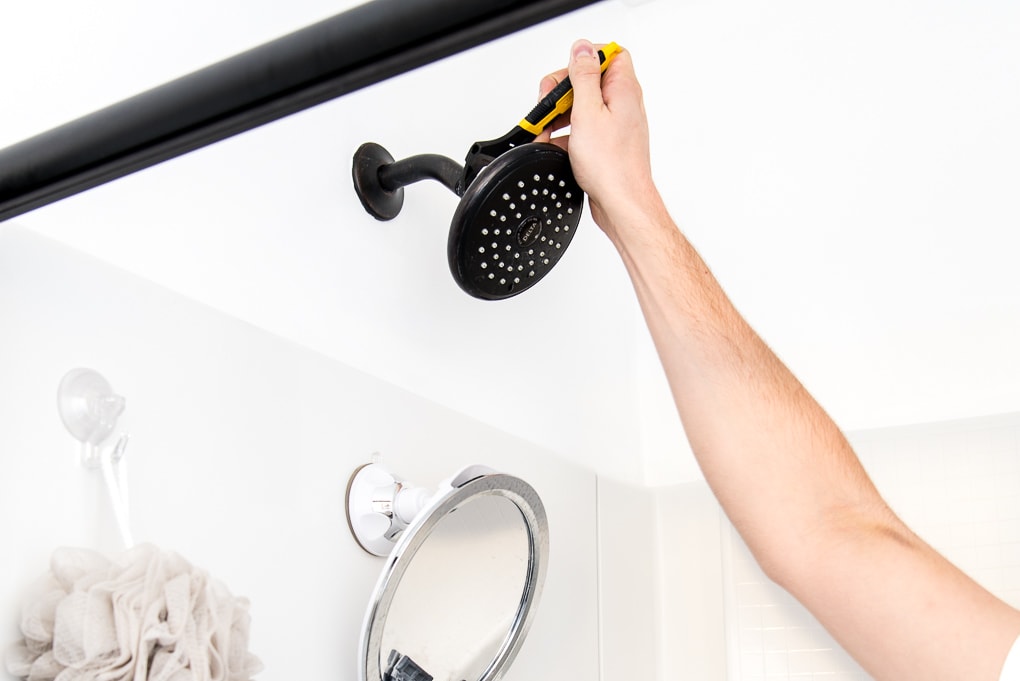 Next, we added some thread seal tape over the threads of the existing pipe. Whenever you are putting pipe fittings together, you want to use thread seal tape because it helps to seal everything and keep it water tight.
Then, all we had to do was twist the new shower head onto the pipe.
Once it was in place and secure, we tried it out.
The new shower head doesn't look very different than our old one. But in person, you can tell that it's much bigger. (It's kind of hard to tell from photos.)
Up close, you can see all of the water jets that create the rain shower experience. The handle on the side is used to switch from the full rain shower spray mode to concentrated water mode. It's really nice to have the option of two different water pressures.
After using the new shower head, I can say that the reviewers were right. The rain shower head feels nice and relaxing, but it still provides enough water pressure that it feels comfortable. And if you are looking for a more concentrated, higher pressure water jet, you can switch to the concentrated mode.
It's such a nice upgrade from our previous shower head! I love having a more relaxing shower experience. It feels like we made a big change, but in reality, all we did was switch out the shower head. And the best part is, it was so easy to install!
There is an option to get an extended arm to have the shower head at less of an angle. We didn't find it to be an issue in our particular shower, and actually like the angle that it's at. But if you were looking for it to face more downward, you might want to get the extended arm.
Overall, I've so happy with our new shower head. It was a quick and easy upgrade to our master bathroom that made a huge difference.
Next time you are dying to make a change in your home, try a small and easy upgrade like this. You'll probably be surprised at what little upgrades can do to the overall feel of your home.
Have a great week!