Easy Modern Pumpkin Centerpiece
Create an easy modern pumpkin centerpiece using white and orange faux pumpkins. This over-the-top display will definitely make a statement during your next fall get together.
Want More fall decorating ideas? Check out this fall dining room table, this simple modern fall front porch, and this modern classic Thanksgiving table.
This post contains affiliate links for your convenience. For more information, see my disclosures here.
Every year, when it comes time to decorate for fall, I've avoided orange. I mean, I don't normally decorate with orange all over my house, so why would I during the autumn season? At least that's what my thought process has been in the past.
But this year, I decided to give it a try. After searching all over for a "modern" take on pumpkins, I decided to just go with it! Bring on the orange!
When I was at Hobby Lobby, I kept eyeing these pretty faux orange and white pumpkins. They were large and looked like a mix of traditional pumpkins and heirloom pumpkins. And honestly, they didn't look totally fake.
Then, I saw some darker orange pumpkins in a slightly smaller size. I scooped up a bunch of those because I loved how the darker orange and lighter orange looked together.
Finally, I saw these cute white pumpkins that were actually wreath picks. They were the perfect small size, and they were cheap. So I grabbed a bunch and into my cart they went.
I grabbed so many orange and white faux pumpkins that I completely filled up my cart. I think the cashier thought I was crazy. But when I got home, I suddenly was so excited about adding some of these orange tones to my home.
Instead of avoiding orange and trying to go more neutral or non-traditional, this year I just embraced it. And you know what? I'm loving how it looks in our modern classic home.
Today I wanted to share a quick and easy modern pumpkin centerpiece that you can pull together in no time. It's perfect for a small get together, a big fall party, or just as an over-the-top vignette in your home this fall.
How to Make an Easy Modern Pumpkin Centerpiece
At the base of my centerpiece, I needed some sort of table runner. But instead of an actual table runner, I just grabbed one of my cozy gray fall scarves. Scarves always make great table runners!
Then, I started creating the "pile." I've always loved the over-the-top look of a pile of pumpkins. So I set to recreate that look with a more modern color palette.
On the right side of the display, I started by stacking two of the large pumpkins and then one of the medium pumpkins on the top. This created the tallest part of the "pile."
Next, I needed to create a mid-range level of height for my pumpkins. To get the orange pumpkin in the back to have just a little bit of height, I actually used a candle holder to prop it up. (I used this one that I made a while ago)
You can't even see it because there are pumpkins piled in front of it. But it does a great job of giving that back orange pumpkin some height.
In front of that, I added one large white pumpkin. To the left of that, I added the last large orange pumpkin. And to finish off the large pumpkins, I placed the final large white pumpkin leaning up against the last orange one.
This created the overall large base of pumpkins.
Then, all I had to do was fill in with the medium dark orange pumpkins and the small white pumpkins.
There was nothing really scientific about this part of the decorating process. I just placed pumpkins here and there and adjusted until it started to look good.
Since the white pumpkins were originally wreath picks, I removed some of the pick parts from the bottom so they looked just like regular pumpkins.
I did, however, leave some of the picks on a few of them to help me place them better. You can't even see them because they are hidden in the "pile."
My centerpiece "pile" ended up staying just fine without anything holding it together. It was fairly well balanced. However, if you want to make sure that nothing falls over, I would recommend using some glue dots to hold things in place. Once you have your pumpkins in their final position, carefully add some glue dots to make sure nothing moves.
How do you like my orange and white modern pumpkin centerpiece?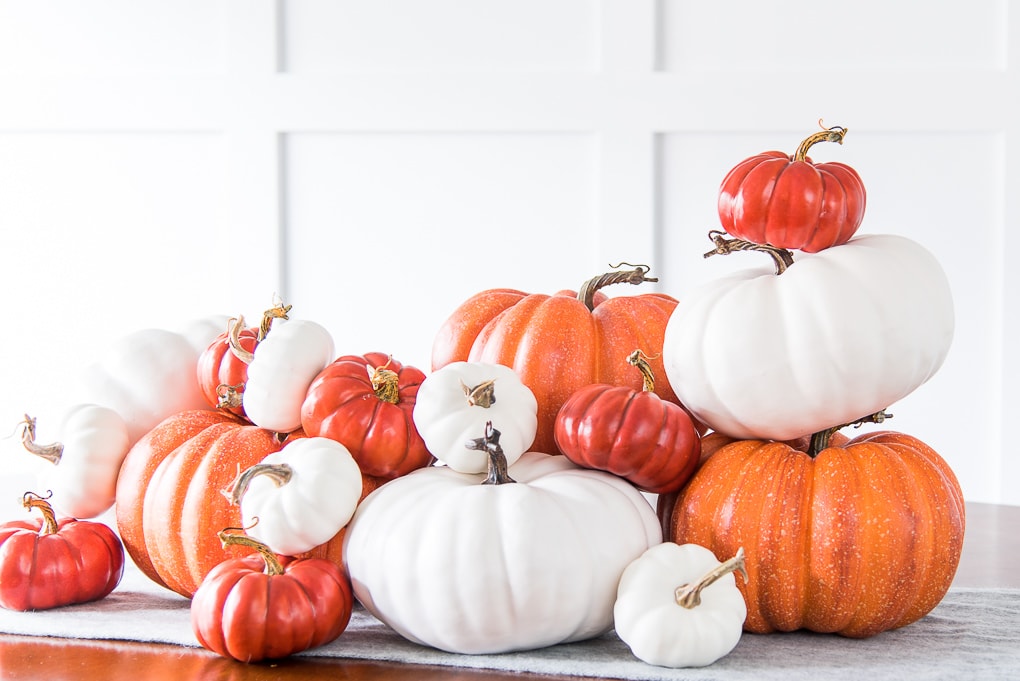 I am in love with how this looks. I think it's so fun, over-the-top, and colorful for fall.
I hope that this easy modern pumpkin centerpiece project encourages you to decorate however you want for fall! Even with the color orange!