Ideas for a "Grown-Up" Easter Basket
Spring has finally sprung and Easter is right around the corner! Yippee! No more gloomy days and cold weather.
Living in Pennsylvania, winter is a hard season to go through. It lasts for such a long period of the year and it really starts to affect my mood. Once spring finally makes an arrival, I'm ready for a fresh start.
And what better way to get a fresh start than to indulge in some self-care and pampering.
Today I wanted to share with you a fun take on a traditional Easter basket. This Easter basket isn't for kids, but instead, it's a "grown-up" version. The best part is, everything inside the basket is all about pampering.
I have a bad habit of never really taking time for myself. I'm such a go go go person that I sometimes forget to slow down, relax, and take care of myself. I'm not sure why, but "self-care" things are never on my to-do list. And, in all honesty, they really should be.
Without taking some time to relax and care for ourselves, it's easy to fall into total burnout mode. Unfortunately, that's something that I struggle with way too often.
I have a type A personality, and with that comes a need to constantly be doing something productive. I never want to "waste time" (even though I totally do), so I push myself to get things done and work hard every day.
For some reason, I've had a hard time learning that there needs to be a balance. A balance between working hard and relaxing. A balance between getting everything done and making sure I'm actually enjoying my day. A balance between taking care of everything else and taking care of me.
Even though in my mind "me time" isn't productive, I'm learning that I need to build it into my calendar. That's what inspired my "grown-up" Easter basket idea.
What to put in a "grown up" Easter Basket
PS: I'll have a big roundup of ideas and items that you can put in your grown up Easter basket. So don't forget to check at the end of the post to see all kinds of ideas.
This basket is all about pampering.
This post contains affiliate links for your convenience. For more information, see my disclosures here.
It's filled with a few spa items like face masks (similar), shower melts (similar), and an amazing smelling candle. I also added a cute coffee mug (more here), because nothing feels better than relaxing with a warm beverage (coffee, tea, or even hot chocolate … yum).
The basket is also filled with indulgences like chocolate Ferrero Rocher eggs and a huge golden egg filled with peanut M&Ms!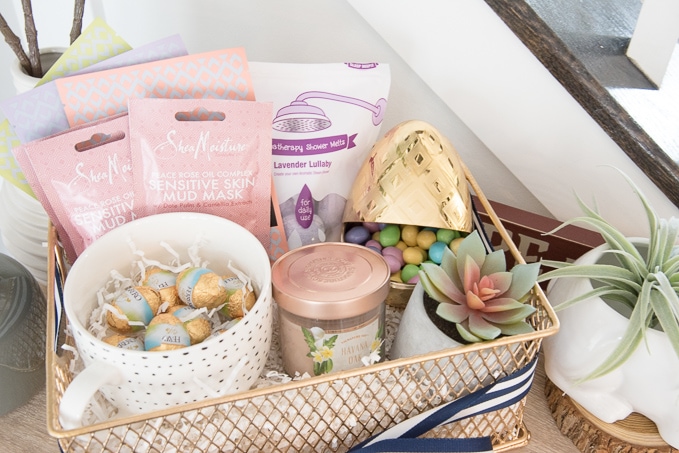 And, I added a cute faux succulent (more here) because part of self-care is treating yourself to some cute things every so often.
I arranged everything in this pretty gold basket, that can also be used later for practical purposes like storage and organization.
To finish it off, I tied a big bow around the entire basket using this pretty navy striped ribbon.
Easter Basket Essentials
Who wouldn't want a "grown-up" Easter basket filled with spa items, chocolate, and cute things!
This Easter basket would be perfect for a friend or anyone who needs a little help making some "me time" in their lives. You could even send this link to your husband in a totally non-obvious way and see if you get your very own pampering basket this Easter! 
I hope that you have a relaxing and happy Easter!