Hey friends! Today I'm so excited to be sharing my home as part of the First Spring Home & Garden Tour, hosted by Debbie of Chatham Hill on the Lake! This is my first official spring post here on the blog and my very first home tour blog hop.
To say I'm ready for spring is a total understatement. I'm totally over winter right now! We had one beautiful week of warm spring-y weather a couple of weeks ago. But since then, we've had cold, chilly days and even a snow storm!
Spring hasn't officially started yet here in Pennsylvania, but that hasn't stopped me from decorating our home.
I'm so thrilled to be participating with 7 other bloggers in this Spring Home Tour! If you're new here, Welcome! I'm so glad to have you here.
This post contains affiliate links for your convenience. For more information, see my disclosures here.
Let's start in the living room!
Springtime is the season that I like to let our home breathe. After the craziness of the holidays and the long winter months, it's nice to have a clean slate once spring comes around.
I like the keep the decorations minimal in the spring and bring in some pretty colors. I pulled out my spring pillows and grabbed this soft blush throw blanket from HomeGoods!
If you know me, you'll know that I'm almost always under a blanket when I'm in our home. I just like to be warm and cozy! So, I'm always looking for soft blankets that also look pretty in our home. This blush blanket is super soft and I love the braided tassels.
Tray (similar) || Blush Throw Blanket (similar) || Floral Pillow Cover || Blue Bowl (similar)
The couch is my go-to spot for enjoying my morning coffee (and the chaise side is my favorite). In the spring, I love adding fresh fruits like strawberries into my breakfast. I can't wait until all of the delicious berries are in season again!
In the springtime growing up, we used to go berry picking at the many local farms near my parent's home. I loved spending the mornings gathering tons of fresh strawberries and blueberries! We always came back with overflowing baskets of berries to use for pies or just for eating.
Felt Basket || Ceramic Egg Carton || Picture Frame (similar) || Faux Air Plant
I kept the decorations on our end tables simple. I took my favorite gray picture frames and popped in some black and white prints from a photo session that Ben and I had in the fall. Then I just layered in a few seasonal items to keep things looking fresh.
Over on our new media center, I pulled out my favorite blue vase and filled it with some pretty floral sprays. The pink flowers are so springy that I couldn't pass them up in the store!
Media Center || Blue Vase || Candle Holders
I layered the vase with these amazing geometric candle holders. I found these on Amazon and they were such a steal! I love that modern vibe that they have! Definitely my style.
Over on the other side of the living room, I created a simple display on the top of my refinished cabinet.
Nothing says spring like a gorgeous green boxwood wreath! The pretty green color makes me so excited for the weather to warm up and the flowers to start blooming again.
I used some bold, modern ribbon to create a bow and stacked some of my favorite home decor books in the front of the display.
Boxwood Wreath (similar) || Ribbon (similar) || Books (1, 2, 3)
Now, let's move into the dining room.
You may notice that we have a new piece of furniture in this room – the console table! I was so excited for this home tour so that I could finally show it off to you.
Console Table || Basket (similar) || Blue Throw Blanket (similar)
I found this table on clearance at Target! Our local Target is going through a major refurbishment and is being upgraded into one of those "fancy Targets!" You know, the one's that you see with the pretty white shelves and the lower height aisles so everything just looks nicer!
It's been kind of a mess during construction, but as part of the process, they were marking down a ton of their inventory! I'm talking 3 entire aisles of clearance furniture and home decor!
I snagged this console table and I was so excited because I knew exactly where I was going to put it.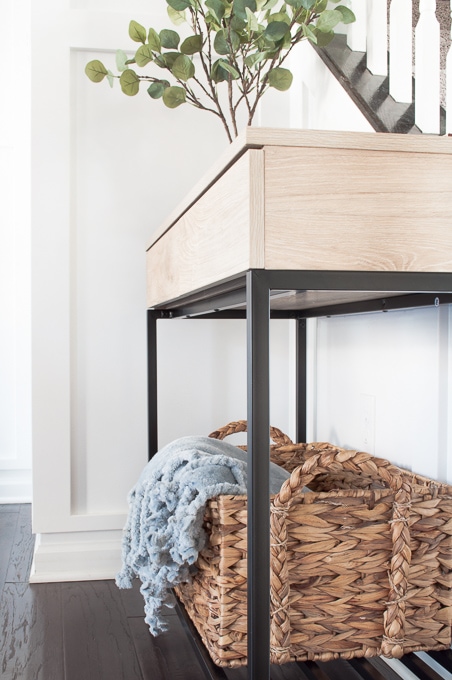 This is the first time I've been able to decorate it, and I'm already loving all the possibilities. On the lower shelf, I added this natural woven basket filled with, of course, another cozy soft blanket.
This pretty blue blanket was also a HomeGoods find. I love the twisted tassels on the ends. Can you tell I'm a fan of soft, cozy, tassel throw blankets?
Ceramic Bunny || Faux Air Plant
On top of the table, I created a cute, spring display with some Easter decorations. I grouped together a couple of vases along with a wood slice to bring in some natural elements. The wooden sign was a gift from my friend and small group leader at church, Katie. I think it fits perfectly! (Thanks, Katie!)
And you know I couldn't do a home tour without adding in some eucalyptus somewhere! It's my favorite greenery!
Now, the final stop on my spring home tour – the kitchen.
Short Wood Vase || Tall Wood Vase
Spring in the kitchen means keeping things super clean and simple. I cleared off all of the counter tops and added in some pretty florals to bring in some life.
The wooden vases are definitely my favorite pieces from this whole tour. I popped some gorgeous fuschia floral stems to make this island centerpiece a statement in the kitchen.
It's nice to have fruit out and easily available in the kitchen. I found this pretty mango wood bowl and paired it with one of my darker wooden bowls to create this fruit display. And, because I'm so excited for the spring blooms, I added this pretty mini rose plant!
Over on the other side of the kitchen, I corralled some of our most used cooking supplies into a wooden tray. That way they have a set location and don't make the counters look cluttered. I also added in this pretty lavender plant for some greenery.
Oil and Vinegar Jars (similar) || Salt Mill and Pepper Mill
Thanks for stopping by and taking a tour of my home for spring! I hope that you enjoyed it and got some inspiration for your own home.
Don't forget to hop around and visit all of our Homes and Gardens on the Tour. Just click the photo to go directly to each blogger's home. Enjoy!