My Plans for the Dining Room
Going into year two of being in our house, I've decided to share my plans for each space in our home. My goal from the beginning has been to transform our cookie-cutter house into a home that fits our style and feels more like ours! Last week I shared my plans for the kitchen. Today I'm going to share with you my plans for the Dining Room!
This is our dining room today.
The dining room and the kitchen are right across from each other and are basically the same "room." When we painted the kitchen, we also painted the dining room the same color. Since there aren't white cabinets in the dining room like there are in the kitchen, the space felt a little dark once it was painted gray. So, to brighten up the space, we decided to add tall board and batten.
I've always loved the look of board and batten and really wanted to incorporate it into the house somehow. The dining room was the perfect spot to add some architectural interest. Now the room looks completely different from when we moved in.
Our dining room table and chairs were moved over from our apartment. They work fine for now, but don't fit our style at all and are the wrong wood tone. One of the main things on our list for this space is getting a new dining table and chairs.
While the board and batten was a larger upgrade to this space, we still have some things that we would like to update in this space. With that being said, it's time to make a list.
I love lists because they help to keep me on track and to see the progress that I've made. So, for each of my room plans, I'm going to include a list. I'm hoping this will help keep me accountable and working towards making our house into the home I've been dreaming of.
Here are some of my plans for the dining room…
---
The Dining Room List
Done:
To-Do:
I love the farmhouse tables that are popular right now. My style isn't farmhouse style, but I like the look of a modern rustic farmhouse table. We would love to have a big rectangular table in this space possibly with a matted gray finish.
I really like the look of this table and I love that there are upholstered chairs on the ends. I'm not sure about what kinds of chairs I want yet, but I do like having different bolder chairs on the ends.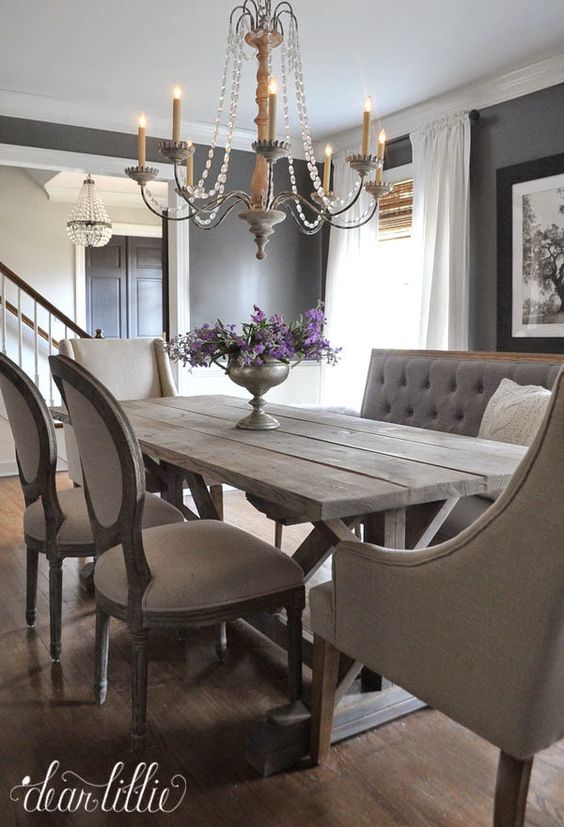 || Source ||
This table base shape is what I'm gravitating towards. I also love this lighter color.
|| Source ||
I think that this space needs some sort of rug for underneath the table to ground everything. I want to go with something neutral, but I'm not sure what kind of rug yet.
This is one of the light fixtures that came with the house. They are fine, but they don't really fit our style. I want to eventually replace all the light fixtures with ones that fit our style better. For the dining room, I'm thinking about more of a statement piece.
Just like in the kitchen, I'd like to add craftsman style trim to all the windows. After the kitchen window, the double window in the dining room would be next on my list.
Install Curtains on Windows
I will want to add the same window shades here that we have in the kitchen.
Build "Built-In" Beverage Center and Shelves
At the very end of the dining room near the windows towards the porch is a "nook" space. Right now, we just have an Ikea bookshelf in this area holding all of our glassware.
One of the biggest projects that we would like to do in the space is creating a built-in beverage center space. We're thinking of installing a lower cabinet for storage and possibly a drink fridge. On the countertop, we would have space for normal bar items and coffee bar items. Then above that, we want to install more storage and open shelves for all of our glassware.
|| Source ||
Add Wall Art
Add Decorative Accents
---
That's the dining room list! To make sure I'm staying on track, I'll be adding a link to this post on my Home Tour page under the Dining Room section. As we do projects in the dining room, I'll be updating this list and checking things off as we go…and maybe adding some things too :).
To see all of the rooms in our house – stop over to the Home Tour page!