My Plans for the Powder Room
It's now officially the second year of being in our house and I've decided to share my plans for each space in our home. My goal from the beginning has been to transform our cookie-cutter house into a home that fits our style and feels more like ours! Last week I shared my plans for the dining room. Today I'm going to share with you my plans for the Powder Room!
This is our powder room today.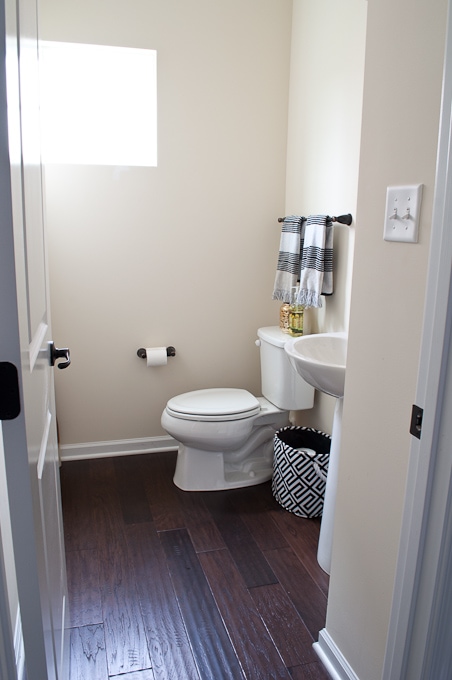 The powder room is located in the middle of the house, right near the staircase. It's a small space, but it is the main bathroom for when we have guests over to our house. Since it's such a small room and we don't spend a lot of time in there, the powder room kind of fell to the bottom of our home project list. It's the only room on the main level that still has the yellow walls.
The only thing that we did in this space after moving in was bring in the essential bathroom items. The powder room doesn't have any storage space, so to store extra toilet paper rolls we added this bold canvas bin.
Obviously, we still have a LOT to do in this space. Time for the list!
I love lists because they help to keep me on track and to see the progress that I've made. So, for each of my room plans, I'm going to include a list. I'm hoping this will help keep me accountable and working towards making our house into the home I've been dreaming of.
Here are some of my plans for the powder room…
---
The Powder Room List
Done:
Bathroom Essentials into Space
To-Do:
I want to try to add some interest to this small space without making it feel busy or overwhelming. When I saw this bathroom on Pinterest, I instantly fell in love with the bold contrast in the design and the shiplap walls. Shiplap is really popular right now because the farmhouse trend is everywhere (thanks to Chip and Joanna Gaines).
|| Source ||
I like the modern lines of shiplap but would like to add a modern twist to it. I think this inspiration photo is the perfect representation of what I'm going for.
Once the shiplap is on the walls, we will need to paint it and also paint the yellow ceiling.
Just like in the other rooms, I'd like to add craftsman style trim to the window in this room.
Install Curtain on Window
New Mirror
The round mirror with no border has got to go! This mirror came standard with the house. I'm looking forward to replacing it and adding in something with a little bit more texture and interest.
I would like to add some sort of storage to this space. Because the sink is a pedestal sink, there isn't even cabinet space available. Pretty decorative yet functional storage would be nice in the powder room.

|| Source ||
I want to have some sort of wall art in here, and I really like these minimal photos. They are bold but not too busy.
|| Source ||
---
That's the powder room list! To make sure I'm staying on track, I'll be adding a link to this post on my Home Tour page under the Powder Room section. As we do projects in the powder room, I'll be updating this list and checking things off as we go…and maybe adding some things too 🙂 .
To see all of the rooms in our house – stop over to the Home Tour page!