Relaxing Retreat Porch Reveal
Hi friends! I'm so excited because today is my first reveal day on the blog!
It's the middle of summer here in Pennsylvania and it has been hot! Since we moved in during the middle of last summer, we decided to make it a goal to have our back porch completed by this summer. That way we could enjoy the days outside and take advantage of the warm weather.
This post contains affiliate links for your convenience. For more information, see my disclosures here.
At the beginning of summer, I shared my plans for creating a relaxing retreat porch. I wanted a space where we would be comfortable spending some time enjoying the beautiful summer days and nights in our limited outdoor space.
If you remember, when we moved in our porch looked like this.
The porch is a relatively small space that is actually over our driveway. It's only about 5 feet wide. There isn't a ton of room to work with, but I knew that we could create an outdoor space where we would love to hang out!
Now, let me welcome you to our new and improved porch! Before even going outside, the first thing you can see is our wooden planter box filled with beautiful summer flowers.
I'm so proud that I've been able to keep these looking pretty because, if you know me, I basically have a black thumb. I can't ever keep my plants alive! Thankfully since I can see the flowers from inside our house, I'm reminded to keep them watered!
Once you go outside, you've entered our relaxing retreat! Seating space and shade were the two main features that our original porch was lacking. We managed to fit both into this small area and create a really great place to hang out.
The bar-height table and chairs were our first purchases for the porch. Because the porch is so small, we wanted a seating area that would allow us to see over the railing. It really helps make the space feel bigger than it actually is.
Ben and I love to eat outside in the summer, so this table was a perfect addition to our porch. I love the look of the patterned stone top and how it holds up well outdoors.
Nothing says summer more than fresh fruit and a great big pitcher of water! In the crazy summer heat, we've been trying our best to stay hydrated. I like to keep a bunch of lemon slices in our refrigerator so we can just grab a few and add them to our water bottles. Super refreshing!
There used to be no shade on our porch and in the mornings the summer sun was brutal! Ben and I love to sit out on the porch, drink coffee, and chat in the mornings so shade was a must-have aspect for this space.
The porch is too narrow for a full-size umbrella, so when I saw this navy and white striped half-umbrella I bought it right away. I didn't even know that half-umbrellas existed, but I'm so glad that they do!
I'm pretty sure we've made all of our neighbors jealous of our half-umbrella. We got lots of strange looks at first, but now we're seeing half-umbrellas on a few other porches in the neighborhood.
I wanted the add some color and comfort to the space so I picked up these coral throw pillows and this yellow chevron outdoor throw blanket. The exterior of our house is beige, so there isn't a lot of interest there. Adding in colorful accessories helped the porch décor pop against the house siding and really pulled the space together.
Speaking of color, one of the brightest pieces on the porch is the fun floral rug. Finding a rug for this space was tricky, so I decided to just add an accent rug right outside the door.
On the other side of the porch, we have a space for our grill. I try to cook meals on the grill as much as I can in the summer. Now that we have the table and chairs, we can sit outside together while the food is cooking and then stay out there to enjoy the meal!
The best part about our relaxing retreat porch is that we can also spend time out there during the beautiful summer nights.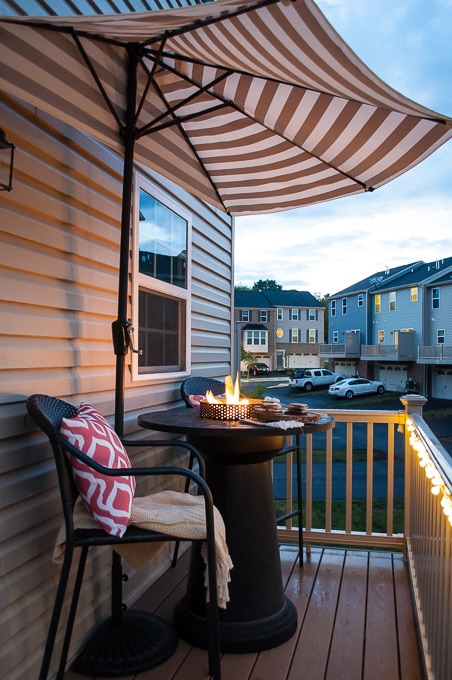 Surprise! The table has a fire pit in the middle! This was seriously the main selling point for me about this table. I love having campfires in the summer, so when we found out that the center part of this table opens up to reveal a fire pit, I was sold.
To create that perfect summer night ambiance, I added some battery powered outdoor mini globe lights underneath the railing. They add just the right amount of glow all over the porch.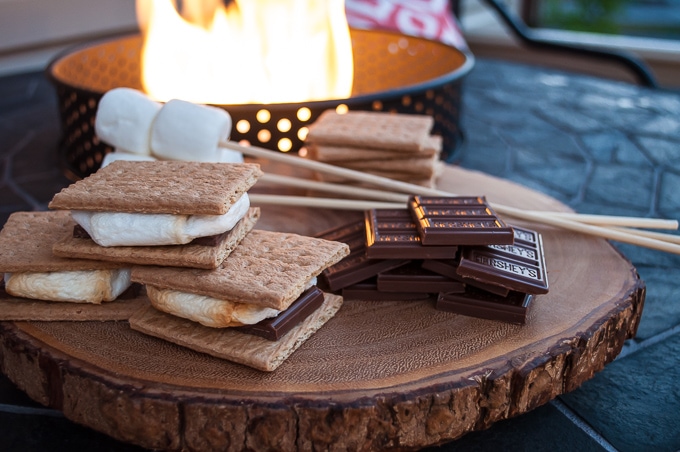 We love sitting out here at night around our little campfire. My favorite part is that I can actually make s'mores on our town-home porch!
Who doesn't love delicious, gooey s'mores during the summer?
Summer nights are my favorite. I like the heat, but once the sun goes down and the temperature drops the weather is just perfect.
Ben and I sit outside on the porch all the time at night. I love that this space allows us to spend as much time outside as possible.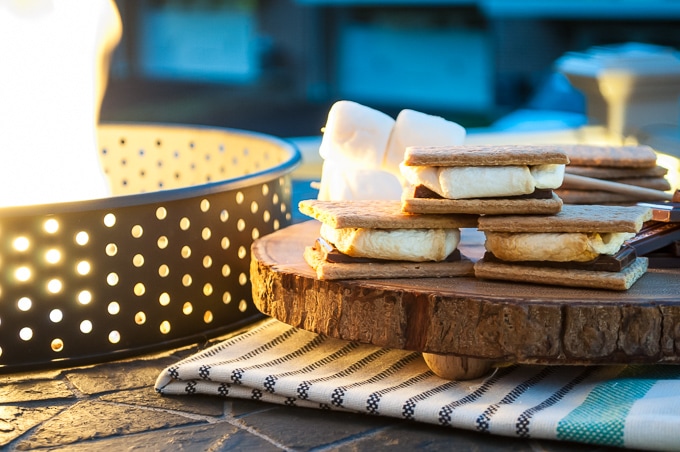 Even though we live in a townhome and pretty much have no yard space, we have still been able to enjoy tons of time outside this summer. We transformed a small, awkward outdoor space into one of our favorite places to relax in our home.
I hope that you enjoyed this reveal as much as I did! I am so happy that the porch is finally done and we've been able to really get the most out of it this summer. Now if you'll excuse me, I'm going to grab a glass of water and sit outside on the porch!
Relaxing Retreat Porch Sources