The Best Affordable Sheets
Get sheets that are high-quality and also great for your budget with California Design Den. Their sheet sets are the best affordable sheets that I have found!
Want more affordable home recommendations? Check out these affordable counter stools for your kitchen, these affordable accent chairs, and these affordable rugs.
This post contains affiliate links for your convenience. For more information, see my disclosures here. A huge thanks to California Design Den for providing product for this post! My favorable opinion of the comfortable, high-quality sheets is 100% my own.
There's nothing better than climbing into a freshly made bed. Maybe it's after a long day or you're just looking for a short break or nap. Having a cozy, comfortable place where you can rest is essential.
I love that feeling after you put a fresh set of sheets on your bed because everything is crisp, clean, and comfortable.
I'm always looking for sheets that mimic that feeling of "new sheets" each time I get into bed. Sheets that are comfortable and high-quality, but also are affordable. Because let's face it — sheets can be expensive! If you search the "best sheets" you are sure to find tons of results for SUPER expensive bedding. But who has the budget to spend hundreds of dollars just on sheets?
Recently I've been searching for comfortable, high-quality sheets that are also affordable. And I've found a set that checks all of those boxes.
The best affordable sheets that I have found are these sheets from California Design Den.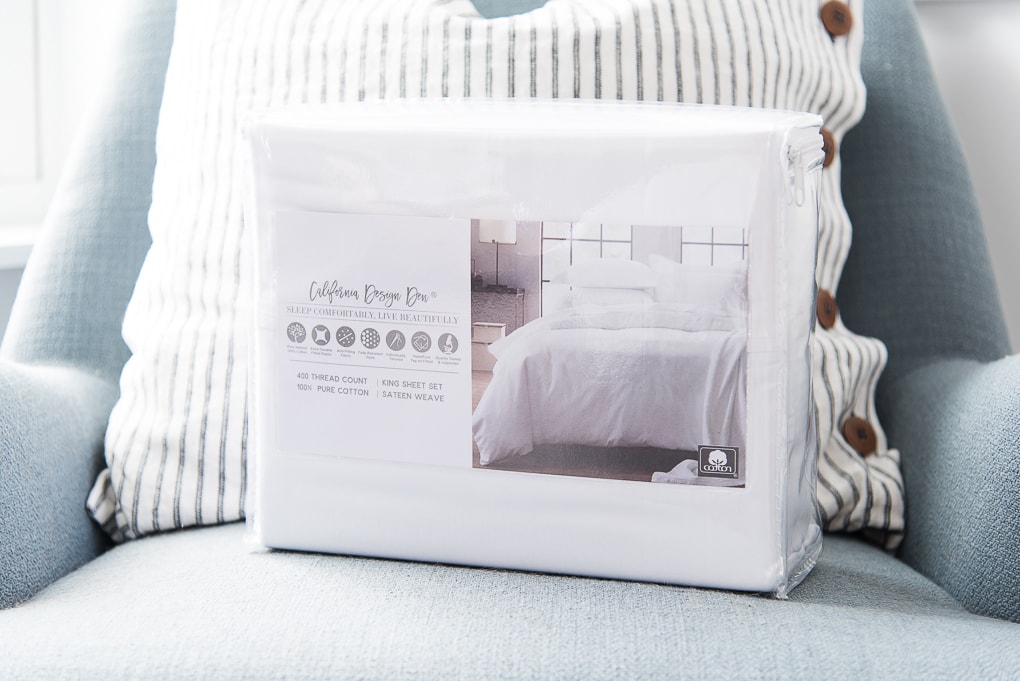 They are a sateen weave sheet set which means they are soft and silky. They have that crisp feeling that you find in really nice hotel bedding but they are still comfortable. It's hard to explain in writing, but they have that "fresh sheets" feel every time I climb into bed.
The sheet set comes with one fitted sheet, one flat sheet, and 2 pillowcases.
The fitted sheet is a deep pocket sheet. At first, I was nervous about this because we have a Casper mattress. The Casper is very short and normally deep pocket fitted sheets just bunch up and never fit right.
But, this fitted sheet is also fully elastic, which means exactly what you would think. The elastic goes all the way around the edge of the sheet, not just in the corners. In my opinion, this is one of the features that makes these sheets higher quality.
And it's also the reason that they actually work on our bed. The elastic helps to hold the sheet in place without it coming loose or bunching up throughout the night. So far, I'm loving these and haven't had the "bunching" problem I so frequently have with other sheet sets.
Also, the fitted sheet has this handy little head/foot tag so that you never have to guess which way the sheet goes on the bed. No more wrestling with the sheets. I love this small little detail!
The flat sheet is the perfect size in my opinion. It looked very large when I first put it on the bed, but I just tucked the long edges into the side of our bed frame.
The long edges mean that we won't be fighting over the sheets at night. There's enough length to cover both of us comfortably.
The pillowcases were slightly large. But I think that's because our king pillows really need to be replaced with something a little fluffier.
Personally, I still like having zippered pillowcases because my pillows always seem to work their way out of the cases at night. But the pillowcases that came with this sheet set are really nice. They look really pretty too, just like hotel bedding.
The sheets are 100% cotton and are made of anti-pilling fabric. I'm always so annoyed when I wash sheets and they start pilling. So, I'm really looking forward to seeing how these sheets stand up over time and after multiple washes.
So far, we have found that these sheets are so comfortable to sleep on. They stay nice and cool throughout the night.
They feel soft, but not too soft if that makes sense. They feel like they have structure and thickness to them but in a very comfortable way. They aren't stiff or noisy, but silky and smooth.
And they are the first sheet set that I've bought that Ben actually commented on how much he likes them!
The best part is, these high-quality sheets have a similar price tag to the discount options you can find online. These are the best affordable sheets that I've found!
If you are looking for new sheets but don't want to spend a fortune, I would highly suggest these sheets from California Design Den.
We love them and can't recommend them enough!
Now I just need to figure out what color to get for my next set. ☺️
PS: I think it might be this adorable navy blue dot sheet set! Love it! Or this pinstripe sheet set!