9 Affordable Modern Counter Stools for Your Kitchen
This month we've been focusing on our kitchen organizing overhaul. We've been hard at work cleaning out the cabinets and drawers and getting rid of tons of stuff. It feels so great to finally tackle this space and make it more organized!
If you want to read more about that whole project, click here to start with Part 1 – How to Get Organized When You are Overwhelmed.
Since we've been focusing on the kitchen, I thought it was the perfect time to finally get new counter stools for our island! You guys, I've been wanting new counter stools for 2 years now! Basically, since we moved in.
This post contains affiliate links for your convenience. For more information, see my disclosures here.
The old stools that you've seen in our kitchen were just not working. We bought these stools right after we got married for our apartment. In that tiny kitchen, we had a small space with a bar height counter where we wanted to add some seating. These barstools were perfect because they were small enough to fit into an apartment kitchen.
Fast forward to when we moved into our current house. We took the barstools with us and realized that we no longer had a bar height counter. We had a counter height island.
So, as a temporary fix, we actually cut the legs down on the old bar stools to make them shorter and better suited for a counter height island. This was intended to be a very temporary fix while I found some new counter height stools for the kitchen.
Well, I never really found counter stools that I loved or were in my price range. Counter stools can be really expensive, and we needed 3 of them! As the months went on, we had other projects and rooms to work on. There just wasn't room in the budget for pricey new counter stools.
Well, this year I finally decided that it was time for the old stools to go! I was determined to find new, modern counter stools for the kitchen that didn't cost a fortune.
Thankfully, Target came to the rescue with a great selection of beautiful modern counter stools! And the best part is, they were all totally affordable too!
I ended up buying three of these counter stools from Project 62 in the color "Ocean." When they arrived, I was so excited to get them into the kitchen.
These stools make the kitchen look so much more finished…grown up…polished! I love them! They're the perfect addition to our kitchen.
It's also a nice change to finally have stools with backs. Before it was so uncomfortable to sit at our island. Now, we find ourselves using the new counter stools all the time!


While they aren't a chair I would curl up and take a nap in, they are pretty comfortable for kitchen island chairs. The seats have some give to them so they actually feel really nice to sit on. Unlike the rock-hard cushions of most inexpensive chairs — you know what I'm talking about.
I also love the blue color. We needed to add a little color to our mostly white and gray kitchen.
If you're looking for some affordable modern counter stools for your home, look no further. I've rounded up some of my favorite affordable modern counter stools from Target. All of these options would look great in a modern classic home! Let me know which is your favorite in the comments below.
9 Affordable Modern Counter Stools for Your Kitchen
These are the counter stools that we chose for our kitchen. I love the mid-century design of the legs. These also come in a few different colors, making them totally versatile for different homes and styles.
I love this style counter stool and I almost bought these for our home a few different times. I had my eye on some much more expensive ones and couldn't justify the price. These are totally affordable and look identical! I think crossed back design is really unique and I love the black color. It adds a modern flair to a classic chair design.
These counter stools come as a set of 2 so they are even more affordable per chair. I love the cool casual feel that leather brings to a space. They definitely have a more relaxed vibe and would look great paired with a modern kitchen design.
These counter stools are a little more traditional with the wingback design but I love that they have clean lines. I think these would pair well in a home with a mix of modern and traditional styles. These stools also come in a few different colors.
I love the unique design of these counter stools. The round back is something that you don't see very often. These will make great statement pieces for a modern kitchen. The rich color will also pop against pretty white cabinets.
This design is really unique and casual at the same time. I love the clean lines of the upholstery on these counter stools. They have a retro vibe that is really fun. I think these would look great in a more modern kitchen. These counter stools also come in a few different colors.
Simple, elegant, and clean lines. These counter stools have a classic design and will look great in just about any kitchen! Their minimal design is perfect for complementing an eye-catching light fixture above the island.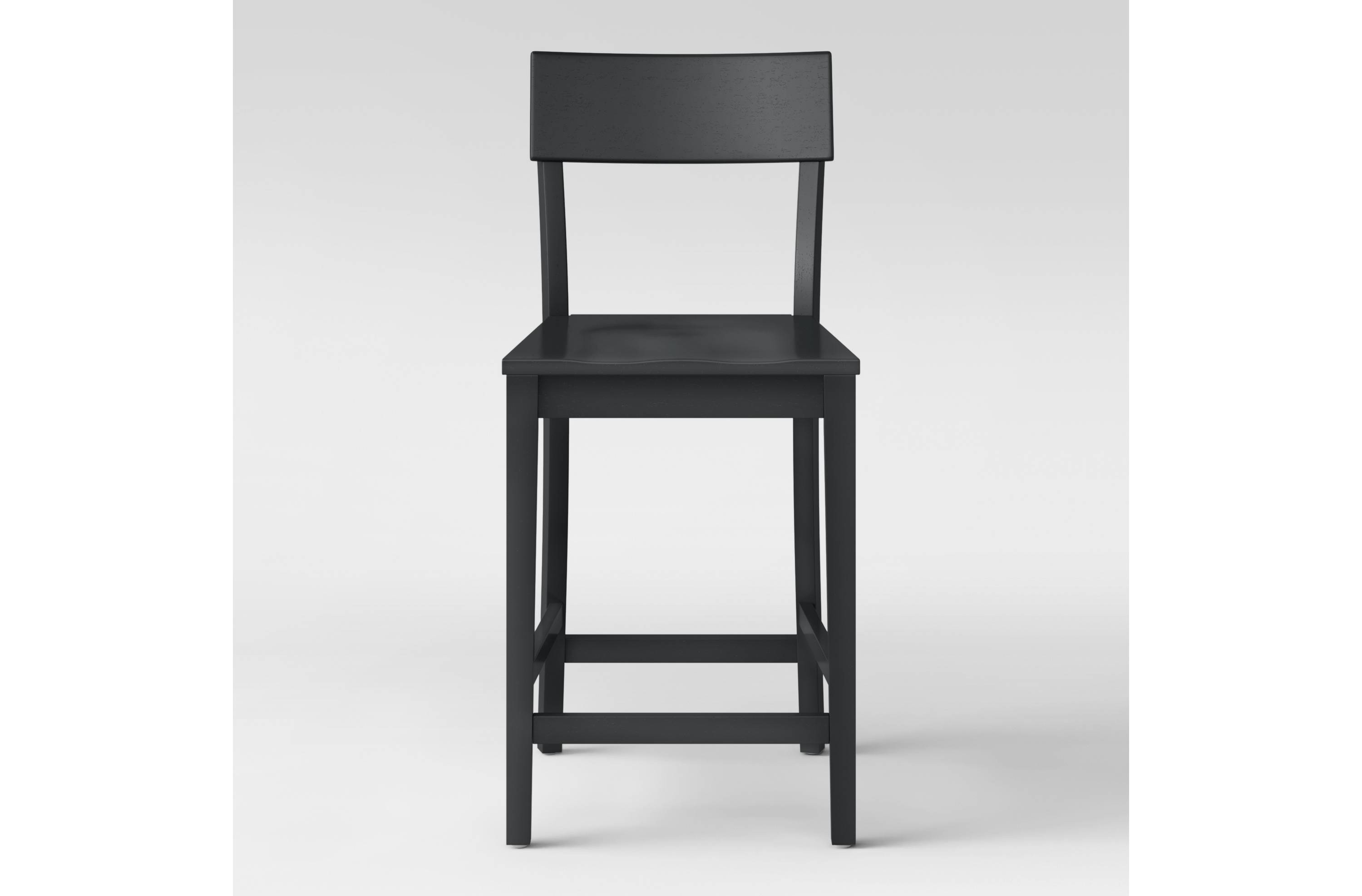 These counter stools are very similar to the ones that I bought for our kitchen, they are just a little more casual in style. The curvy, scoop chair shape is perfect for a modern classic kitchen. And the tapered legs bring in that mid-century style.
These counter stools will add a masculine touch to your kitchen. The minimalist design is simple and clean. I love that the seat has a modern quilted design and the black color will pop against bright white cabinets.