Colorful Modern Christmas Master Bedroom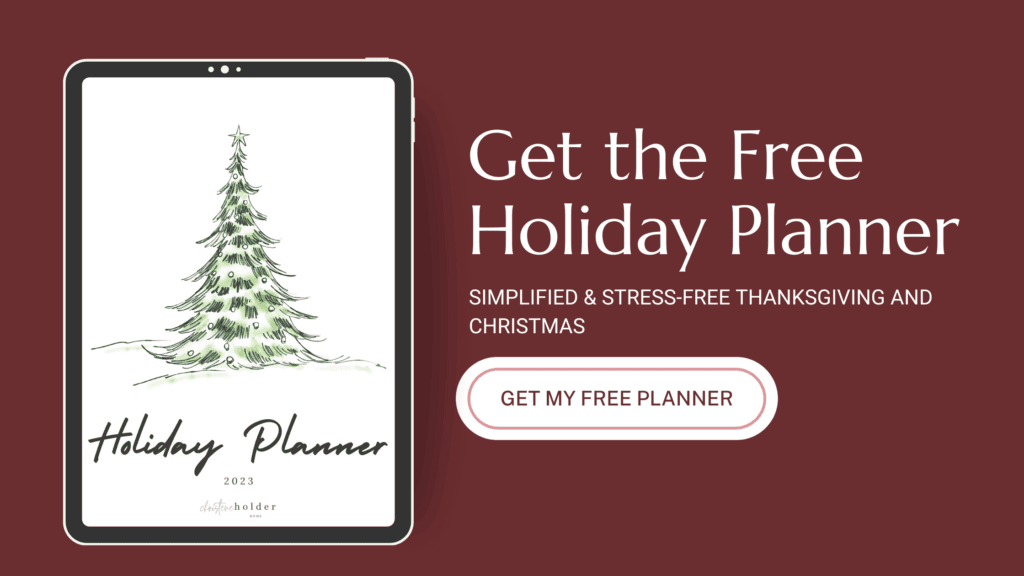 Hey friends! Welcome back to Christmas home tour week!
Today I'm excited to be joining Vicki from 2 Bees in a Pod for the "Come Home for Christmas" Home Tour Hop. Each day we're sharing tons of different Christmas decor inspiration for 5 different rooms.
If you're new here, I just wanted to take a second to say "Welcome" and introduce myself. I'm Christene and I'm so glad you've decided to stop by. Consider this your virtual welcome into my home. So step inside and grab a cup of coffee!
I'm passionate about all things home. Decorating, organizing, creating, renovating. You name it – I love it! I believe that your home should be a haven for your family. A place where everyone is comfortable and feels welcome.
My home style is what I like to call "Modern Classic." It's a little bit of traditional and a little bit of modern mixed together to create a fresh and casual atmosphere.
I'm continuing Christmas home tour week with my master bedroom.
This post contains affiliate links for your convenience. For more information, see my disclosures here.
In the past year, we've made some major improvements to this room like the addition of the grid board and batten wall, a new bed and bedding, and much more! It's still a work in progress (don't look at the other two windows — they aren't finished yet.)

Last year I didn't even bother decorating our master bedroom for Christmas because there was basically no furniture except a bed. But this year, I was really excited to finally be able to add a few simple Christmas touches to this space.
Flocked Christmas Tree || Mini Lights || Shatterproof Ornaments || Eucalyptus (similar)
I decided to go a completely different direction from our cozy living room. In the living room, I decorated with a lot of reds and greens. But for our master bedroom, I chose non-traditional and bright colors.
I was inspired by a craft project that I recently made — this Christmas tree ornament art. When I was in the store picking out the ornaments, I was drawn to the all the fun, bright color ornaments.
So, I decided to make the theme of our master bedroom for Christmas "colorful modern."
I didn't go too crazy with Christmas decorations in here. Instead, I opted to just add a couple of simple items.
Santa Mug (similar) || Ornaments
The Christmas tree ornament art that inspired the space fit nicely on one of the nightstands.
I found this cute and cozy throw blanket at TJMaxx and I couldn't pass it up! It's so fluffy and soft. And the pom poms remind me of snowballs.
The largest decoration in this room is definitely the tree. Since we have a more traditional main tree in our living room, this tree was my chance to play around a little with themes and different decorations.
I picked up this flocked tree at Walmart for….$30! What a steal, right? I've always wanted a flocked Christmas tree but they can be really pricey. This was a nice way to try out this snowy tree without breaking the bank.
I do have to warn you, it sheds!!! I don't know why I wasn't expecting it to shed. My husband's comment to me was "Of course it's shedding, it's a flocked tree!" I should have known!
I decided to put the tree over in the corner of the room in front of one of the windows. I didn't have a tree skirt so I improvised and used one of my scarves. I think it works perfectly!
Decorating tip – scarves can be used as home decor! I have used them as table runners in the past too!
All of the Shatterproof Ornaments on this tree came from a set that I bought from Michael's. I went with shatterproof because it's just so much easier. And they look just as beautiful as glass ornaments.
I'm no tree decorating expert, but I did want to add a little something extra to my first "themed" tree. So, I reached for my tried and true favorite decorating item – stems of eucalyptus!
I used a bunch of my faux eucalyptus stems as picks to accent the tree. It took a while to fit them in there without stems sticking out all over the place. But, once I was done and stepped back, I was really happy with the result!
The greenery just adds that little extra something to the tree! I love the natural feel that it creates. And let's be honest – anything will look better if you add some eucalyptus! ????????
At night the room looks even more amazing as the clear lights create that amazing Christmas-y glow!
I hope that you enjoyed this tour of our Christmas master bedroom. Don't forget to stop back each day to visit all of the blogs on the hop. All of the links are below. I promise you will gain some serious Christmas decor inspiration!
Up next on the "Come Home for Christmas" Home Tour Hop is Jeanette from Country Design Style.
Have a wonderful week!
Christmas Home Tour Week 2017
Simple Christmas Dining Room Tour
Colorful Modern Christmas Master Bedroom Tour (You're Here)
Our Traditional Fresh Christmas Tree
MONDAY
TUESDAY
Wednesday
Thursday
Friday
Home with Cupcakes and Crinoline