DIY Wood and Metal Fall Sign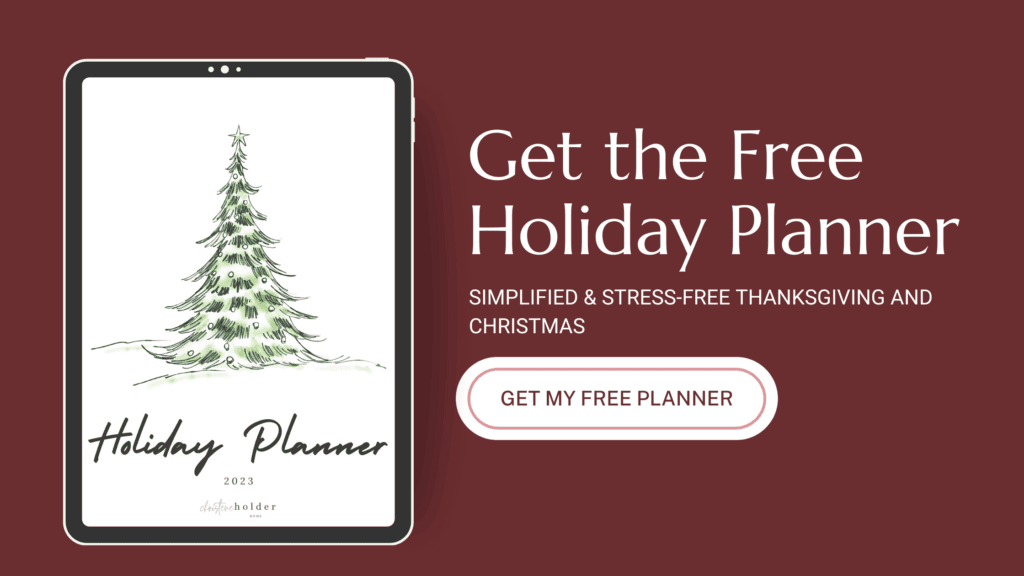 Whenever I'm out shopping for home decor, I always see tons of cute word art signs. Have you seen these kinds of signs lately? I'm not really sure if they're considered "signs" or maybe "accent figures" but I love how they look. They normally have a thick wooden base. On top of the base, there are metal or marble letters free floating spelling out a word or phrase.
I feel like I'm doing a terrible job of explaining these "signs" so here's a picture of one that I found on the TJ Maxx website.
You've seen these around, right?
These word art signs can typically be found in the seasonal decor areas of stores, and for the most part, also have seasonal sayings. They are super cute and lately, I've been tempted to buy them. But as much as I would love to grab all the seasonal saying figures, I just can't justify the price.
Seasonal decorations are only out for a short period of time, so I don't like to spend tons of money on them. Occasionally I'll splurge for something seasonal that I absolutely love. But for the most part, I try to only buy inexpensive or remixable items that can be used year round.
This year, instead of buying the expensive fall decoration, I decided to try and create a budget-friendly version. This wood and metal sign only cost me $6 to make! And, you'll be amazed at how easy it was to put together.
Let me show you how to make a sign for your home!
DIY Wood and Metal Fall Sign
This post contains affiliate links for your convenience. For more information, see my disclosures here.
Materials:
Foam Paint Brush

Small Piece of Wood

Hot Glue Gun and Hot Glue
I started this project by first lining up all of my cardboard letters.
I found these small 4" cardboard letters at Hobby Lobby and I got them on sale for only $1 each. I put the letters in order to spell out "Fall" and left about ¼" between each letter. Then, I measured the total length of the word and added ½" to each end. I wrote this measurement down to save for later.
Next, I gathered all my painting supplies. I decided to create the look of metal letters for this project using FolkArt Brushed Metal paint.
When I was at Haven this year, I got the chance to try out the newest paints from Plaid Paint. Part of their booth was a DIY painting station where we got to create our own terracotta pots using the new Brushed Metal paint collection. I loved all of the paints because they created a beautiful metallic finish and they dried really fast. But, my favorite color was definitely the Brushed Rose Gold!
The team from Plaid was so nice and let me take a few of the paints home with me! I was really excited to finally get the chance to use the paint on one of my own DIY projects. The brushed metal finish was the exact look I wanted for this wood and metal sign.
I used a foam paintbrush to paint all of my cardboard letters on the front, back, and sides. Thankfully the paint dries super fast, so it didn't take long for me to finish this step.
Next, using the measurement that I took at the beginning, I cut a small piece of wood to that length. I used a piece of oak wood that Ben had in his workshop, but you can use just about any wood for this project.
Just make sure that the wood is at least ½" wider than the letters on both the front and the back. That way, there will be a ½" border of wood all the way around the letters.
Once my piece of wood was cut, I estimated where I wanted my letters to go by setting them in place — but I didn't glue them yet. I just move them around until I was happy with the placement.
Then, I used a hot glue gun and added glue to the bottom of each letter. I placed the letters on the piece of wood making sure to keep a ¼" space between each letter.
I continued gluing the letters in place until I spelled out the entire word — FALL!
After the hot glue was dried, I had a brand new sign! Or…accent figure. Or whatever you want to call it.
I think that it looks great next to all my other fall decor. I'm really happy with how it turned out. Especially since it was so inexpensive to make!
I hope that you give this project a try. Creating your own seasonal decor doesn't have to be difficult. And the results look just as good as the expensive stuff.
Now if you'll excuse me, I think I'm going to go buy tons of those cardboard letters and start making signs for Christmas too!