How to Create a Simple Modern Gallery Wall
Design and create a simple modern gallery wall with gold frames and modern black and white family photos. Create decor for your home that is personal and meaningful.
Want more home decor projects? Learn how to custom frame your own photos and how to make DIY abstract canvas art.
This post contains affiliate links for your convenience. For more information, see my disclosures here.
One of the main design features that I wanted to have in my home office is a beautiful family gallery wall.
Since my home office is in the basement, it shares a space with the entry areas in our home. I wanted the entry to our home to feel welcoming and personal.
I think that family photos help to add both of those elements to a home. I also wanted the gallery wall to fit in with the design of my office.
There's a small section of the wall right next to our front door entry. It's a very narrow spot, so you can't really put furniture there. But it's the perfect spot for a large scale gallery wall
How to Create a Simple Modern Gallery Wall
Planning A Gallery Wall
I've seen lots of beautiful gallery walls all over Pinterest. One that really stood out to me was a simple grid design with gold frames. I kept seeing lots of examples of this simple and classic design. I knew it would be perfect for our home.
When planning a gallery wall, you want to consider the scale for the area you will put the frames. I think gallery walls look really beautiful when they take up a large section of the wall.
The design that I decided to use for our gallery wall is a simple 9 frame grid that goes from the floor to the ceiling. This type of design is perfect for this space because there's no furniture.
In my opinion, you want to go bigger rather than smaller when creating a gallery wall. Too many tiny frames on a small section of a wall will look ameatuer.
It may seem large at first, but try and choose the biggest frames you can for your particular space. The scale of having the gallery wall cover most of the wall from floor to ceiling makes it feel modern and more custom.
Start by measuring your wall. Then, decide on how many frames you want to use in your gallery wall design. This will help you determine which size frame you should use to fill the space.
For my gallery wall, I decided to use 16" x 20" gold frames.
Determine The Photo Matting
Once I chose the frames, the next thing I had to decide was how to mat the photos.
The mat is the white part surrounding the actual photo in the frame. Mats make the framed photo look professional.
You can either use the mat that comes with your picture frame, or you can create your own.
I did a full tutorial on how you can mat your own photos at home. You don't have to be limited to the mat that comes with the frame you buy.
If you want something really modern, a large mat with a small photo will look very pretty and classic. I love this look and did something similar in our master bedroom with these photos on our nightstands.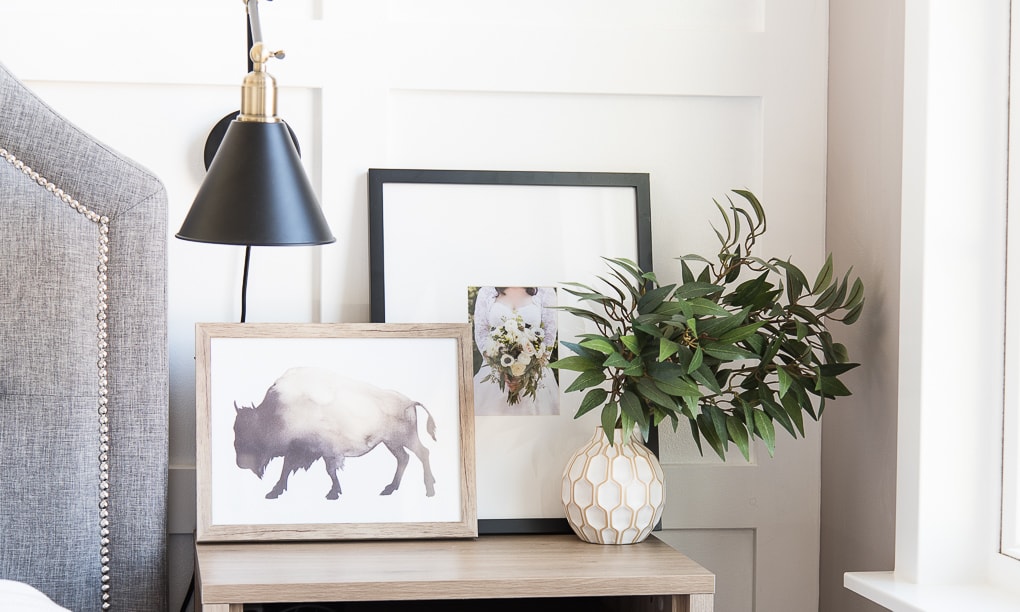 For this gallery wall, I decided to use the mat that came with the frames. They have an opening for an 11" x 14" image.
Choose Photos
Next comes the fun part – choosing the photos for your gallery wall.
Sometimes, this can be difficult because you probably have a ton of photos that you would love to use. But, you have to pair it down to only a few, and ones that work together in your gallery wall.
Start by creating a folder on your computer and adding any photos that you may want to use to that folder. This will help you start to narrow down your options.
Create The Perfect Layout
Next, you will want to mock-up the gallery wall and determine where each photo will go.
My favorite tool for creating mock up is Canva. You can create a free account and use it as a graphic design program.
I created a gallery wall mock-up template in Canva that you can use for free! Just enter your email below to get access to the template.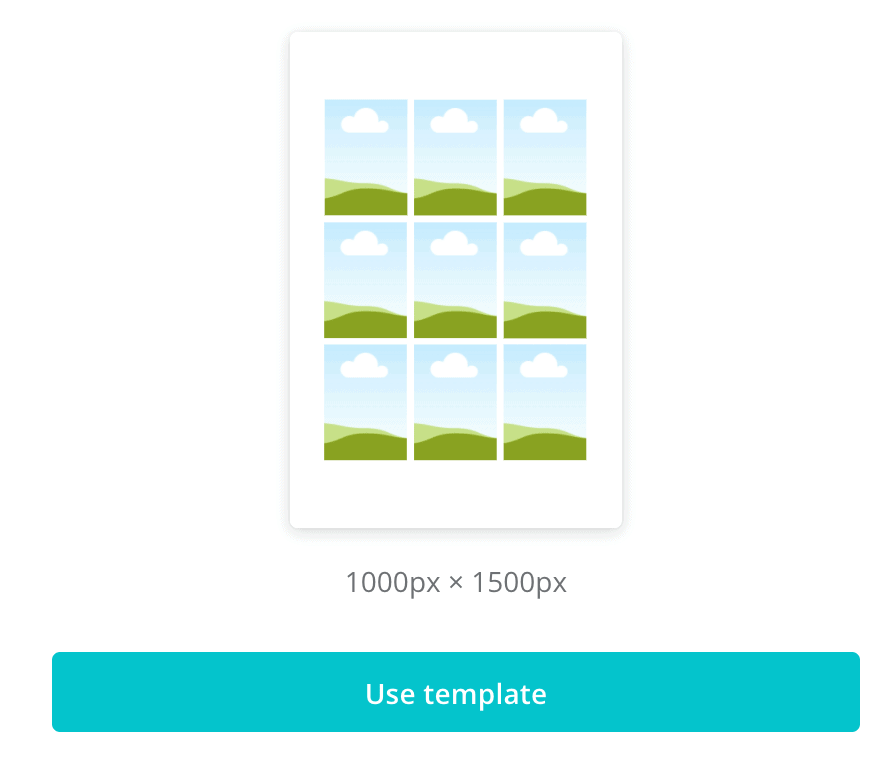 ---
Get the Free Gallery Wall Mock-Up Template
You can also make your own mock-up for your unique gallery wall layout.
To start designing, select the "Create a Design" button and use custom dimensions for your canvas (I used 1000 x 1500).
Inside of the design canvas, select the "Elements" button on the left and find the grids. I used the rectangle grid to act as a digital frame for the pictures.
Upload all of your photos that you want to try out for your gallery wall into Canva. Then, drag and drop the images into the grid elements to see how everything will look together.
You can swap out photos by dragging a new one into the digital frame. Keep adjusting the layout until you get a design mock-up that you like.
I wanted my gallery wall to be all black and white photos. By making all the photos black and white, I can choose different photos that might not necessarily go together if they were in color. When they are all black and white, they have a unifying feature which helps to create that "gallery" look.
It's easy to change the photos in Canva to black and white by using the grayscale filter. This will help you see how the photos will look without color.
Print The Photos
Once you have a layout that you are happy with. It's time to print the photos. You can easily print at home using your home printer. I recommend using a printer that has photo-quality printing with photo paper.
If you are looking for an even better quality print, I would highly recommend going with a budget-friendly professional photo printer.
I use Nations Photo Lab all the time when printing photos and art for our home. They have great quality prints, super affordable prices, and quick shipping.
Hang The Gallery Wall Frames
Once your photos are printed and framed, it's time to install the frames on the wall.
For my gallery wall, I decided to keep a 1" gap in all directions between the frames. This would create a cohesive look to the collection of frames.
We measured the wall and determined where the frames should go so that the entire gallery wall was centered on the wall. Then, using a tape measure, a pencil and some teamwork, we hung each frame onto the wall.
To help stabilize the frames and make sure they didn't go anywhere, we used Command Picture & Frame Hanging Strips on the backs of each frame. This was to make sure that they didn't fall off the wall if someone accidentally bumped them.
Then our simple modern gallery wall was complete!
I love how this project turned out. It's the perfect way to decorate that tiny wall in our entryway. The gold frames compliment the design of my office and look modern with the black and white photos.
I love that every time we come home, we are greeted with our favorite photos.
We chose a variety of pictures that are special to us. Some of the photos are from our wedding, or other photo sessions we have done. Other photos are from memorable vacations we have taken. And of course, we included a photo of our cat Widget too – she's a part of the family.
This gallery wall was created before I was pregnant. Now that we have our new baby girl Nova, we will have to update the photos with some of our new family pictures!
There's nothing more special than seeing your favorite family pictures on the wall. I hope that this gives you some inspiration to create a simple modern gallery wall in your home.
You can follow along as we transform (a section of ) our basement into my comfortable and organized creative home office via the links below:
Planning a Comfortable and Organized Creative Home Office
The Best Modern Accent Lamp {and Giveaway}
The Most Comfortable Oversized Chair
How to Install Plantation Shutters
How to Create a Simple Modern Gallery Wall (You're Here)