Simple and Modern Fall Home Tour 2017
It's Fall Home Tour Day! I've been so excited all week because just I couldn't wait for today.
Home Tours are some of my favorite posts in all of blogland. I love getting to sit down with a cup of coffee and virtually tour other blogger's homes. There are so many creative, amazing bloggers out there. I always get so inspired!
So, as you can imagine, I was thrilled to be a part of this year's Fall Decor and Entertaining Blogger Home Tour Hop. For 5 days (Sept 18-22) you'll get to visit 28 different blogger's homes (virtually of course) and see them all decked out for fall! Talk about tons of fall inspiration!
If you're joining me from Semigloss Design, welcome!
Let me introduce myself. I'm Christene and I'm so glad you've decided to stop by. Consider this your virtual welcome into my home. So step inside and grab a cup of coffee!
I'm passionate about all things home. Decorating, organizing, creating, renovating.You name it — I love it! I believe that your home should be a haven for your family. A place where everyone is comfortable and feels welcome.
My home style is what I like to call "Modern Classic." It's a little bit of traditional and a little bit of modern mixed together to create a fresh and casual atmosphere.
Simple and Modern Fall Home Tour
This post contains affiliate links for your convenience. For more information, see my disclosures here.
Even though I love the carefree days of summer, fall is my favorite season. I think it's because the new season brings with it a feeling of a fresh start. Fall is traditionally the "back to school" season, and I've always associated it with getting organized and back on track
Fall is also the time of year when the temperatures start to cool off and the air is crisp. I honestly think that fall air is the best! And, cooler temperatures means dressing in layers and breaking out all the cozy things.
Basically, fall is just the best!
This year, my fall decor shifted away from the darker, more traditional colors of autumn to the lighter, brighter, and cooler tones. I was inspired by the muted blues, pinks, and purples that I was seeing in the beautiful fall florals.
It's a very different look than I'm used to for fall, but I love how it turned out.
So, let me give you a tour of our simple and modern fall home. We'll start in the living room.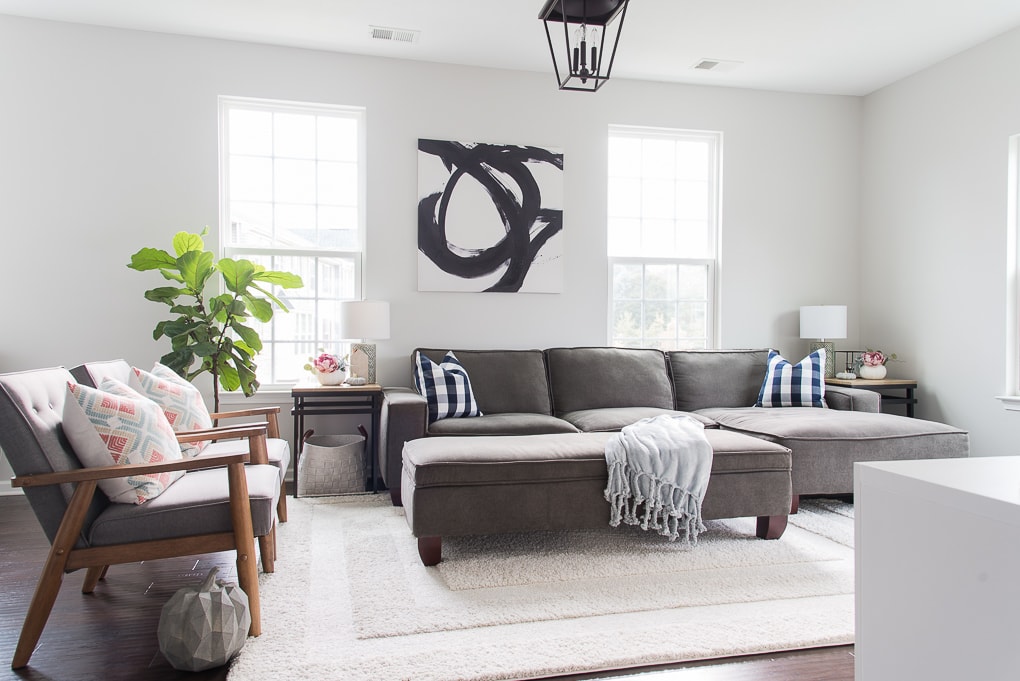 Our living room is far from complete, but in the last few months, we've made some updates that are really making the room feel more put together.
The newest additions to the space are these modern accent chairs. I found them on Amazon and they have helped make the living room feel like a gathering space. It's always helpful to have extra seating for guests.
On our couch, I swapped out the pillows for my navy buffalo check ones. I found these at Hobby Lobby last year and I love them for fall! They also have the perfect feather fill, so they are super comfortable.
With the new furniture arrangement, I decided to move my fiddle leaf fig (affectionately known as "Figgy") over to the other side of the room.
I love his new spot and he looks great next to our new chairs.
On the end tables, I created some simple fall floral arrangements using faux peonies, eucalyptus, and this gorgeous blue-green air plant.
The flowers look great in my white ceramic pumpkin vases that I found at JoAnn fabrics a few years ago. These are my go-to fall vases.
Pink Peony || Air Plant || Eucalyptus || Air Plant
The wooden house is a clearance find from Hobby Lobby last year. I love the contrast of the light wood with the white pumpkins!
The little cement pumpkins are new this year. I found them at Hobby Lobby and I couldn't pass them up. I think I got each one for around $2. Don't they look so cute with their gold stems?
Lately, I've been obsessed with cement decor items. Or decor that resembles cement – like my geometric pumpkin by the chair. That one is from HomeGoods and is actually hollow inside.
I'm seeing lots of cement in decor right now and loving the clean, modern vibe it has. I think I'll be incorporating it more and more into our home in the future. There's a hurricane vase candle holder with a cement base that I have my eye on.
My DIY gather wooden sign has taken "Figgy's" old spot by the media center. I also brought out one of our wedding lanterns to complete the display. We got married in the fall, and these lanterns were our table centerpieces. I DIY'ed all of the centerpiece designs and we saved tons of money by using candles instead of flowers. You can see pictures of our fall wedding here.
I still love this gather sign so much and really want to create more of them for other seasons. You can find the full tutorial for the gather wooden sign here – it was so easy to make.
Another big addition to the living room was our new modern media center.
One of my favorite things about new media center is actually that I have more room to decorate! I put together this simple fall display using a combination of items I had, items I bought, and some items that I DIY'ed.
'Then Sings My Soul' Canvas || Cement Pumpkin || Air Plant || Picture Frame (similar)
Again, I tried to stick with muted blues and a few metallic accents to create a bright and fresh fall display. There aren't any oranges or reds here, but I still think it creates that cozy fall feeling that we all love.
I really wanted an abstract canvas for the media center decor but couldn't find one that I thought would fit well. So, I decided to paint this one myself! I actually really love how it turned out and it was super budget friendly.
I'll have a full tutorial on the blog soon so you can make your own DIY abstract canvas art.
This copper and wooden fall accent figure is actually a DIY project too!
I bet you'd never guess that I only spent $6 to make it. You can read the full tutorial post here. This one was one of my favorite projects.
Now let's go into the dining room.

I decided to keep things simple in this room. I brought out my pretty painted wooden arrow and placed it on top of the board and batten as an accent decoration. I think it adds a little bit of interest to the room.
On the dining room table, I swapped out my summer decorations for a white wooden pumpkin and this "Give Thanks" accent figure.
Tray || Give Thanks Accent Figure || White Wooden Pumpkin
You may recognize this accent figure from last year's Fall Home Tour. It was actually red and orange then.
This year, I wanted it to look a little more modern. I love the metallic accents that I have been adding into my fall decorations, so I spray painted the figure gold. I think it really gives it some new life!
Over by the stairs, I added some cozy fall accents to my console table.
Console Table || Wooden Bookend (similar) || White Wooden Pumpkin || Plaid Throw Blanket
The showstopper here is clearly the fall floral arrangement.
I did a post all about this gorgeous fall arrangement here. The colors of the florals are what inspired my home tour this year.
I added in some natural, earthy decor here with the wooden bookend (similar) and the white wooden pumpkin to balance out the display.
Underneath the console table, I tossed a cozy plaid throw blanket into a woven basket for some texture.
The console table is one of my favorite pieces of furniture to decorate. I love how the natural wood contrasts with the white board and batten. It's so fun to mix up my decor here for each season.
Finally, let's stop into the kitchen – the last room on my fall home tour.

The centerpiece of the island in our kitchen is this beautiful bunch of fresh gladiolus flowers. I found them for only $4 at Trader Joe's and arranged them in a large, clear hurricane vase. They make me smile every time I come into the kitchen.
This beautiful cutting board was actually made by my handy husband Ben. One of his hobbies is woodworking, and one day, he just brought this out of his workshop to me! It's amazing and I love decorating with it.
Over on the stove, I had an amazing smelling cozy autumn simmer pot going. It made the entire house smell like fall. I shared all the details about this fall simmer pot in this post.
In the corner of the kitchen, I created a cute little display of fall peaches. I like having fresh fruits out on the counter so that we can grab them as snacks.
These peaches looked almost too good to eat!
The hand towel is another Hobby Lobby find. I love the neutral colors in the pattern and it added just the right amount of texture to my decor. I found the wooden berry baskets on clearance after fall last year. With all my discounts, I was able to grab 4 of them for only $2 a piece!
On the other side of my kitchen counter, I set up a small apple cider station. I gathered a few supplies and decorations and corralled them in this pretty metallic tray.
Apple cider is a classic fall drink and I think it tastes even better in a cute copper mug. Throw in a cinnamon stick for some extra flavor and you have the perfect way to warm up on a crisp fall morning.
The kitchen is one of the main gathering spots in our home. I know that I'll be spending a lot of time in there this fall cooking up cozy meals and baking sweet treats.
I hope you enjoyed my simple and modern fall home tour. Don't forget to hop over to the other amazing blogs to see their fall homes too. There are so many different styles and ideas, you are bound to find some inspiration for your home.
Your next home tour stop today is Reinvented Collection.
Thank you again for stopping by! I hope that you have a great week!
Monday
Tuesday
Wednesday
Thursday
Friday