Neutral Feminine Nursery Reveal
A full room reveal of the neutral feminine nursery for our baby girl. See every detail and design element of this beautiful, bright and modern nursery.
Want to see more room reveals? Check out our master bedroom, my home office, and our powder room.
Today is a special day! And it's special for a few reasons.
First of all, today my little baby Nova turns 6 months old! Time has flown by and I can't believe how much she has grown.
Here's a picture of our little family when Nova was only 2 weeks old.
Shout out to Rachel Rossetti Photography. She's amazing! If you are in the Pittsburgh area, and are looking for a family photographer, I highly recommend her!
But, I'm also excited because today, I'm finally sharing the full nursery reveal!
YAY!
I've had the nursery ready since before Nova was born. But for the first 5 months, we didn't really get to use it. All of her clothes and supplies were in there, but she was still sleeping in a bassinet in our room.
Within the last month, she's finally transitioned to sleeping in her crib in her room.
I'm so happy that she feels comfortable and safe there. That was one of the main goals when I was designing and planning the space.
The nursery is now one of my favorite rooms in our house.
I put so much thought and consideration into the functional and design elements in this room. And I can't wait to share it all with you!
Grab a cup of coffee and get ready for picture overload. I had such a hard time picking just a few photos for this post, so instead I just decided to share a bunch of them. This post is going to be pretty long, but I promise it's such a good one! I hope you love the nursery as much as I do.
Let me take you on a tour of Nova's neutral feminine nursery!
All sources will be linked at the end of the post so you can easily find anything that I share from this room.
Neutral Feminine Nursery Reveal
This post contains affiliate links for your convenience. For more information, see my disclosures here.
Before I show you everything, let's look back at what this room looked like when we moved in.
This was an extra room we had that's served a number of purposes over the years. It was both a guest room and a junk room at times. But, we knew that eventually it would turn into a nursery.
Now, let's take a look at the space today!
When you walk into the room, the first thing you'll see in the white dresser and the glider chair.
This white dresser is storage for most of Nova's clothes.
To make the dresser look a little more modern, I swapped out the original knobs for these long gold handles. I love how they make the piece feel elevated, but without having to spend a ton of money.
I put this pretty gold mirror above the dresser and styled the top with a few decorative elements.
The letterboard is the same one that I used for our baby announcement. I also used it for Nova's hospital photos.
I had this wooden hello in my craft closet. I was planning on using it for a project, but instead I kept it unfinished and thought it would be really cute on top of the dresser.
The flowers are from my baby shower. Aren't they so beautiful!?
My friend Karianne hosted my shower (which was amazing) and she made a bunch of gorgeous faux flower bouquets. This was one of my favorites, so I kept it for Nova's room.
The glider was the largest splurge purchase that I made for the nursery. But it was well worth it!
I knew I wanted a really nice chair that I could use for nursing, rocking and even story time in the future. Since the chair was going to get a lot of use, I decided to go with a higher-end option, and I don't regret it at all!
This is the Paxton glider from Pottery Barn Kids. The fabric is a really pretty light gray (Brushed Crossweave Light Gray) that is soft and will fit with almost any nursery design.
The glider is deep, which I love because I like to sit with my feet tucked under me or even curl up completely on the chair. But, it's also nice because Ben is tall, but is still very comfortable in this chair.
The glider also has a footrest and can lean back. I've almost fallen asleep on it a few times.
If you are looking for a great nursery glider, I would highly recommend the Paxton glider from Pottery Barn Kids. It's probably my favorite purchase for this whole room.
The side table next to the glider is from World Market. It's got a pretty, modern design with a marble top.
Above the side table, I have a large piece of framed art that I found on Etsy. I bought the file and got it printed at Staples. Then, I framed it in an oversized poster frame.
I love that it's floral and girly, but it also looks like a modern abstract art piece.
The focal point of the room is the modern accent wall with the crib.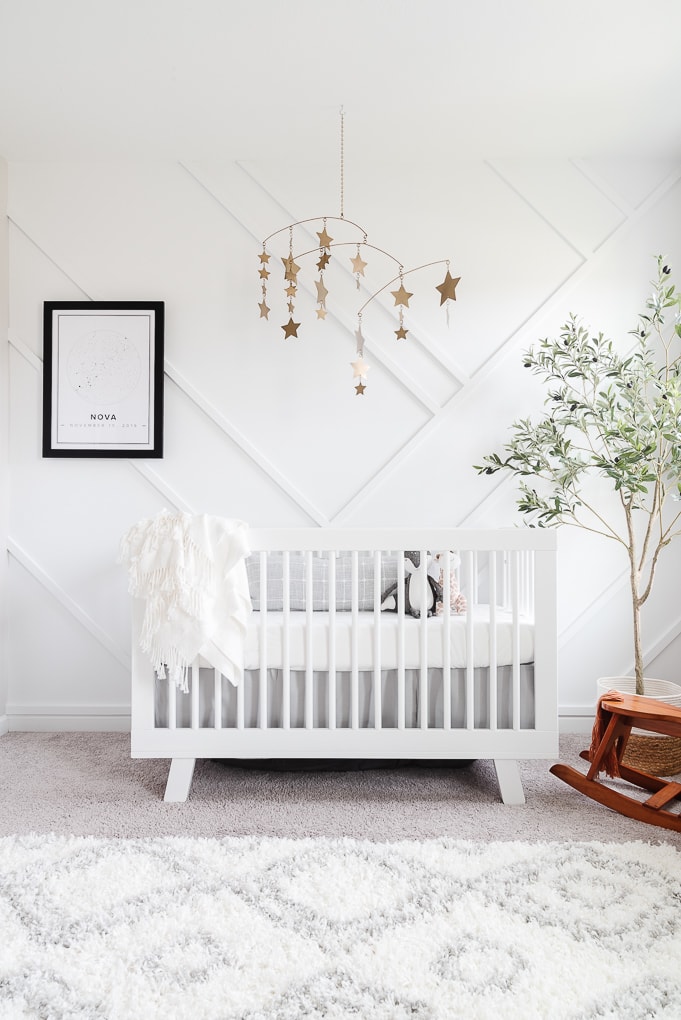 I absolutely love how this wall turned out! It adds so much dimension and interest to the room.
The crib that I chose for the nursery is a simple, modern design from Babyletto. It looks perfect against the accent wall.
This gorgeous blanket was a gift from my sister in law. It's super soft and pretty! I love the detail in the design of the blanket.
Above the crib, I chose this pretty gold star mobile. I've had my eye on it for a long time, and I was able to scoop it up on clearance.
I love how the gold looks against the white accent wall. It's perfect!
Next to the bed, I have a framed print from Mapiful.
This print is a star map from the night Nova was born. I picked a modern black and white design.
Both the star print and the mobile are subtle, girly space themed items. I think they are perfect for Nova's nursery.
I found this gorgeous faux olive tree and knew that I wanted to incorporate it into the nursery.
Once it arrived, we mounted it to a piece of wood to weigh it down and then put it inside a simple neutral basket.
It's super pretty up close and looks as close to real as you can get.
This rocking horse was actually a piece that I found years ago at an antique shop. I don't think it's actually an antique, but I loved the design. (you can find a similar rocking horse here)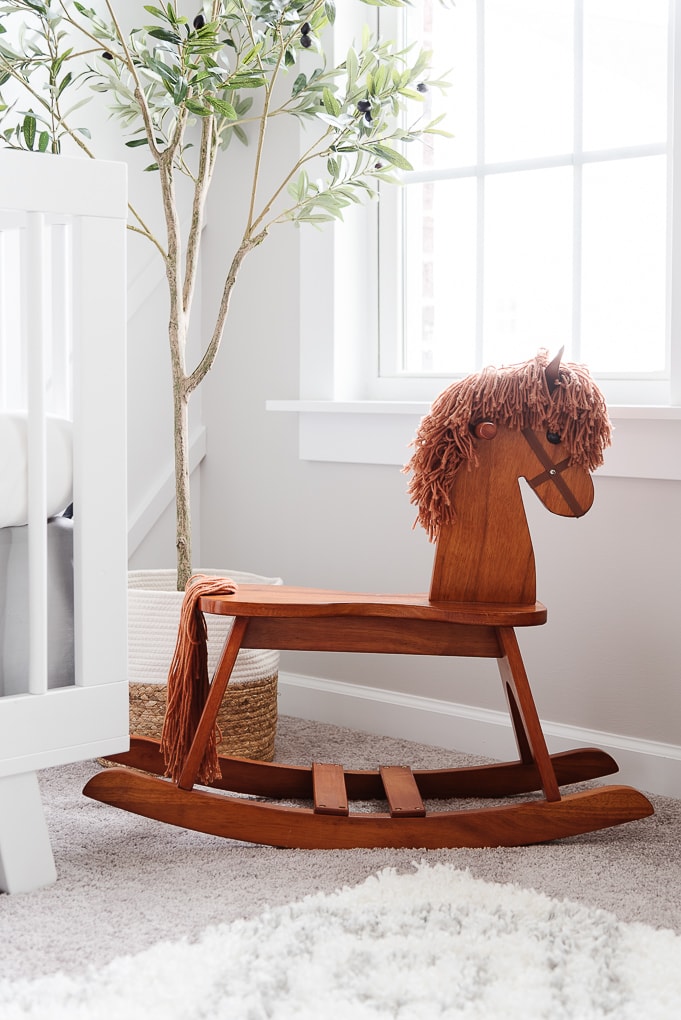 I've been waiting to be able to put it into a nursery in our home. I originally thought about repainting it. But ultimately, I decided to keep the wood tone. I think it adds some warmth to the room and it's just charming for a kid's space.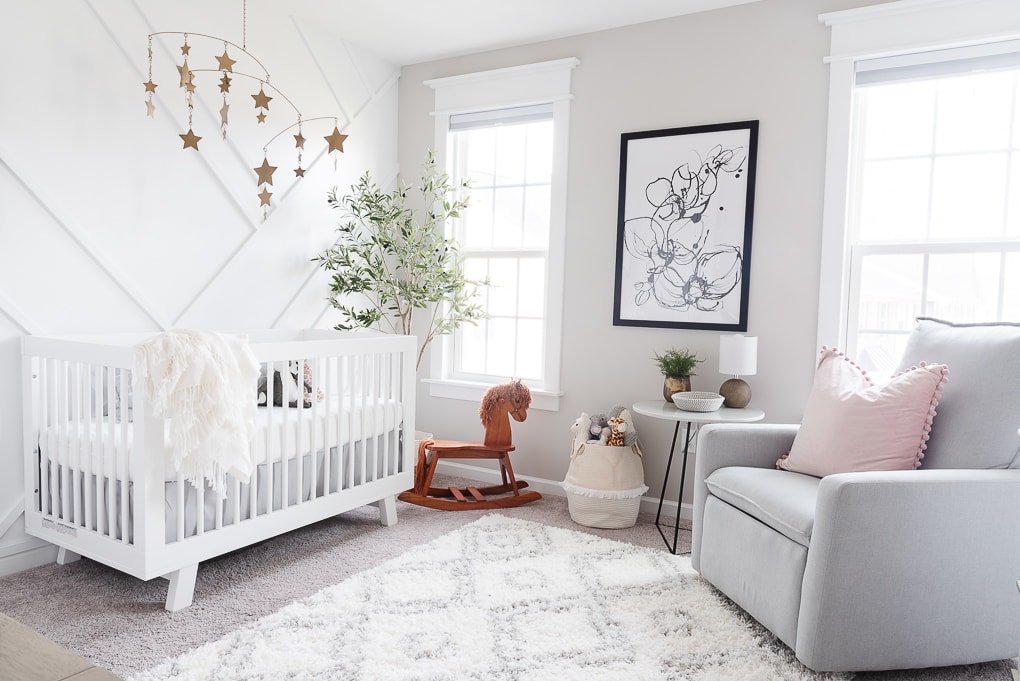 This soft pink rope basket is perfect for holding lots of stuffed animals. And the fringe detail on the side is super cute.
Now, from here if you turn around towards the door, you'll see a small nook area. This spot is the perfect size for a small dresser that doubles as a changing table.
I decided on a gray, wood-toned dresser to contrast all of the other white I have going on in this room. It adds some warmth and interest.
Just like the white dresser, I swapped the original knobs out for these faceted, gold knobs. I love that they tie into the rest of the gold accents in the room.
The changing pad on the top is actually a molded foam pad. I had my eye on the really expensive peanut changing pad, but then I found this dupe for a steal. It was basically a quarter of the price of the peanut version.
I love it because you can wipe it down or wash it off easily. And there's no cover that you need to wash or switch after the inevitable explosion.
I keep most of the changing supplies in the dresser drawers. There's lots of storage for things like diapers, wipes, and other extra baby gear.
On the top, I keep a wipe dispenser and a caddy for quick access to any tools I might need.
Above the dresser, I have two simple wooden frames.
The top frame has a pretty typography art print that says "I love you." I designed it myself, and you can get it in my shop. The bottom frame is a large print out of Nova's ultrasound photo.
On the side wall, I added these modern shelves with gold accents. These were so much fun to style and add some personality to the nursery.
The little white castle is a piece that I've had for years. I love the Disney parks, and I thought this piece was pretty. I was so excited to incorporate it into the room once we found out that we were having a girl.
The hippo stuffed animal is so cute and soft. It was a gift from one of my best friends growing up at my baby shower.
I thought this glass jewelry box was perfect for displaying more sentimental items.
I have all of our hospital bands from when Nova was born displayed in here.
You can see the large pink bands for Ben and me, and the tiny ones for Nova's wrist and ankle.
Little personal touches like these make your house feel like a home. I love incorporating special pieces into my home decor, because it reflects the people behind the spaces.
It was so much fun taking you on a full tour of the nursery. I hope that you love this space as much as I do!
I'll be sharing more posts in the future highlighting some of the more functional aspects of the nursery. Things like organizing items, where I store things, and more.
There's just too much to cover in one post. So I tried to keep this one all about the decor and styling.
I hope you loved all the decor inspiration.
If you are looking for any of the sources for the neutral feminine nursery, I've collected everything below. Just click on the photos to shop the room.

Thanks so much for following along as we did a full makeover of the nursery. You can see all the posts from the nursery makeover via the links below:
Neutral Feminine Nursery Design Plan
How to Create a Modern Accent Wall
Neutral Feminine Nursery Reveal (You're Here)