Modern Classic Master Bedroom Reveal
I'm so excited to give you a tour of our modern classic master bedroom! We tried to make it really relaxing and beautiful at the same time, with a mix of DIY projects, a few new pieces, and some decorative accents. Come on in and take the grand tour!
The master bedroom is finally finished and it's time for the full reveal! We've been working for the past year to update our master bedroom from builder basic to something that fits our personalities better. It's taken a long time, but it's definitely been worth the wait.
If you're new to the blog, in 2015 we moved into our townhome! It's a new build home so we started with a totally clean slate. Since then, we've been updating the house little by little to make it more our style.
Psst: You can check out our home tour here!
The latest major project that we've been working on is our master bedroom.
Modern Classic Master Bedroom Reveal
This post contains affiliate links for your convenience. For more information, see my disclosures here.
I've always wanted a master bedroom that's like a luxury hotel. You know, a place that's super cozy, comfortable, and just relaxing! Somewhere that I could go after a long day and just rest.
Before we moved into our home, we made a plan of the rooms that we wanted to tackle first. The master bedroom was high on my priority list. I had all kinds of ideas swirling around in my head and I just wanted to start making it into our space.
But when we actually moved into our home, the priority list changed a little. We put most of our time and effort into making the main living spaces more our style. And the master bedroom got put on the back burner.
Here's what the master bedroom looked like right after we moved in.
Please pardon the move-in day photos!
Over the few years that we've been here, I've been slowing chipping away at the master bedroom makeover. It's taken me a lot longer than I originally anticipated, but I've finally gotten the room to a point where I'd consider it finished.
So now it's time to reveal the finished space and share all of the decorating details!
Welcome to our new master bedroom!
Do you even recognize it? It's hard to believe that this space was once just a big, yellow space. I can't believe how different it looks now.
Out of all the rooms in our house, the master bedroom is the space where we've done the most DIY projects.
We started by painting the walls a muted gray, more specifically London Coach by Valspar. It's slightly gray, slightly pink and purple, and it really warms up the entire space.
After painting, we started my all time favorite DIY project in our home, the grid board and batten wall.
I've had the idea to do a grid board and batten feature wall since the very beginning when the room was just drywall! I knew that it would be the perfect focal wall for our master bedroom. And I just love architectural elements in homes.
The grid board and batten is a little bit traditional and a little bit modern. It helps to bring both styles together in this space and make it a truly modern classic room.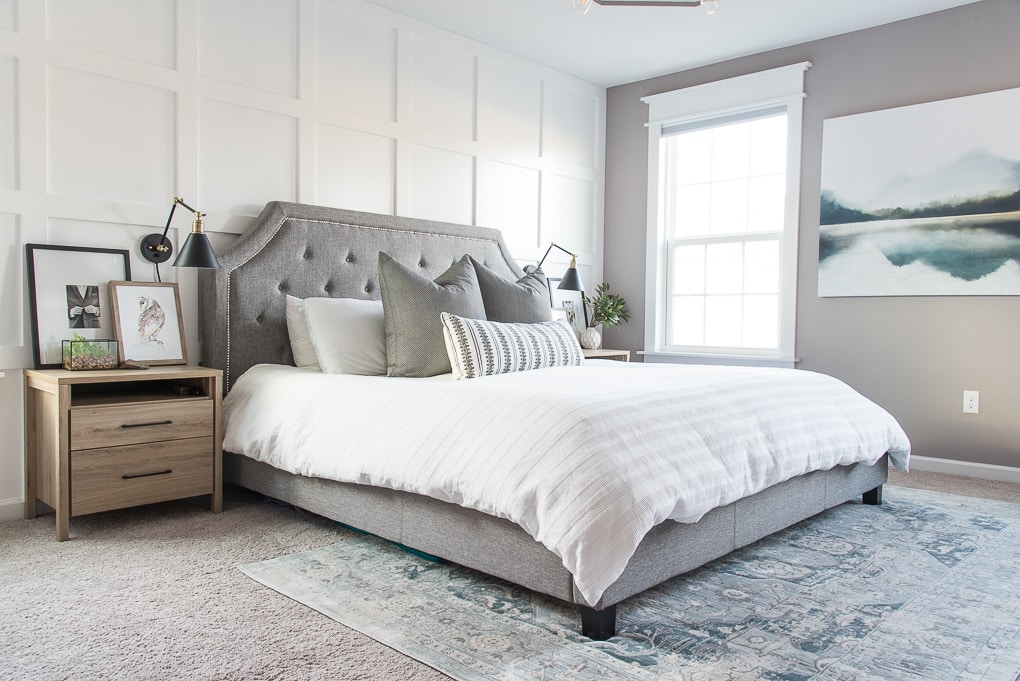 Next, we added modern craftsman style trim to all of the windows. If you haven't noticed, none of the windows in our home have trim. That's because our home is a builder grade home, and window trim is an expensive addition.
As we update different rooms, we've been trying to add craftsman style window trim to give each room a more finished look.
I love how the trim makes the windows look larger and more finished. Even Widget loves the new trim because now she's got a larger sill to sit on!
The last major project that we tackled in this space was our DIY modern barn door. We replaced the door to our master bathroom with this craftsman style door that we build ourselves.
The door to our master bathroom always bugged me because it was in the way all the time! It blocked our shower and when you opened vanity drawers, sometimes you couldn't even open the door. It just wasn't right for the space.
I knew that a barn door would be the best solution — we even had wall space available to the left of the master bathroom. Now that the barn door is finally installed, I love it! The style perfectly compliments the grid board and batten wall and overall, it's just a much better door for that space.
Aside from all the DIY projects, we've also made a lot of changes in the furniture and decorations in this room.
The main change was switching out our old queen bed for a new king size bed. Best change ever!
Bed || Mattress || Box Spring || Duvet || Duvet Cover || Euro Pillows || Euro Pillow Covers
We updated all of our bedding to go along with our new bed. Thankfully, I was able to find some great deals on the bedding pieces. You can see all the details about our bedding choices here.
I love how everything came together to create a bright and modern look for the master bedroom.
Our new bed is a much lower profile than our previous bed was. That meant that our old nightstands were way too tall and just didn't really go with the rest of the room.
To replace them, I found these amazing wooden nightstands for a great price. Not only are they the right size, but they also have tons of storage.
I love how the natural wood tones look against the bright white wall and all of our white bedding.
It's just the right amount of warmth to tone down all of the stark whites.
Nightstands || Sconces || Owl Art || Faux Greenery Terrarium
Instead of lamps on our nightstands, I decided to install these sconces. They are dimmable and are the perfect reading lights at night. They are one of my favorite details in the room.
Buffalo Art || Faux Greenery Stems
Without lamps on our nightstands, we had lots of room for some decorations. I didn't want to clutter up the nightstands, so I decided to add some artwork leaning against the back wall.
Each of our nightstands has a large black frame with a photo from our wedding day. I custom framed these myself using this method.
I decided to use a really large matte with a smaller photo for a modern and minimal look.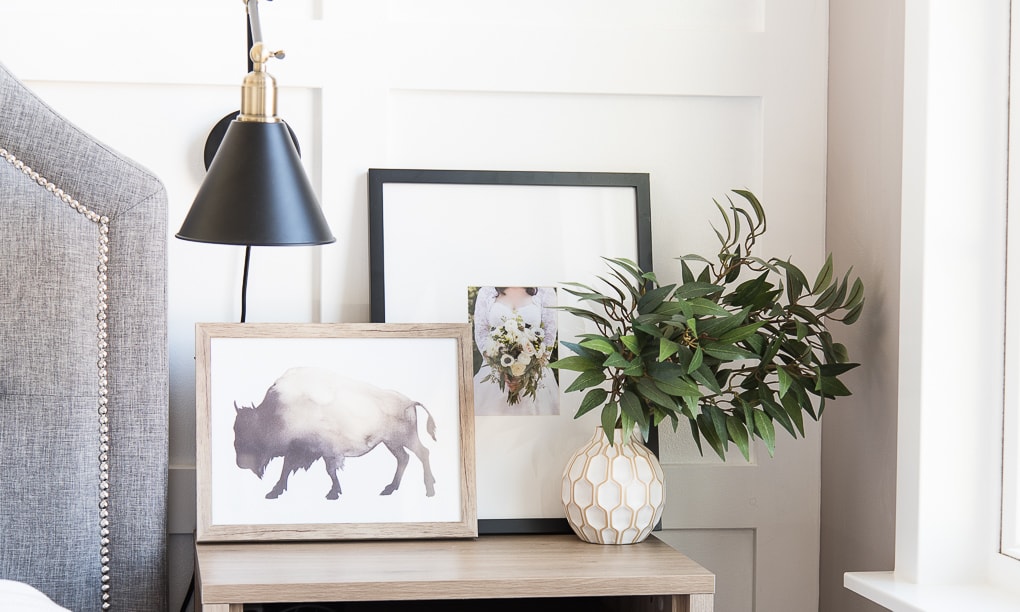 I layered some artwork with natural wooden frames to give our nightstands a more casual feel.
Underneath the bed, I layered a beautiful traditional looking rug. It really helps to anchor the whole space. And on the ceiling, we found this awesome sputnik style light fixture. It's a fun and unexpected modern piece mixed with the other traditional elements.
Rug || Light Fixture
I decided to go with one large piece of art for the walls to balance the smaller frames on our nightstands. I fell in love with this canvas the first time I saw it!
It's full of color, which was needed in my mostly white and gray room. But, it also has a very peaceful and serene look to it.
In the corner by the barn door, we found this great accent chair. It's a nice reading spot or just a place to sit down besides the bed.
Over on the other side of the room, we completely changed the furniture. We used to have two IKEA dressers against this wall.
Felt Basket || Faux Fern Arrangement || Bookends
Since we have a lot of master closet space in this house, we didn't need dressers anymore. So, when we got a new media center in the living room, we decided to move the bookshelf up to our master bedroom.
Swapping out the dressers for this bookshelf gave me tons of decorating possibilities! At first, I was a little intimidated by all of the blank space on these shelves.
But, after some trial and error, I was able to come up with a cohesive look that fits perfectly with our master bedroom design.
The key to making shelves look put together and not cluttered is to give yourself some breathing room. Don't try to cram too many things into one space. Let the items stand on their own.
I'm so happy with how our modern classic master bedroom has come together. It took us such a long time to complete the room, but it was definitely worth the wait!
I can honestly say that this is my favorite room in our home. It's such a nice space to come back to after a long day. All of the elements and decorations create the relaxing haven that I was hoping for.
I hope that you love the room just as much as I do!
Now for a before and after…
If you missed any of the previous master bedroom makeover posts, you can find the links below.
I hope that you have a great week!
Build Your Ultimate Bed — Our New Bed and Casper Mattress
Build Your Ultimate Bed — Our New Eight the Smart Mattress Cover
Build Your Ultimate Bed — Dream Bedding Essentials
How to Get Rid of Nightstand Cable Clutter
How to Build a Grid Board and Batten Wall
8 Affordable Accent Chairs for your Master Bedroom
9 Affordable Sputnik Chandeliers for your Home
12 Affordable and Beautiful Abstract Art Canvases
5 Affordable Modern Accent Rugs
How to Install Easy Craftsman Window Trim