Today I'm sharing our first big home project of the new year – a new media center in the living room! Yay!
Our living room has gone through a few changes recently. It all started when we decided to get a new TV. Ben had his heart set on a 65" curved TV. At first, I was thinking it would be a little big, but our living room is a pretty large space. And since we wanted the living room to be the main "TV" space, we decided to go for it!
We bought the TV and brought it home with a little help from some friends with a larger car (thanks Mollie and Brandon!). Once we got it into the room, we realized that we forgot one detail. The new TV was just a little too big for our TV stand. It was basically the same size as the piece of furniture we were using as a stand.  
So, it was time to find something that fit the room and the TV better. We moved the old TV stand furniture up to our master bedroom and I started planning for a media center.
---
---
How to Design a Modern Media Center using IKEA BESTA Cabinets
I had been thinking about creating a "built-in" like media center for that wall in our living room, but I didn't really have a reason to change things up.
My idea was to put in lower cabinets that filled the entire length of the wall. This would give us a ton of storage and a media center that looked like it was made for the space.
Originally, I thought about adding shelves and upper cabinets as well, but I eventually decided against it. The TV area is one of the first things that you see when you walk up the stairs and into the living room. I didn't want to have a giant wall right when you come up the staircase. By only having lower cabinets, it would keep the space open.
Measure
The first thing that I did was measure the wall. I knew that I wanted something that would fit the entire length of the wall and not leave any gaps on the sides. Once I had my measurements, I pulled up the IKEA website to look for cabinet options.
This post contains affiliate links for your convenience. For more information, see my disclosures here.
Use the IKEA BESTA Planner
IKEA has so many different affordable cabinets that you can customize for whatever project or space you are working on. One cabinet type I had been eyeing was the BESTA system. These cabinets are made for living room storage and are available in a ton of different options.
If you don't have an IKEA near you, you can also find a great selection of the BESTA cabinets here.
The BESTA system also has its own virtual planner online. I logged into my IKEA account and opened up the planner here.
Inside the planner, you can specify the size of your room and add any extras that you want to visualize the space. I created a room with a window to give me an idea of how the media center would look on our living room wall.
Start Designing
Next, you can select different BESTA products and drag and drop them into the design. Thankfully, our wall ended up being exactly the right size for the BESTA cabinets. I selected a main cabinet that was 3 bays wide. This one comes with a panel in the back for all the cords and plugs that go with TV equipment.
Then, I added a single bay cabinet to either end of the main cabinet to create a full media center.
Add Details
The BESTA planner lets you add pieces one at a time to build your perfect unit. When I added each cabinet, it only added the frame. Then, I selected whether I wanted drawers or doors for each unit.
I decided to make three of the bays door cabinets with a shelf inside. Then, the other two bays were left open so that I could add drawers. First I added the shelves.
Then I added the drawers.
Next, I added the door fronts to the cabinets. I love the Hanviken white style because it is similar to the other finishes in our house – like our kitchen cabinets and our board and batten in the dining room.
Finally, I added the legs to the design. I actually ended up buying one more set of legs than was shown in the design. That's because the 3 bay cabinet is supposed to have "invisible" legs in the middle. But the invisible legs made the entire media center look uneven in the middle. So instead, I added another set of legs to my list.
Visualize in Your Home
After I finished the basics of the design, I added some accessories to try and visualize how the media center would actually look in our living room.
Once I was happy with the design, I was able to print out an sites that accept entire list of everything I would need to buy. As I added pieces to the design like drawers and doors, the bonus planner was adding all the associated hardware to my shopping list.
Buy Everything!
With my shopping list in hand, I headed out to IKEA to pick everything up. I actually went by myself, and I'm proud to say I picked out everything in the warehouse myself and loaded everything into the car myself! And, I didn't miss or forget anything – YAY!
IKEA was having a sale that weekend and I was able to get all of the pieces for the media center for just under $500.
Once I got everything home, Ben and I spent the whole afternoon putting the media center together. It wasn't difficult, it was just a little time-consuming.
When we finally put the media center against the wall, it looked like it was made for the space! It fit perfectly! We were lucky that our wall just happened to be the same length as 5 BESTA cabinet bays.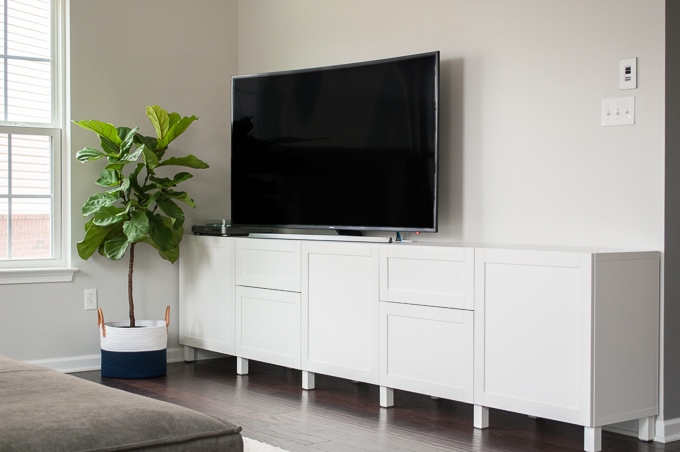 I love how our new media center looks! It matches so well with the rest of the finishes in the house and also looks really modern.
I can't wait to add some modern hardware and organize all the new storage that we have. Stay tuned for future updates on our modern media cabinet!
PS: You can read all about the modern hardware that we chose for our media cabinet here
Do you have the BESTA cabinets in your home? I would love to hear what you've designed with them.
PS: Some of my favorite bloggers have also used the BESTA system in their homes. Check out Abby's living room and Sarah's craft room.