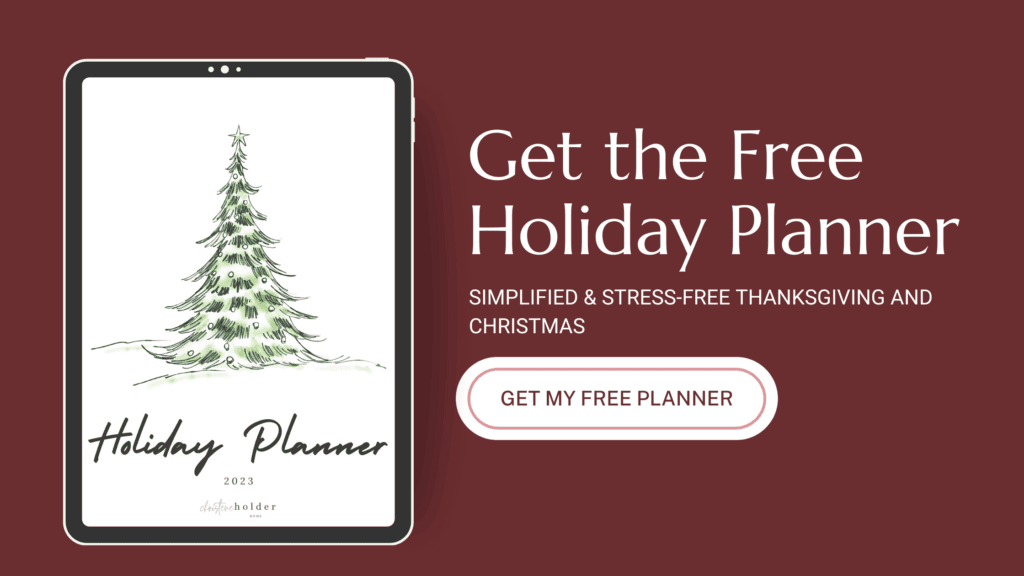 Welcome to my Fall Home Tour. I hope that you can find some ideas and inspiration as you take a tour of my home decorated for the autumn season!
Want more fall decorating ideas? You can see all of my fall posts here.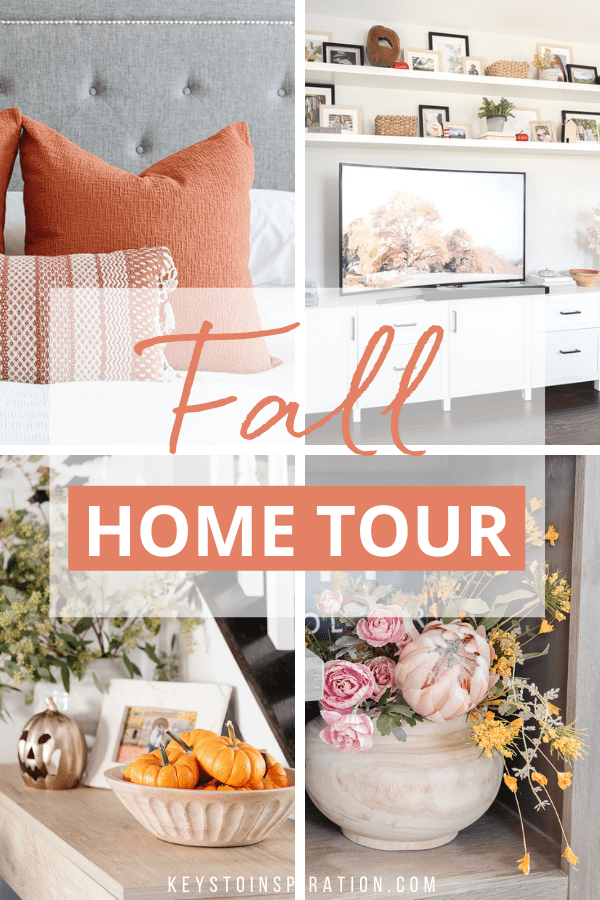 This post contains affiliate links for your convenience. For more information, see my disclosures here.
Fall is my favorite season of the year. I love everything about it!
The weather finally starts to cool down, you can wear cozy sweaters, go apple picking, get pumpkins just about anywhere, and see all the beautiful changing leaves.
There's so much that I look forward to this time of year. I think it reminds me of going back to school, starting up our routines again, and getting a fresh start.
I also love to decorate my home for fall. It's the perfect time to make our home feel cozy.
This year, I even added a few Halloween decorations as well. I don't normally decorate for Halloween, but I found a few pieces that I thought fit well with my home style. And they weren't too spooky or scary.
Today, I'm taking you on a fall tour through my home. You'll see how I've decorated for autumn and you might even get some ideas for your own home.
This is a large post, with lots and lots of pictures. So, grab a cup of coffee and get comfortable because I'm taking you through a ton of rooms and sharing all the details.
Fall Home Tour 2020
Fall Mudroom
This year, I got to decorate our new mudroom for fall.
We just finished this space and I'm so thankful to finally have an actual entryway to our home. You can see the full room reveal of the entryway and mudroom here.
I changed a few things in the space of our home to decorate for fall. It's nothing too drastic, but it still makes everything feel a little more seasonal.
My favorite addition is this gorgeous wreath! The color is so pretty for fall and knew it would be perfect in this space.
Sources
Fall Home Office
I added a few seasonal touches to my office space this year. I kept things much brighter and lighter in this room. My office is very fun, creative, and colorful. So I wanted the fall decor to reflect that feeling too.
A few colorful pumpkins on the shelves were the perfect addition for fall.
I also used my DIY magnolia garland to add some fall texture to my desk. I actually made this garland for Christmas, but I think it works great for fall as well. You can see the full tutorial for the garland here.
I love burning candles in the fall because I think it makes everything feel cozier. This candle is such a great fall scent, and it's pretty too!
Sources
Fall Living Room
In our living room, I switched out a few things here and there to make it feel more like fall. This is such a large space in our home, so there were lots of different areas to decorate.
I love to have a candle burning in this room. I tucked a cozy one in the tray on our ottoman – Warm Caramel Crumble from Antique Candle Co. It's so yummy.
Of course this pretty tray doesn't stay like this for long. My daughter can now pull herself up on the furniture and her favorite toys are the little cement pumpkin and the candle.
But at least it's pretty for the photos!
One of my favorite ways to change my decor is by switching the pillow covers. This year, I went with lighter, muted colors and a lot of cream and white.
Here's my couch pillow combination. It feels so cozy and relaxing to me.
The pumpkin on my end tables were new additions this year. They were actually only $3 each at Target in their front section of deals. I love the knitted texture!
Our new shelves got a few fall accents. I switched some of the greenery for fall stems and textured natural elements. I also added a few pumpkins!
I also turned our TV into temporary fall art. Instead of this big black box in the middle of our room, I used this technique from Lauren at Bless'er House to make my TV look like a framed piece of art.
I love these matte black vases that I found for fall this year. The contrast is so pretty with all the white in our living room. I know these will be decor pieces I can use all year, and not just for fall.
I added some muted fall leaves stems to the tallest vase for a seasonal touch.
I placed a cement pumpkin on top of my favorite stack of decor books to finish off the media console decor.
I love this space in our home! This fall we are getting new family photos taken and I can't wait to switch out the photos on the shelves.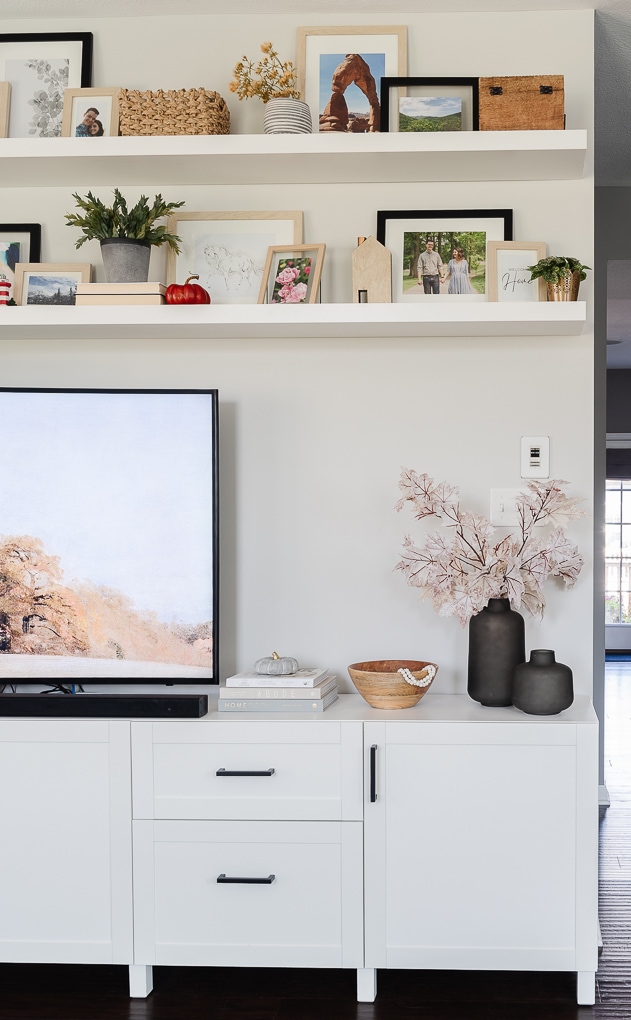 This side of the living room is going to be transformed into a kid area soon. I added a new storage basket that you can see peeking behind these chairs. It's the perfect spot to stash all of my daughters small toys.
Next to the bookshelves, we are adding a gate and giving her a zone where she can play and also stay safe. We have so many stairs in our townhome, so it will be nice to have an area where I know she's contained.
I still have her sono photos on the bookshelves and I'll probably keep them there until we have another baby. 🙂
Around the living room, I changed most of the greenery I had during the summer for fall florals and textures. I looked for natural looking stems that had interest and texture. I also wanted colors that really reflected the season.
The florals really help pull all of the fall decor together.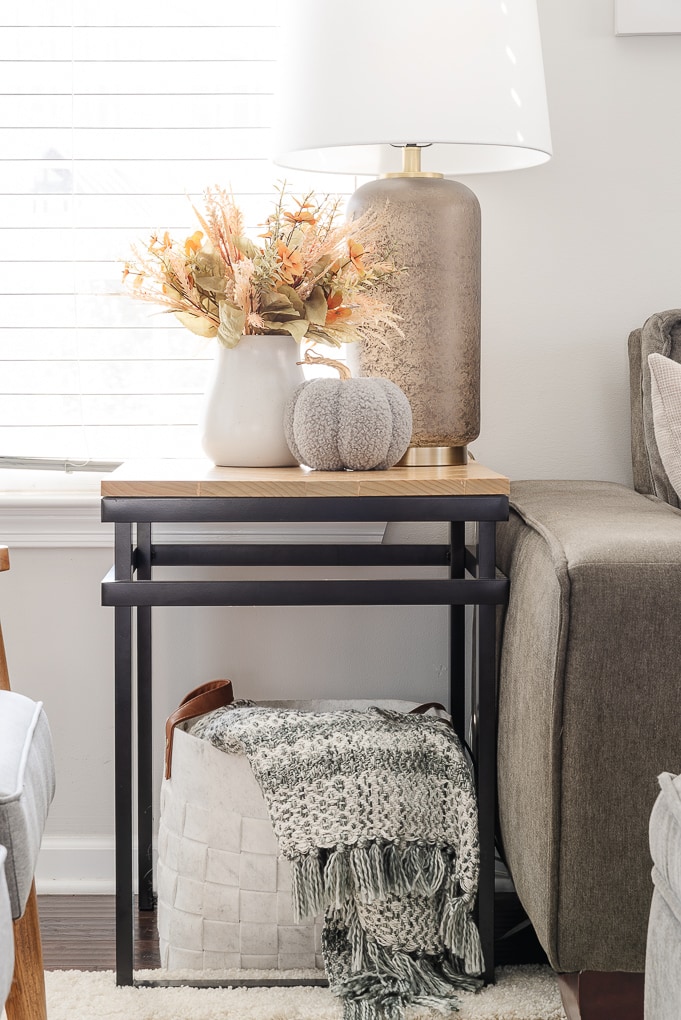 Sources
Fall Dining Room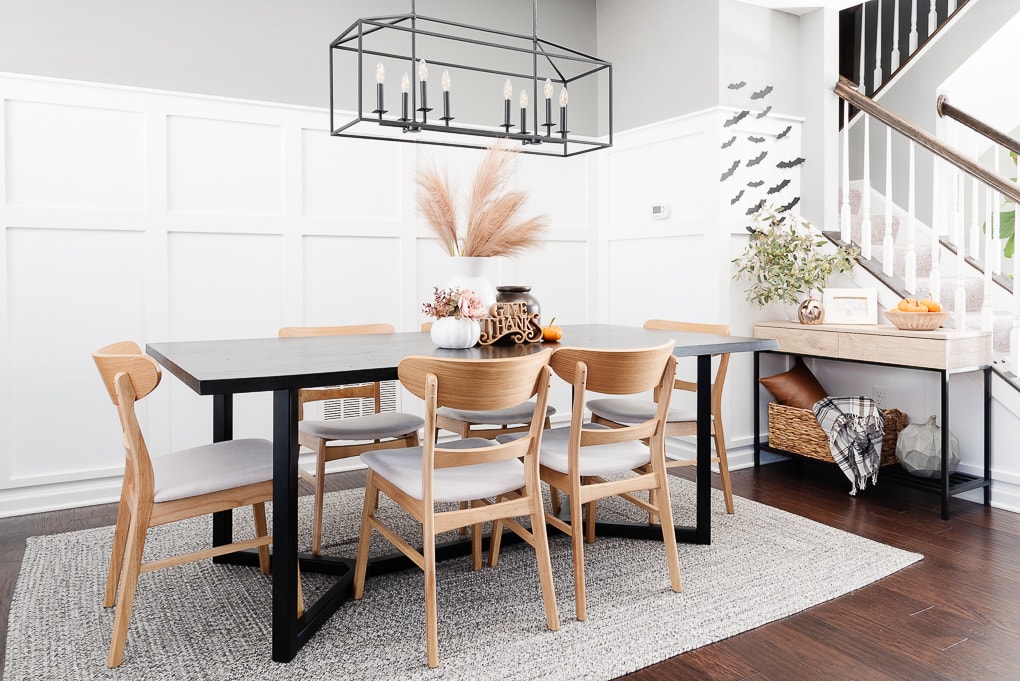 The dining room has come such a long way since last year.
I have wanted to get a new table for a long time. So over quarantine, I finally found a table, chairs, and light fixture that I loved. And it's completely changed this space!
I created a fall centerpiece by grouping together a few vases and other fall accents.
Over on the console table, I created a Halloween vibe with these paper bats and a pretty jack-o-lantern object.
I was able to grab some fresh seeded eucalyptus for the vase on the console table. It's so nice to have some fresh greenery in your home. And eucalyptus is my favorite!
I also added a plaid throw blanket in the basket below and a faux cement pumpkin.
I love how this console table decor turned out. It's a little spooky but not scary.
Sources
Fall Kitchen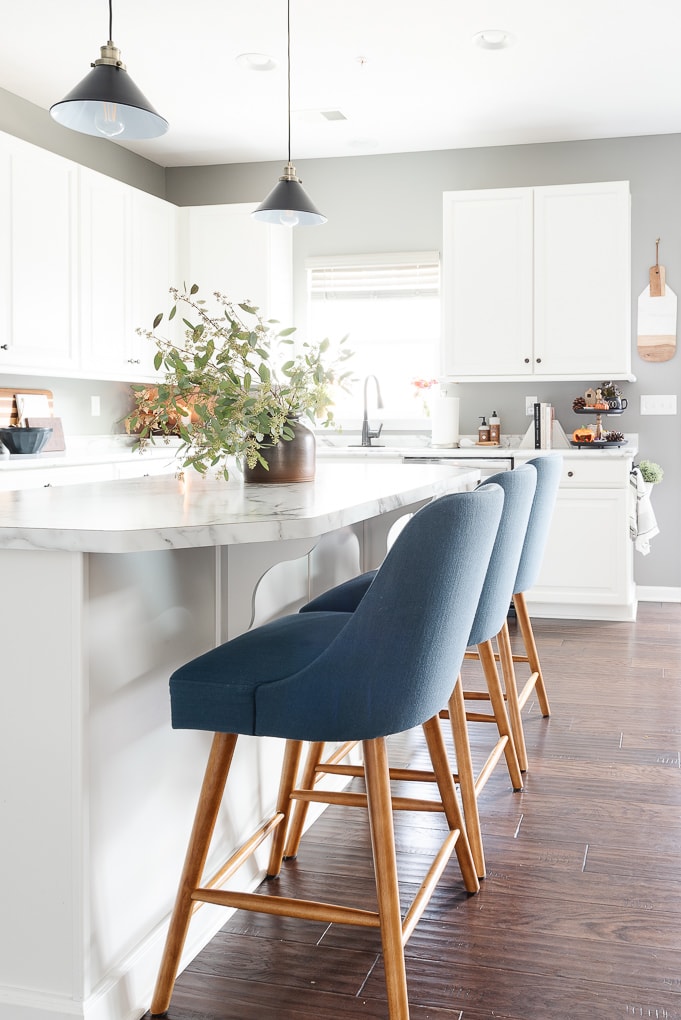 The kitchen was a fun space to decorate for fall this year. Because the kitchen has to be practical, I like to keep my decor grouped together and most of the time on trays.
This helps to keep everything contained and out of the way when I'm working and cooking in the kitchen.
I always keep a candle in the kitchen and for fall I pulled out the Pumpkin Spice candle from Antique Candle Co.
I also like to use seasonal cleaning products, and Grove Collaborative has some amazing fall scents. The Mrs. Meyers brand is my go-to for kitchen cleaning. And it looks pretty out on the counter too.
I never thought tiered tray decor was "in" for the type of home decor and style that tend to gravitate toward. It's a little too farmhouse-y for me. But, I found this modern black tiered tray and thought it would be cute to have in our home.
Now that we have a daughter, I want to do some fun decorating too that will make her happy and excited for the holidays and seasons.
So while a tiered tray isn't exactly going to be in the next home decor magazine, I'm going for it in my home because of the fun factor.
And it gave me an excuse to find some cute Halloween decor pieces that fit on this tray.
Now if only the kitchen was this clean all season long! 🙂
Sources
Fall Master Bedroom
This year I decided to switch the pillow covers in our master bedroom for fall. I found these pretty textured rust orange covers and I feel like it completely changed the feel of this room. The color is perfect for autumn.
I decorated these shelves a little differently and added some small white pumpkins here and there.
I also put together a fall floral arrangement in this pale wooden vase. All of the colors together look so pretty.
I'm really glad I got a photo of it because it's been destroyed a few times by my daughter.
Sources
Fall Bathroom
I have never shared this space before on the blog because it never felt "ready" to me. But this year we added a few decor pieces like some artwork and a floating shelf. It's starting to feel more put together and I thought it would be fun to finally share.
Sources
---
Don't you love home tours? Me too!
I love being able to take a peek into some of my favorite homes to see how everyone decorates for the season. It's so fun to get ideas and see how unique everyone's decor can be.
I hope you enjoyed this tour of my home. Let me know what you liked the best.
Happy Autumn!