Festive Christmas Mudroom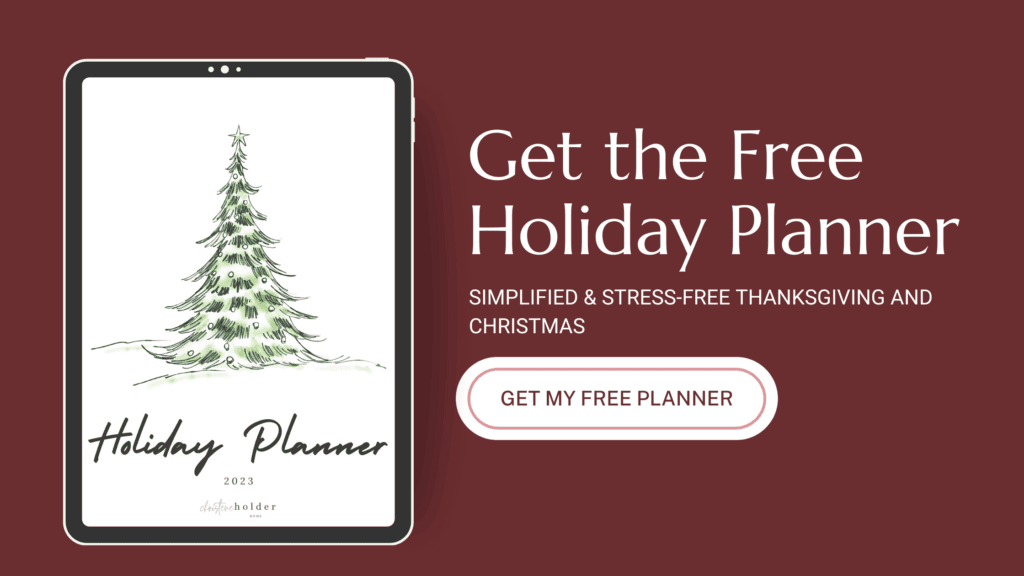 A festive seasonal Christmas mudroom. Christmas details make this entryway shine for the holiday season.
Want more Christmas decorating ideas? You can see all of my Christmas posts here.
This post contains affiliate links for your convenience. For more information, see my disclosures here.
Welcome back to our Christmas Home Tour 2020. We started off with my office, so if you missed that you can take the tour here.
Today, I'm not going very far because I'm sharing our mini mudroom area all decked out for the holidays.
This area is technically in the same "room" as my office. But we kind of designated the area as its own space by creating a mini mudroom with some built in furniture and storage. If you want to know about how we created the mini mudroom, you can tour the entire space here.
For Christmas, I added a few small details to make everything feel a little more festive.
One of my favorite things during the holidays is hearing jingle bells. We've had the strand of bells that's hanging on the back of the door for years. And hearing it reminds me of Christmas every year.
Whenever we leave or come back home, the bells ring. It's just a little Christmas detail in our home that brings back memories for me.
I swapped out the Welcome sign on the top shelf for my DIY Merry Christmas sign.
I love the modern feel of this sign, and I also love that it was so easy to make. You can see the full tutorial for this sign here.
A little flocked tree sits on the tabletop over by the command center area. It also lights up at night, which is just magical and fun.
I tried to add as many light up elements around the house as possible this year. It makes everything feel extra cozy. You can read more about that in this post, and grab some twinkle lights for your own home.
I had another bell garland in my Christmas decor stash. I've used it in years past in our main living area. But this year, I thought it would be fun to have in the mudroom. The pop of red is perfect in this space.
I layered it with this cute wintery village garland that I grabbed from the dollar spot in Target this year. I had to snag it super early – like early November – because the cute holiday items always sell out!
Now that it's colder outside, we're bringing out all of our winter coats and gear. I'm so thankful that we finally have a space to drop and store everything when we come into our home. The mudroom is exactly what I was hoping for.
I hope you enjoyed this tour of our Christmas mudroom. Stay tuned to see the rest of our home decked out for the holidays!
Sources
If you missed any of the Christmas Home Tour 2020 posts, you can see them here:
Festive Christmas Mudroom (You're Here)