Joyful and Bright Christmas Nursery
A beautiful nursery is decorated for Christmas with colorful and bright holiday details.
Want more Christmas decorating ideas? You can see all of my Christmas posts here.
This post contains affiliate links for your convenience. For more information, see my disclosures here.
Welcome back to our Christmas Home Tour 2020. We left off in the mudroom, so if you missed that you can take the tour here.
Today, I'm heading upstairs and sharing the nursery.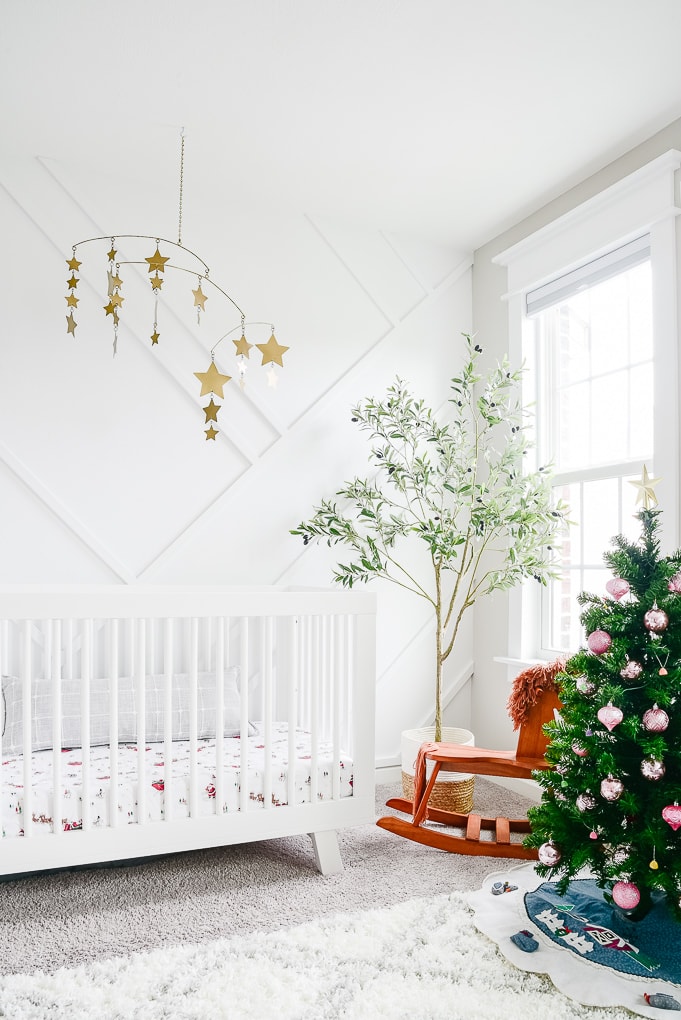 This space is light, bright, and cheery normally. So for Christmas, I wanted to keep that same feeling while adding in some colorful decor.
I always had a little Christmas tree in my room growing up. Each year I had so much fun getting out my decor boxes and decorating my own personal tree. I have such fond memories of watching the tree glow as I was falling asleep at night.
I wanted to continue that tradition for my own kids. So I grabbed a small Christmas tree for Nova's room and a set of shatterproof ornaments.
She's only 1, so there's no cherished personal (breakable) ornaments on this tree yet. Those will come in the future..
I also have a few small gumdrop ornaments that I picked up from Hobby Lobby because I just thought they were cute. The star on the top is also from Hobby Lobby.
I hope that through the years I can help her collect her own set of Christmas decorations and continue the tradition.
The tree skirt is actually one way I'm continuing the tradition, because it was mine when I was a kid.
On the end table, I set up this cute little baby nativity display. We got it as a gift last year from a close friend and Nova loves it! She likes to move all the little people around and I'm excited that she can play with it for years to come.
I swapped out the cribs sheets for some cute Santa sheets from Pottery Barn kids. I grabbed this specific sheet last year on clearance, but they always have lots of cute seasonal options.
I found this cute candy cane garland in the Target dollar spot early in November. It sold out so fast, so I'm glad I was able to get one.
I also was able to use my felt greenery wreath that I made a few years ago. It looks perfect in her room. You can see the full tutorial for this wreath here.
On top of the dresser I decorated with some artwork and a tray of cute colorful ornaments.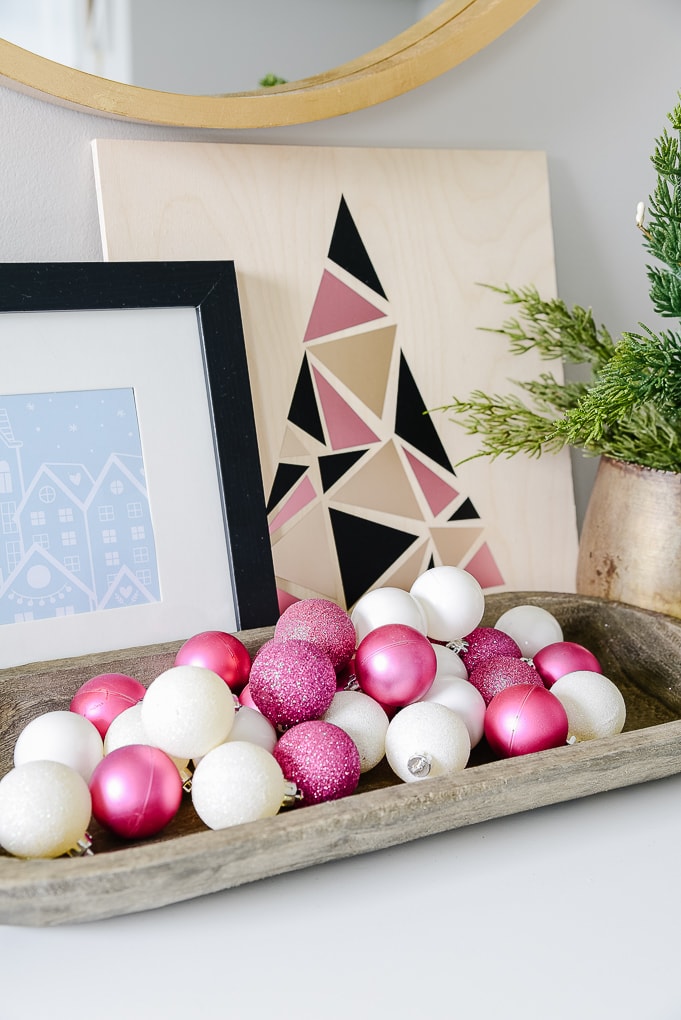 The modern Christmas tree art is another DIY from a couple of years ago. You can see the full tutorial for this sign here.
The other printable is from a modern Christmas art printable set that you can get in the Love Your Home Shop.
I also swapped out the normal greenery in here from some pretty Christmas greens.
My favorite spot that I decorated in the nursery is the shelves! I dressed up this cute stuffed hippo with a ribbon bow for the holidays.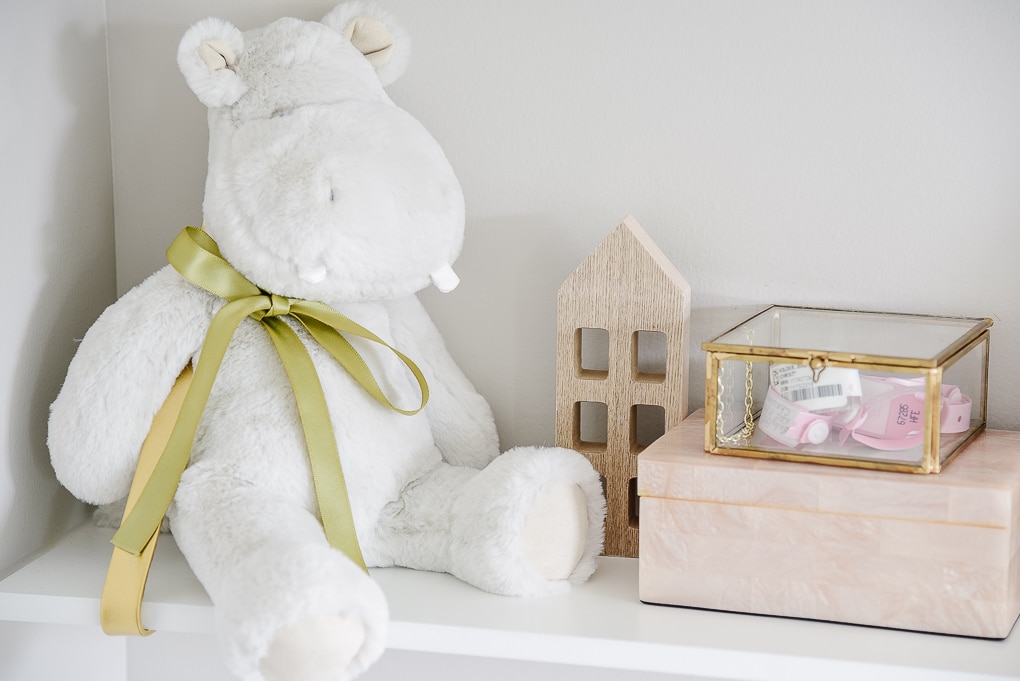 Then, I switched out a few items with these pretty natural wooden houses. They were another Target dollar spot find that I love. Thankfully these ones have still been available well into December.
I got one set of the large houses and one set of the small houses. Then, I layered them on the shelves to create a neutral, modern Christmas village display.
I also found these small glass trees in the Target dollar spot for only $1 each! I think they are beautiful and I'm going to keep them in Nova's Christmas decor box. I want her to be able to use them year after year in her room.
I loved decorating Nova's room for Christmas this year. It brought back all the memories of decorating my own room for Christmas when I was growing up. I can't wait to help her make memories too!
I hope you enjoyed this tour of Nova's Christmas nursery. Stay tuned to see the rest of our home decked out for the holidays!
Sources
If you missed any of the Christmas Home Tour 2020 posts, you can see them here: