Modern and Natural Christmas Bedroom
Modern decor mixed with natural neutral accents create a peaceful and welcoming master bedroom retreat for Christmas.
Want more Christmas decorating ideas? You can see all of my Christmas posts here.
This post contains affiliate links for your convenience. For more information, see my disclosures here.
Welcome back to our Christmas Home Tour 2020. We left off in the nursery, so if you missed that you can take the tour here.
Today, I'm staying upstairs and sharing the master bedroom.
If you saw the nursery tour, you know that growing up I always decorated my room for Christmas. Now as an adult, I like to add Christmas touches to our master bedroom too.
In this space, I wanted to keep it feeling modern and also natural and neutral. I want our master bedroom to feel like a peaceful and relaxing retreat, so the colors and textures in here help to create that vibe.
I put our own tree in the master bedroom each year. I decided on a flocked tree in here and I think it looks great with the white grid board and batten accent wall.
It's a completely different vibe than the main tree, but I really love it in this space.
I used the same ornaments from years past. I thought about getting a new set and new color scheme, but it just wasn't in the budget for this year.
So while the colors aren't exactly what I was going for this year, I still think it looks pretty. Maybe later this year I'll grab some more neutral ornaments after Christmas on sale and create a totally different look next year.
The bookshelves got a Christmas makeover with some new pieces and also some decor that I already had.
I wanted to keep a warm gold tone throughout the shelves because I love gold at Christmas.
I also tried to layer in some natural wood textures to keep the neutral feeling for the bedroom. Lighter wood is also so pretty for winter, and will transition well after the holidays are over.
These pretty Scandinavian glass trees are a new find this year. They are so beautiful in person! I added a few battery operated candles under them so at night they glow. It's so magical!
By moving things around a little and adding a few things, I created a new holiday look for the shelves that I love!
You can see how I decorated these shelves in the past here. And how I decorated the shelves for fall here.
One of the best ways to create a new look in a bedroom is to switch the pillow covers.
I normally have two euro pillows and a lumbar pillow on the bed. But, I wanted a more layered, cozy look for the holidays.
So, I kept my euro pillow inserts and found these patterned pillow covers. Then, I layered two 22"x22" pillow inserts covered with these beautiful muted green pillow covers in the 20"x20" size.
The larger insert inside the pillow cover gives them a fluffier look.
This was totally a designer pillow cover look for less. I found the covers on Amazon for great prices.
I love the look of designer pillows, but I just cannot justify spending upwards $70 or more on pillow covers. So I'm always trying to find affordable ways to get the same look – and share those ideas with you too! I have a whole post about affordable designer pillow covers here.
Above the bed, I hung this beautiful faux eucalyptus and greenery wreath.
I love the modern style this wreath has, and the color is just perfect!
I've always wanted to hang a wreath in here for Christmas, so I'm glad I found this one this year.
On our nightstands, I added a few seasonal touches.
This faux Christmas greenery was the most realistic I could find and I absolutely love it. The texture and look is perfect.
I bought a bunch of stems this year and used it throughout our home for Christmas.
I love having pretty seasonal throw blankets around. Especially as it gets colder at night.
This tartan throw is one of my favorites because of the bold pattern. I got it a few years ago and it's perfect for Christmas without being overly holiday specific.
I continued the Christmas decor into our master bathroom.
Using that same faux Christmas greenery, I was able create that holiday feeling without going overboard in here.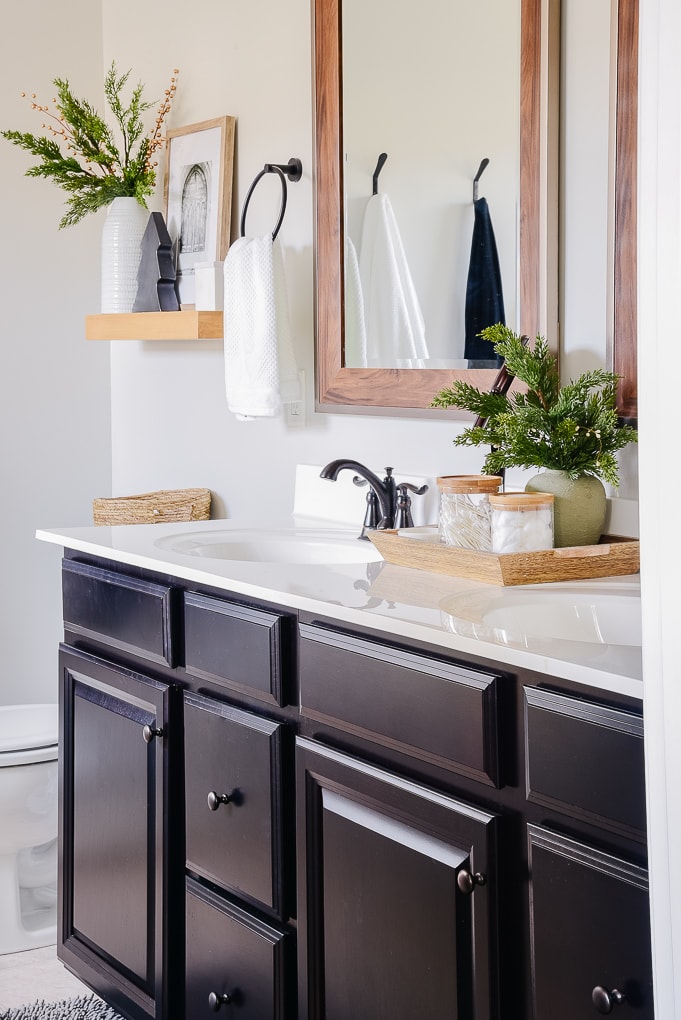 Our bedroom feels so cozy and festive for Christmas this year. I loved creating a relaxed, natural look in here.
I hope you enjoyed this tour of our Christmas bedroom. Stay tuned to see the rest of our home decked out for the holidays!
Sources
If you missed any of the Christmas Home Tour 2020 posts, you can see them here: