Classic Christmas Kitchen
Classic details and decor help to make a beautiful kitchen for the Christmas season. Perfect for baking and cooking all kinds of Christmas goodies.
Want more Christmas decorating ideas? You can see all of my Christmas posts here.
This post contains affiliate links for your convenience. For more information, see my disclosures here.
Welcome back to our Christmas Home Tour 2020. We left off in the powder room, so if you missed that you can take the tour here.
Today, I'm sharing our kitchen.
I had fun decorating the kitchen this year. I wanted to keep things classic and modern. So I mixed some traditional Christmas pieces with a few new modern items.
It's so nice to have seasonal touches throughout the home.
During the holiday season, our kitchen gets a lot of use. Even more than usual, which is a lot! It's fun to make seasonal recipes, especially sweets and treats.
Personally, I love making Christmas cookies.
This year I found this fun advent calendar cookie book. It's just like a traditional advent calendar from when I was growing up. On the cover, there are little flaps to open each day. And there's a corresponding Christmas cookie recipe inside the book for you to bake.
It's a fun nod to those cute chocolate advent calendars of my past. I plan on re-using the calendar each year!
I wanted to keep things pretty but also practical in the kitchen. Since we were going to be using it so much during the holidays, I created some decor groupings around the countertops.
The corner tray is where I keep my latest seasonal candle burning.
I absolutely love Antique Candle Co. – especially at Christmas. I got their 5 pack bundle of Christmas scents this year and they are all so good. I LOVE the Homemade Gingerbread candle in the kitchen. I think it's my top pick this year.
I also really like the Peppermint candle in the kitchen – it's identical to real peppermint.
I added some faux Christmas greenery in here. I love this greenery that I found this year for our Christmas decor. It's the most realistic and I used it all over the house.
On the island, I created a really simple centerpiece by accident! I had this bowl sitting out and I put a candle holder inside of it to carry both downstairs.
Then, I realized that this small wreath fit perfectly over the candle and inside the bowl. Suddenly I had a pretty centerpiece. I also added a battery operated candle so that it glows at night.
I have always wanted to put little wreaths on the back of our chairs in either the kitchen or dining room.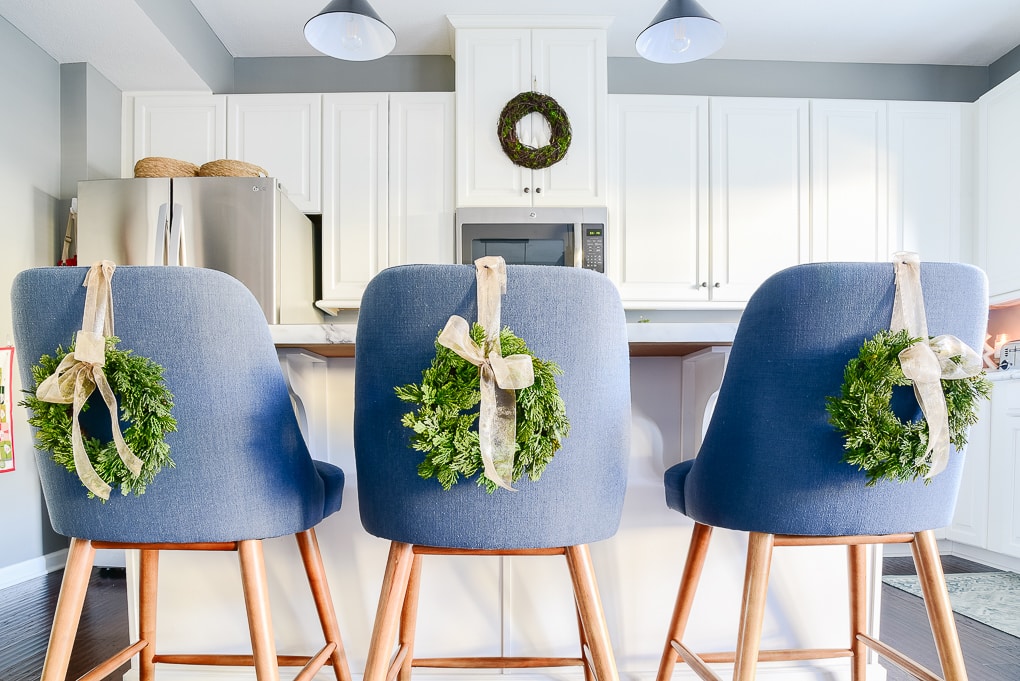 I found these mini wreaths that are made out of the same faux greenery as those stems I've been using throughout our home. They are super realistic looking!
All I did was tie some ribbon around them, add a bow, and then I used a small pushpin to attach them to the counter stools.
I think they add a classic, festive holiday feel to the kitchen.
These wreaths are 10", and I got them at JOANN. But I bought them in stores and unfortunately, I cannot find a link to them anywhere.
I also like to use different scents cleaning products each season. I love the Mrs. Meyers collection. For Christmas, my new favorite is the Orange Clove scent.
I'm not a huge orange scent person, but this one is so great. It's nice and seasonal for Christmas and it doesn't have any fake gross orange scent. It's just warm and cozy!
I get most of my cleaning supplies from Grove.co.
If you want to try Grove, you can get a FREE Mrs. Meyer's Cleaning kit. And, you'll also get a free 60 day trial of VIP, which means free shipping on any products from Grove! Just click HERE to claim your offer.
Sometimes Grove sells out of products quickly – especially the seasonal scents. You can also get Mrs. Meyers seasonal scents at Target. I stocked up on my new kitchen Christmas favorite.
I changed my modern tiered tray decor for the season by adding in some Christmas pieces. It's also a great place to have lots of Christmas candy!
On the door to the porch, I hung my fresh Christmas wreath that I made at a wreath workshop this year!
It's so pretty and it was fun to get creative and hands-on to make something unique for my home.
I'm ready for all of the Christmas baking and cooking! What are some of your favorite recipes that you make every year?
I hope you enjoyed this tour of our Christmas kitchen. Stay tuned to see the rest of our home decked out for the holidays!
Sources
If you missed any of the Christmas Home Tour 2020 posts, you can see them here: