New 2022 Studio McGee Target Fall Collection
The Best Finds from the New Fall 2022 Studio McGee Collection at Target
The new Studio McGee Target Fall 2022 collection is available now! It's the perfect way to add some autumn accents into your home and transition to the new season.
Studio McGee's fall collection is filled with warm neutrals, cozy textures, and lots of details.
In this post, you'll find an overview of the new fall 2022 collection, including my favorite pieces, tips, and more!
Studio McGee's Target line is affordable and filled with beautiful pieces like decor, accessories, furniture, and more!
Each piece is designed with Shea McGee's clean, fresh style in mind. And with each new collection launched, you'll find new design trends.
This season, the Studio McGee Target collection is all about bringing autumn accents into your home. From beautiful earth tones, to chunky knits, this collection has all the elements of fall.
You can shop the full Studio McGee fall 2022 collection at Target here, and keep reading to see some of my favorite pieces.
This post contains affiliate links for your convenience. For more information, see my disclosures here.
Here's a selection of what you'll find in the new Studio McGee collection for fall 2022. I've included all of my favorite pieces below.
Studio McGee Fall Collection Decor
The highlight of every Studio McGee Target collection is the decor accents. You can expect to see vases, greenery, baskets, and decorative objects.
This season, I'm loving all of the warm, earthy tones, nature inspired elements, and unique textures.
Studio McGee Fall Collection Art
The artwork in this collection is perfect for the fall season. Rich colors and earthly tones feel like autumn to me. The pieces can be layered together or stand beautifully on their own.
Studio McGee Fall Collection Pillows and Throws
The most fun aspect of each collection is seeing all of the new throw pillows. They are designed to pair together to create an intentionally collected look.
The McGee and Co shop always has the most beautiful throw pillow covers. I love being able to incorporate some of that designer style into my home at a more affordable price point.
Studio McGee Fall Collection Furniture
This collection includes some really beautiful furniture pieces. There's lots of clean lines, and a mix of traditional and modern details.
I love seeing some warmer wood tones and richer textiles. I especially love the cabinet with sliding glass doors and a natural wood interior.
Decorating with the Studio McGee Fall Collection from Target
When I decorate our home, I try to create a mix of modern, classic, and organic decor and furniture.
I want my home to look intentionally collected, timeless, and beautiful. This helps to make our home look cozy and inviting while still looking stylish.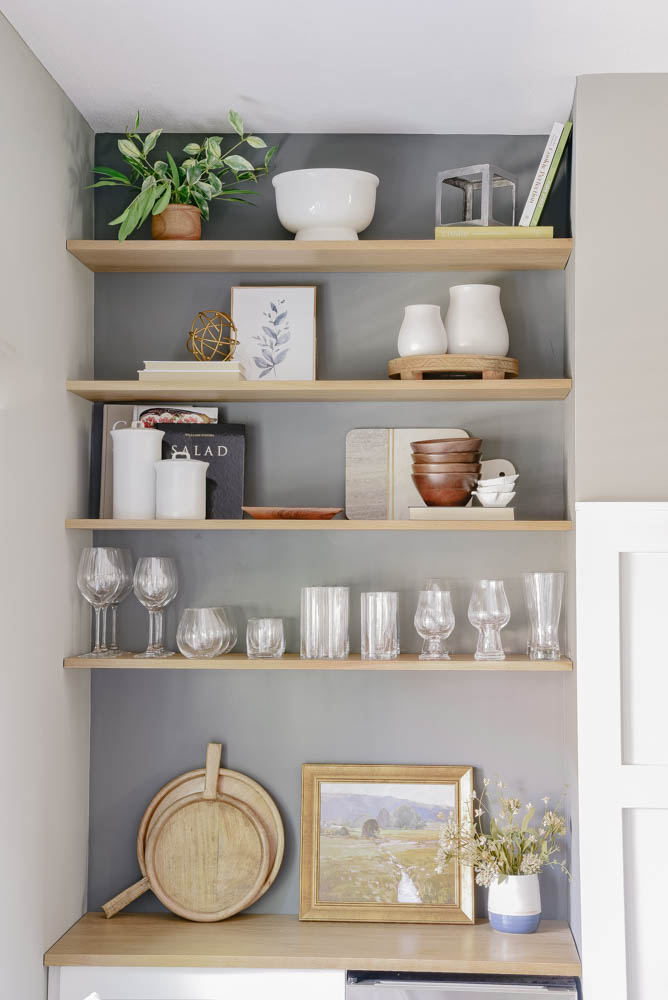 One of my biggest inspirations when it comes to interior design is Shea McGee! She's mastered the modern, classic, organic look. And her designs always balance a bright, fresh aesthetic with warmth and traditional elements.
I love incorporating pieces from each Studio McGee Target collection into my home. The pieces fit with just about any style and can easily transition throughout the seasons.
Because the pieces in the collection are so affordable, they can be used for a variety of different purposes.
Want a quick decor refresh? Grab a few decor pieces from the Studio McGee collection.
Want a full room makeover? The Studio McGee collections include furniture, decor, textiles, and more. You can completely transform a space in your home and still stick to a budget.
How do you get the Studio McGee look for less?
Studio McGee's Target collections are a great way to get that "Studio McGee" look for less. The items are great quality and have the same style and feel of some of the higher end pieces you might find from McGee and Co.
I love the pieces that are on the McGee and Co. website. I even have a few small pieces that I've collected over the years. But for the most part, the price range is out of my budget.
I have always wanted to be able to incorporate Shea McGee's style into my home. That's why I was so excited when the original Target collection was launched in 2020.
You can find pieces that are similar and just as beautiful as the higher end designer pieces from McGee and Co.
And because they're at a lower price point, it's easy to incorporate some of Shea McGee's signature style into your home, even if you're on a tight budget.
Tips for the Studio McGee Fall Collection at Target
Studio McGee Target Pieces Sell Out Fast!
The items in each collection sell fast. Normally, the most popular pieces will sell out very quickly. So if you see something you really love, grab it.
Set Target Restock Alerts
If something you wanted is out of stock, you can set an alert on the Target website. That way you'll be the first to know when it's been restocked.
First, sign into your Target.com account. Then, you can select the option "notify me when it's back" on a specific item. You will receive an email notification once the item comes back in stock online.
Incorporate Seasonal Pieces into your Everyday Collection
Just because this is the fall 2022 collection doesn't mean the items can only be used during the fall. You can incorporate seasonal pieces into your everyday home decor.
Most items in the collection are neutral enough that they don't have to only be used during the fall. Studio McGee has paid attention to creating beautiful, foundational pieces that will transition easily with your home through every season.
Swap Target Pillow Inserts
Target pillow inserts can sometimes be a little lackluster. They tend to be a poly filled pillow and don't give you the same feel or look as a down feather insert.
I've shared in a previous post all about throw pillow covers and inserts. And in that post, I shared my favorite affordable pillow inserts from Amazon.
Many Target fall pillows have a zipper cover, so you can easily swap out the pillow insert. I like to pair the beautiful fall Target pillow covers from Studio McGee's collection with my favorite down inserts from Amazon. This creates that perfect fluffy, designer look for less.
Frequently Asked Questions
Where is Studio McGee sold?
The Studio McGee collections of decor and furniture are sold at Target under the Threshold brand. You can find the items in the collection at Target.com and in Target stores.
When did Target launch Studio McGee?
Target originally launched the Studio McGee collection in collaboration with Threshold in the spring of 2020.
Target released the newest collection for fall 2022 on Sunday June 26, 2022.
Is Studio McGee coming back to Target?
Since the original release with Threshold in spring 2020, Studio McGee has released new collections for each major season. The collections include all new decor, art, pillows, furniture and more!
The items in each collection are beautiful, stylish, and classic. Perfect for refreshing your home each season.
What time does Target release new items?
When a new Target home collection is released on Target.com, the items will normally appear at 12:00 am Pacific time the day of the launch.
There is no specific restocking schedule once items have sold out. It depends on the availability and demand of the item.
Final Thoughts on the Fall 2022 Studio McGee Collection
The items included in this year's Studio McGee fall collection are beautiful as always.There are so many great decorative accents, as well as some really beautiful furniture.
I have lots of items on my personal wishlist and I can't wait to see some of the items in person.
Whether you're looking for a way to embrace the fall aesthetic in your home, or are wanting to get some new pieces to freshen up your home decor, Target's new home collection has everything you need.
I hope you've found something you love from the Studio McGee Fall 2022 Collection.
More Decor Inspiration
2022 Fall Studio McGee Collection