Looking for the best way to organize your fridge? Check out these smart ways to organize a french door refrigerator.
When we first moved into our townhome, one of the biggest purchases that we made was buying our french door refrigerator.
And, it was one of those purchases that I was really looking forward to! That's when you know you're an adult – when you want to buy a refrigerator.
Seriously though, I was so excited to finally have a refrigerator that was big enough to hold our groceries.
Before we lived in this home we lived in an apartment. The kitchen in that apartment was pretty basic and it came with a standard size refrigerator. I always found it so hard to keep that little refrigerator organized. It wasn't laid out very well and it was difficult to see what we actually had in there.
So, once we decided to build our townhome and we could finally choose our own appliances, I was set on buying a french door refrigerator.
French door refrigerators are great because they give you a ton of food storage space and everything is kept at eye level. No more leaning over trying to see what's in the back of the fridge.
Our french door refrigerator is about 30 cubic feet, which is fairly large. I think I went to the other extreme after living with the tiny apartment fridge. Since our fridge is in the corner of the kitchen, we weren't limited to the counter depth size. That meant tons of storage space!
Yes, our fridge can hold tons of food. But, that also means it can hold more than I realize and can get cluttered easily. Like this for example:
Not exactly the organized fridge you were expecting, right?
So today I thought I would share how I organize our french door refrigerator and give you some tips for your own fridge.
How to Organize a French Door Refrigerator
This post contains affiliate links for your convenience. For more information, see my disclosures here.
Purge
First, you will need to get all of the food out of the refrigerator. It's easier to organize when you've completely cleared the space.
I pulled everything out of the fridge and put it on our island. Then, I went through all the food and threw away anything that was old or expired.
Widget took the opportunity to see what exactly was in the "giant cold box."
Clean
Next, take an all-purpose cleaning spray and a microfiber cloth and wipe down the entire refrigerator. Take this time to really deep clean the fridge.
Our shelves had some food residue and the drawers had crumbs. I spent some time really getting all of the surfaces clean so they looked brand new again.
Configure
After the refrigerator has been cleaned, it's time to configure all of the shelves. This step is only applicable if you have a refrigerator like we do. The upper shelves in our fridge can move around and be arranged differently.
I spend some time thinking about where we might want things to go and how much vertical space they would need.
I decided to leave the right side more open so we could fit taller items. On the left side, I put the shelves closer together so smaller items would all have their own place.
Create Zones
Next, put all of the food back into the fridge, but pay attention to the locations. Try to group similar items together and create zones. This will make finding food for dinners and putting groceries away so much easier.
Here's the layout that I ended up with: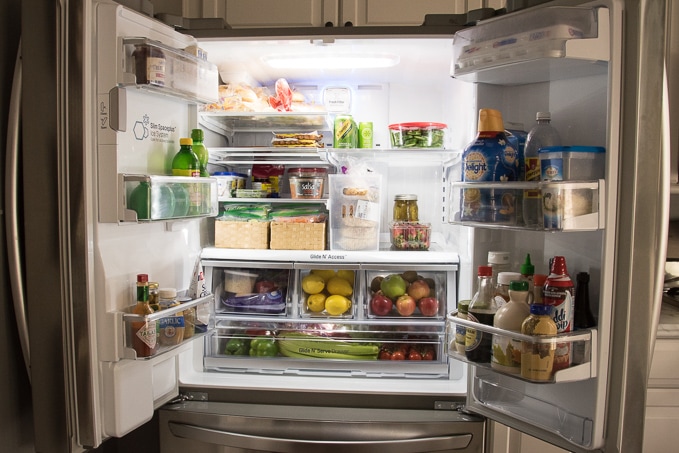 The first zone is the left door. Because the water and ice are in this door, the shelves are narrow. On the top, I keep butter and jams. In the middle, I like to keep all the fruit juices together. On the bottom, I grouped together some of the smaller condiments. Having these on a narrow shelf make them easier to find so they don't get lost with the other larger condiments.
The next zone is the right door. These shelves are much deeper, so they are perfect for drinks larger condiments and items we use frequently. At the very top, there's a covered shelf where I like to keep our eggs. That shelf is so deep that I can actually fit two cartons up there.
On the lower shelves, I have all of our large condiments. I also keep almond milk and coffee creamer in the door so that we can grab them quickly out of the fridge.
In the main fridge area, the left side is made up of a few zone. The top shelf is for buns and tortillas. The next shelf down is where I keep meats. Then under that, I keep smaller items like salsas, hummus, and cream cheese. All kinds of things that come in tubs. Finally, the bottom zone is for snacks. After this shopping trip, I cut up a bunch of vegetables and bagged them for lunches.
The right side has two main zones. The top area is for smaller canned and bottled drinks. I also keep leftovers up there. The bottom area is for bread we use every day and extra space for miscellaneous groceries.
One of my favorite features of our french door refrigerator is that we have all kinds of drawers for organizing. This makes creating zones that much easier.
The far left drawer is where we keep all of our cheeses.
The middle and right drawers are for fruits. The middle one holds the citrus fruits while the right one holds other snacking fruits.
Finally, the large pull out drawer at the bottom of the fridge is where I store all of our vegetables. I love seeing all the bright colors!
Use Bins
After all of your food is back in the refrigerator, add in some bins for easier access to frequently used foods.
I used two woven baskets to hold all of my cut up fruits. This helps all of those small items stay corralled together so they don't end up all over the refrigerator.
I also used this multipurpose bin (this one is the medium size) to hold bread and bagels. It's easy to open up the door and grab the bin in the morning when we're making breakfast.
---
So that's how I organize our french door refrigerator.
After living with the fridge for over a year now, I've been able to learn what works for us and how we like to have things configured. After some trial and error, I think I've setup a good system that will help keep our food organized and easily accessible.
Do you have a french door refrigerator? I'd love to hear some tips and tricks for how you keep everything organized.
PS: This is the model refrigerator that we have
Have a great week!