How to Decorate Your Home Without Breaking the Bank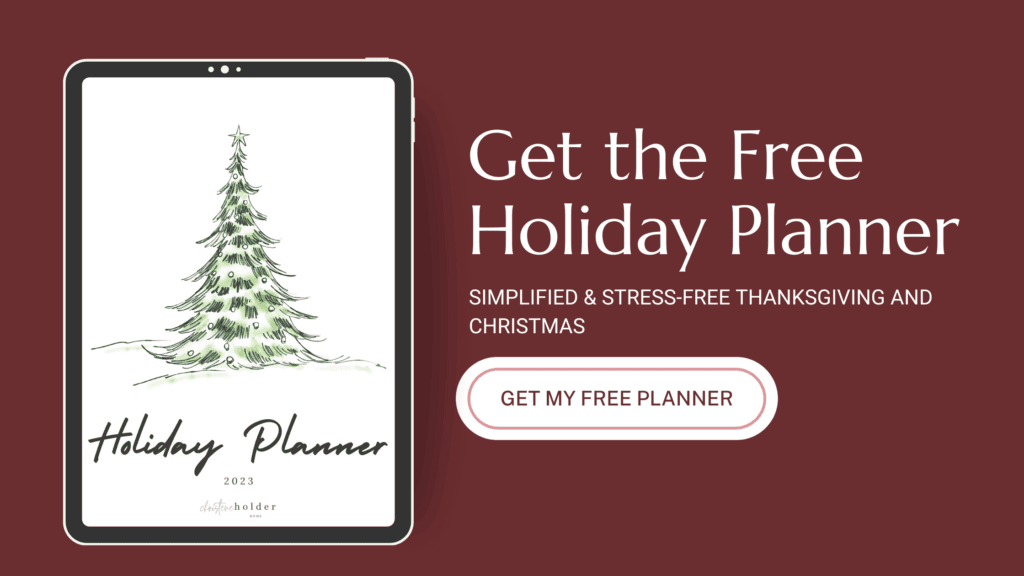 Want to decorate your home on a budget? Learn 7 helpful tips for how to decorate your home without breaking the bank.
This post contains affiliate links for your convenience. For more information, see my disclosures here.
Decorating a home can be expensive!
Whether you just moved into a new place or are starting the process of updating your home, sticking to a budget can seem like an impossible task.
We have been in our townhome for a while now (time is flying!) and I have been decorating as we go.
Since we originally moved from an apartment into this house, we didn't have a lot of furniture or decorations to bring with us. Most of what we have now has been added since we moved in.
Being first-time homeowners, we are definitely on a budget. That means I've had to find ways to decorate our home and make it stylish without totally destroying that budget.
Creating beautiful spaces like the ones you see online doesn't have to cost a ton of money. You just have to know the right tips!
Today I'm going to share with you 7 tips to help you decorate your home without breaking the bank.
---
7 Ways To Decorate Your Home On A Budget
Paint
One of the easiest ways to start decorating or updating a room is to paint.
Paint can completely transform the feel of a space and give your home a whole new look.
Painting may seem like it would be expensive, but it's surprisingly cheap. You can buy a gallon of paint for around $40 and normally that will cover a whole room. No other home decor item will give you that bang for your buck!
Don't believe me? When we moved into our house, our all-white kitchen was looking dingy with yellow walls in the background. All it took was paint to completely change how our kitchen looked.
Now before you go crazy and buy all kinds of paint, keep a few things in mind. Paint makes a big impact, but you don't want it to make the wrong impact.
Keep your paint colors neutral throughout your home. Neutral walls make the perfect backdrop for adding other layers of decor to your space.
Never Pass Up Clearance
I'm a bargain hunter, so my favorite section of any store is always the clearance section. I can never pass it up!
I've found tons of home decor items at a fraction of their normal price in the clearance section.
Clearance can sometimes be hit or miss, but it's kind of like a treasure hunt. You never know what you are going to find.
This wooden bowl was marked down to $12 at Target. Also, this whole console table was also a Target clearance find for $45!
Sometimes clearance items are beyond repair but occasionally you can find items that are just slightly damaged and can be salvaged.
Recently at HomeGoods I saw an amazing marble cutting board that I knew would be perfect in our kitchen, but it was brand new with an expensive price tag to match.
Later when I was browsing through the clearance section I found the exact same cutting board but with a slight crack in it, marked down to half the price! The crack was barely noticeable and wouldn't be a problem since I was planning on hanging it on our wall.
I scored an awesome home decor item for my home and no one can even tell that it's "damaged."
Some of my favorite stores for finding clearance items are Target, HomeGoods, Marshalls, TJ Maxx, Hobby Lobby, and Kirkland's.
Shop at Obscure Stores
When I say "obscure stores," I mean stores that aren't necessarily places you would think to go to buy home decor items.
I have my list of go-to stores that I know always have awesome home decor. But there are also some lesser-known stores that I shop at that may surprise you.
Did you know that Amazon also sells home decor items? It takes some searching to look through the extensiveness that is Amazon, but you can normally find some great deals and unique items.
You can shop all my favorite Amazon finds in my Amazon Storefront.
My favorite ceramic white vase is from Amazon. And so are those pretty throw pillow covers.
Did you know that Costco also sells furniture? Twice a year in January and July, Costco has a large selection of furniture in stock on their warehouse floor.
Furniture is normally the largest piece of the budget when trying to decorate a home. When we were looking for a new couch for our living room, we ended up finding the perfect one at Costco!
We picked up this sectional for $850! Normally a couch this size and style would be well over $2000, so we got an awesome deal!
I also love stores that are considered "craft" stores. You can find lots of home decor for great prices at places like Michaels, JOANN, and Hobby Lobby.
Create Your Own Decor
Sometimes you can't find the perfect piece for your home. Or maybe you have found the perfect piece but it's completely out of your price range.
Why not create your own home decor? A lot of home decor can be really overpriced, but if you are creative you can make a DIY version and save a lot of money.
See that faux fern? I made that myself! You can see the full tutorial HERE.
Even if you aren't creative, that's what Pinterest is for! There are tons of tutorials out there for beautiful things to decorate your home with. Find a tutorial, buy some supplies if needed, and get crafting! There's also the added bonus of decorating with something you made yourself.
Printable art is another great way to create your own home decor without spending a ton of money.
This large art piece in the nursery is a printable file that I bought from Etsy. I got it printed poster-sized from Staples and then framed it with a simple, inexpensive frame.
If you aren't sure where to find the best printable art, I've got a huge roundup post with over 150 printable art pieces that you can get on Etsy.
Incorporate Personal Items
Another budget-friendly way to decorate is with personal items or mementos that you already have.
You can incorporate items that have meaning into your home decor by just being a little creative.
In the nursery, I have a small glass box with all of our hospital bands from when Nova was born. Instead of keeping them stored away somewhere, I collected them for display on the shelf in her room. It's a simple decor item but it has a special, personal meaning to us.
The small lighthouse is a figurine from Harbor Town in Hilton Head Island where we got engaged.
Dig into your storage boxes and find things you have collected or special items that you have been hanging onto for the memory.
Look for Dual-Purpose Items
When you're decorating you home try to look for items that are both decorative and functional.
There are so many ways to incorporate style into your home using items that are also practical.
The easiest way to do this is by finding stylish storage solutions. A pretty basket looks great on its own and can also serve as a storage location for your blankets.
These woven baskets look beautiful, and are a great way to add hidden storage to these open shelves.
Your home is the place where you live your everyday life, so you want decor that fits with your lifestyle.
You don't want your home decor to be too "fancy" or so special that you feel like you can never touch it.
We knew that we would spend a lot of time on our living room couch, so when I was looking for pillows I wanted them to both look great and be comfortable to lean against.
There's no point in having beautiful pillows that are so stiff and uncomfortable that they end up on the floor constantly.
Know When to Splurge
The reality of decorating a home is that sometimes you're going to need to spend a little bit more.
Whether it's buying a quality piece of furniture you're going to use all the time or treating yourself and getting that piece of art you love, it's ok to splurge a little.
Sticking to a budget with the majority of your home decor allows you to save up for those really important pieces for your home.
This oversized chair was a big splurge for me, but it was so worth it!
---
I hope that these tips help you find ways to decorate your home and stick within a budget.
Let me know in the comments what your best budget-friendly tips are for decorating your home.