Free Merry Christmas Printable For Your Home
Affordable Merry Christmas Printable Art Downloads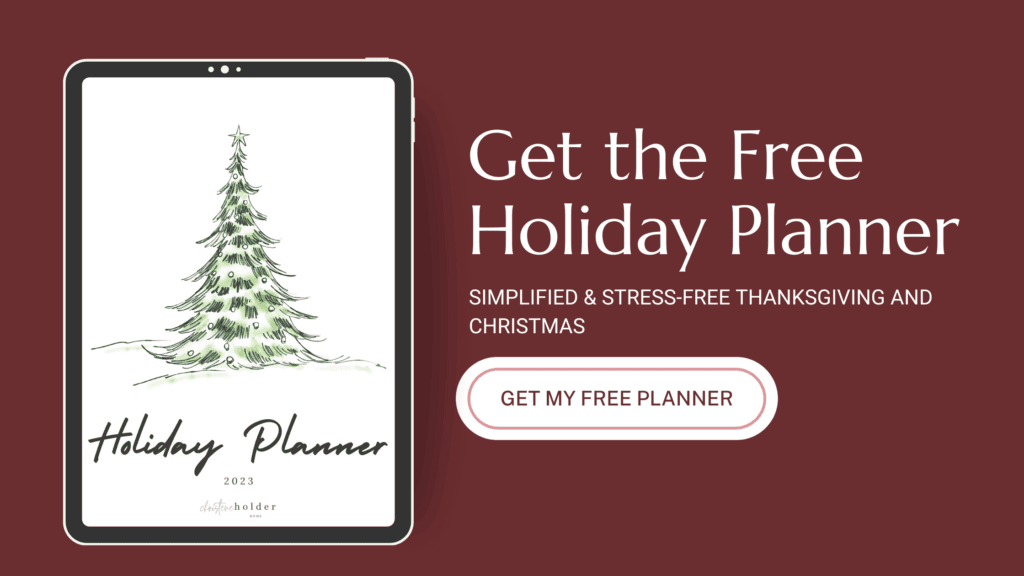 The Christmas season is the most wonderful time of the year, and what better way to celebrate than by decorating your home?
Today I've got a gift for you as you decorate your home – a set of Merry Christmas printables.
During the holidays is when we tend to go all out decorating our homes.
We bring out all of the Christmas decor bins, put up the Christmas tree, and cover our homes with all of the festive things.
The holiday season is all about creating warm, welcoming spaces. I love the traditions of decorating our home each year.
I've found that sometimes a simple addition to your home, like a free printable in a frame, can go a long way when decorating for Christmas.
It's one of my favorite ways to finish off a Christmas vignette in my home at no additional cost.
Related: Christmas Home Tour
Are you on a tight budget this year? No worries!
These printables are not only charming but also budget-friendly. You can add a festive touch to your home without breaking the bank.
I love to use free printable art throughout my home during Christmas. It's a simple, budget-friendly, and easy way to add some free decor into your home.
This post contains affiliate links for your convenience. For more information, see my disclosures here.
Decorating with Free Printables
Decorating your home with artwork is a great way to express your style and add style to your home.
One of the perks of using printable art is the ability to swap out your artwork seasonally.
With the availability of free printable artwork, you can easily change your decor to match the changing seasons.
Printable artwork allows you to bring a seasonal feel to your home without breaking the bank.
You can find tons of free printable artwork to download online, providing you with a variety of art options.
Free Merry Christmas Printables – Digital Download
I've created a collection of 20 unique Merry Christmas printables, all available for free to download and use in your home.
This collection features a variety of different designs. It's the perfect way to add a holiday vibe to your home.
Best part? It won't cost you a thing!
Simply click on the download button below to grab your set of free Merry Christmas printables.
Tips for Displaying Printable Art
You can display printable art in affordable frames throughout your home.
Just grab a frame you already own, print out the artwork, and place it wherever you want to add some art in your home.
You can print out the artwork in different sizes to accommodate the frames you have in your home.
You can even consider using matting in your frames to give the artwork a polished and professional look.
Related: DIY Photo Matting for a Professional Look
Don't be afraid to mix and match different styles of printable art. This creates an eclectic and visually interesting display.
I like to display art throughout different vignettes in my home. For example, on a bookshelf, a console table, a nightstand, or even a kitchen countertop.
Other Uses for Free Printables
While decorating your home with is my preferred way to use free printables, you can use these printables for so much more.
A great way to use one of these printables is to create free Christmas cards.
Just print out the artwork in a smaller size and use them to create cute Christmas cards for your family members.
You can also use them to make free printable Christmas gift tags.
Again, just print them out in a smaller size, cut them out, and use a hole punch to create room for a ribbon. Then tie onto gift bags, and you have your very own custom gift tags.
Tips for Printing Art for Your Home
The first thing you need is a reliable printer.
The easiest option is to use a home printer. For the best results, it's recommended to print on white cardstock and be sure to check your printer settings.
This gives your printables a professional look and ensures they stand out.
For larger prints, and the best quality, a local print shop may provide better results. They can offer larger sizes, like a poster print, and potentially better color quality.
My favorite place to get large art prints is Staples.
Conclusion
Adding a touch of holiday cheer to your home doesn't have to come with an extra cost.
With these free Christmas printables, you can create beautiful decorations and personalize your space this holiday season.
I hope that you enjoy these free printables as you decorate your home.
Merry Christmas and Happy Holidays!
More Christmas Decorating Ideas
Budget-Friendly Holiday Decor