Pine and Eucalyptus Christmas Garland
Create the look of fresh Christmas garland in your home by layering faux pine garland with faux eucalyptus.
Christmas Garland for Stairs
2022 Update
Best Cozy Christmas Decor Ideas
Here in 2022? Some of the products linked in this post may not be available any longer. For the best current Christmas decor ideas and finds, check out the new Christmas Decor Guide!
Ever since we moved into our home, the area that I've been most excited to spruce up for Christmas is our staircase.
The staircase is in the center of our open living space on the main level and is a prominent feature of the house. When we first toured the model home and I got to see the stairs, I knew that I wanted to decorate them with beautiful garland for Christmas.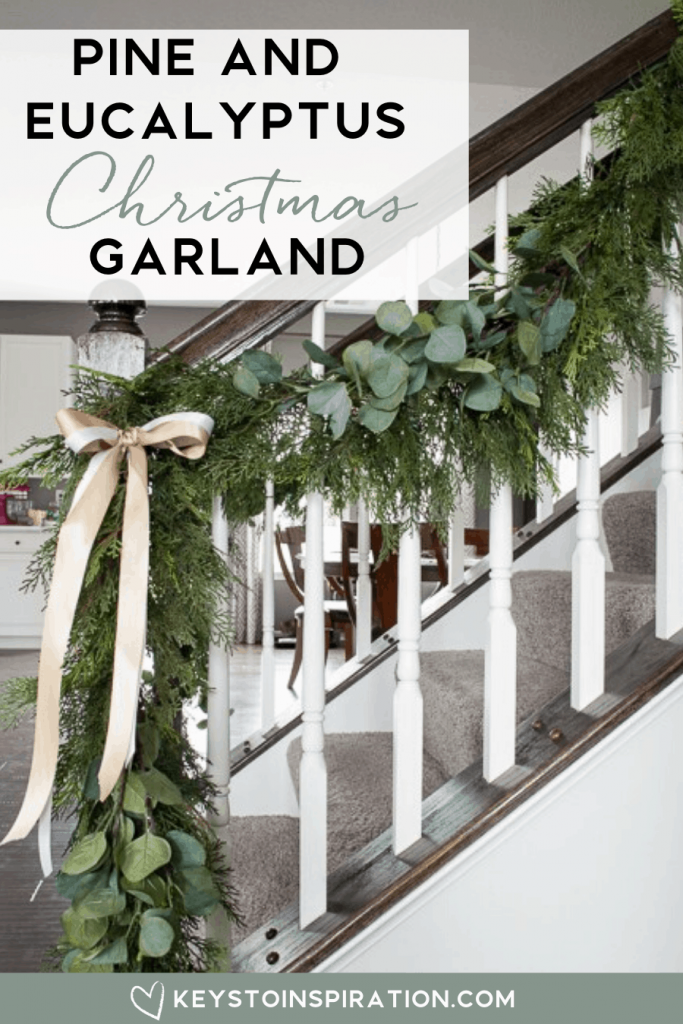 Want to see how our garland has held up? Check out the 2017 Christmas home tour, the 2018 Christmas night lights home tour to see the garland lit up at night (it's magical!), and our Christmas Living Room Tour from 2020.
This post contains affiliate links for your convenience. For more information, see my disclosures here.
Real greenery garland would be my dream decoration, but the real stuff is actually really pricey. And, it's even more expensive when you want something that is more of a mixed-greens look.
I couldn't justify buying real garland and then watching it turn brown right in front of my eyes.
So, I decided to search for a fake garland that looked realistic.
Last year I looked all over the place for gorgeous greenery to cascade down the staircase, but I couldn't find anything that I really liked.
So this year I was on the hunt for my perfect realistic-looking fake greenery garland.
I did a lot of online searching and discovered that like real greens, fake greens can be just as expensive.
Finally, I got fed up and ended up just googling "Christmas Garland." It's funny how sometimes Google can know exactly what you are looking for, because this time when I did a search, my perfect garland was the second choice in the shopping selections!
UPDATE: Unfortunately, Grandin Road is no longer selling the original garland that I used in this post. I loved that garland and it looked so realistic! I have tried to find a few alternative options that would give a similar look. Hopefully, they will bring this product back again someday.
Alternate Garland Options: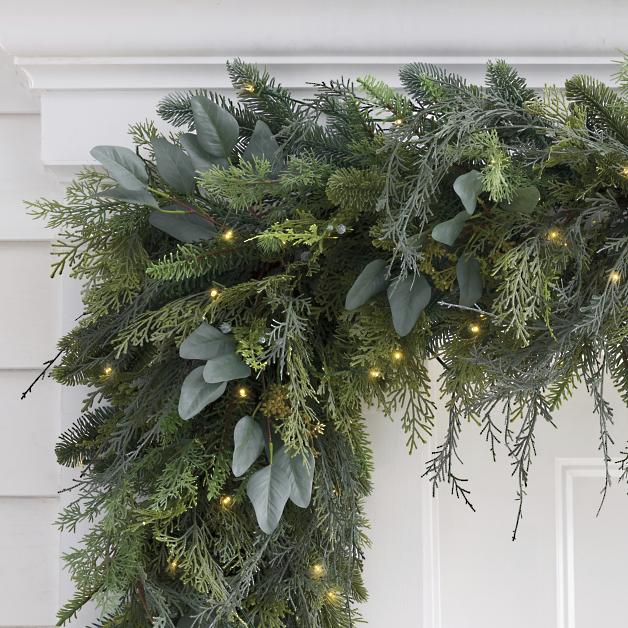 I ended up finding this beautiful soft pine garland that came in both 6' length and 9' length. It was a little pricey, but I was sold when I realized that it was also pre-lit and cordless (there's a battery pack attached).
Double win – this was the absolute perfect garland! I bought two strands of the 9' garland and I used a coupon code to get a discount.
Once my garland arrived, I used these decorative ties to hang it from the staircase on both sides.

PS: In 2016, I used floral wire to attach the garland to the staircase, but the wire actually hurt the finish a little throughout the season trying to hold up the weight. This year I found these decorative ties that are working so much better and they look pretty too! I bought them in olive in the 16-inch length.
The beautiful realistic looking pine sprigs looked amazing looped down the stairs and hanging from the banister.
I especially LOVED the look of the garland against the white board and batten in the dining room.
After everything was securely attached, I fluffed the garland a little to add some more fullness.
Next, it was time to add some embellishments. I knew that I wanted a mixed greens garland, so I went for my absolute favorite green – eucalyptus.
The eucalyptus sprigs are actually fake eucalyptus that I found at IKEA.
I was shopping there one day and stumbled upon an entire bucket of these in the floral section. I literally stopped in my tracks because I thought that they were real.
I've never seen more realistic looking fake eucalyptus before. So naturally, I literally bought almost all of them (15 to be exact).
I didn't actually use all of the eucalyptus that I bought for the garland, I only used 3 per strand. But, you can never have enough fake eucalyptus around for decorating.
I was so excited to find these for such a great price at IKEA.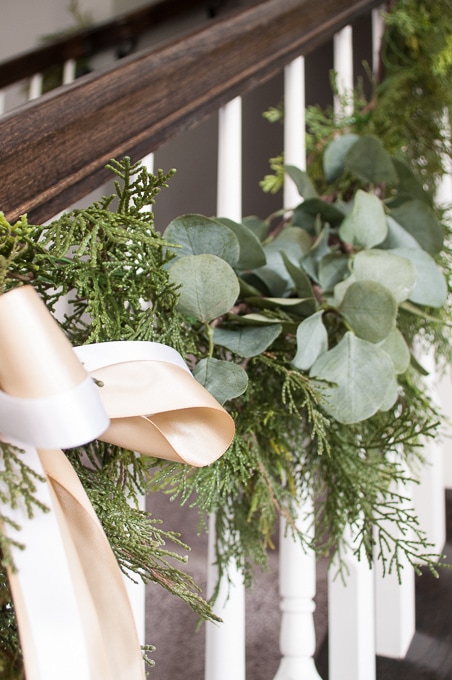 To add texture and fullness to each garland strand, I layered the eucalyptus on top of the pine. This also helped to cover up some of the garland strands that were visible.
For each eucalyptus sprig, I just carefully bent the wire stem to resemble the natural bend of the garland. Then I used floral wire to tie to eucalyptus stem to the garland strand.
To finish the embellishments, I added a satin ribbon tied in a bow at the banister on each side of the staircase.
I layered a champagne ribbon and a white ribbon together in different sizes to create the bows and then used floral wire to attach the bows to the garland.
Now, I finally have my perfect mixed greenery Christmas garland! I love how the soft pine and eucalyptus look together. Both look so realistic, sometimes I forget that the garlands are actually fake.
They are especially magical looking at night when they are all lit up.
The battery packs have a timer setting, so every day as the sun goes down, the Christmas tree and the garlands light up. They provide the most amazing Christmas-y glow to our living room.
These garlands are exactly what I imagined when I pictured the beautiful Christmas decorations on our staircase.
I'm so happy with how they look and I'm especially happy that they will last me year after year.
These were so easy to pull together and they look just as amazing as real fresh garlands. You can get the look of these pretty pine and eucalyptus garlands too! All of the sources are below.
1 – Garland
2 – Wire
3 – Eucalyptus
4 – Ribbon
5 – Ribbon
Christmas Garland Lit