The Best Christmas Decorating Ideas for your Home in 2022
Welcome to my Christmas Home Tour for 2022.
Enjoy this virtual tour of my home decorated for the Christmas holiday season, and I hope that you find some ideas and inspiration for your own home.
The holiday season is here! It's time to spend time together with family and enjoy Christmas traditions.
I love this time of year and all of the decor that comes along with it. It's been my tradition every year to decorate our home. And while it may get a little overwhelming at times, I still love bringing out all of the Christmas decorations.
When it comes to Christmas decorating, I tend to reuse decor year after year. I'm more of a traditionalist in that sense, because I think our Christmas decorations can be a type of tradition.
It's so fun to pull out the decorations year after year and bring back memories of Christmas in the past.
Just like with my fall decor, I try to use mostly decor that I already have. But I'm not opposed to picking up a few new pieces to add to my collection each year. I'll share some of the new pieces I've found and incorporated this year throughout the tour.
This year for my Christmas decorating, I went with a timeless, classic, and casual feel. I wanted to create a festive holiday vibe by incorporating a few extra details to help elevate the look of my decor. I also tried to incorporate some basic neutrals that can work beyond the Christmas season, and just layer in the traditional Christmas decor.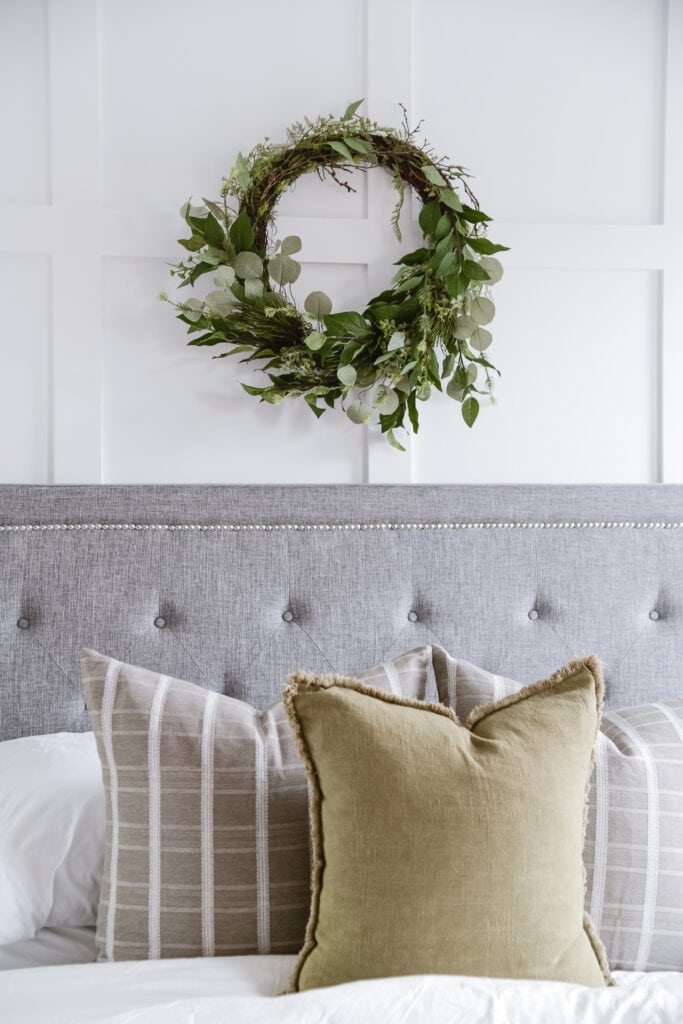 I love the trend of vintage, classic Christmas this year. I'm seeing so many traditional colors, patterns, textures, and decor pieces. Things like classic greenery, brass accents, Christmas plaid, and traditional colors like Christmas red and deep green are all making a comeback this year. It's like a return to the nostalgia of the Christmases in our past!
Today, I'm taking you on a tour through my home decorated for Christmas. As usual, this home tour post is picture heavy! So grab your favorite warm drink and get cozy.
Let's start the tour!
Christmas Entry Decor
The entry to our home is small, so I like to decorate it just a little for the holiday season. Since we live in a townhome, and because of the way our home is positioned, almost no one uses our front door. So over the years, I've decided to display my seasonal wreaths inside the door. That way I can actually see them and enjoy them.
This beautiful wreath is a sale find that I grabbed from McGee and Co years ago! I love it! I layered it with some black bells and on the door handle I hung another strand of jingle bells. Simple and elegant for the Christmas season.
Christmas Living Room Decor
Next, let's go upstairs to the main living areas. Once you walk upstairs, the first space you see is the living room.
Here's how I decorated our living room for Christmas.
This is the main gathering area of our home and also where we put up our main Christmas tree.
Seasonal Christmas Pillows
On the couch, I decided to keep some of my core pieces like throw pillows neutral for the holiday season. That way I could bring in accent colors through my Christmas decor.
I layered a few different pillow covers in neutral and muted green tones to create a cozy, gathered feel on the couch.
Try to use pillows that contrast your couch to add some visual interest. Since my couch is dark, I decided to use lighter color pillows in whites, creams, neutrals, and muted greens.
Pillows can help finish off a space and tie in other colors that you use throughout the rest of your decor in a space.
An easy way to pair pillows is to combine a neutral pillow, a textured pillow, and a patterned pillow. If you want more help with throw pillow combinations, check out this post all about throw pillows and how to style them in your home.
Neutral Christmas Pillows
On the end tables, I created two small seasonal vignettes.
On the left side, I have two beautiful dark green bottle brush trees. To complete the styling set of three, I added this small black reindeer figurine. It's actually an ornament that I found this year. I just cut off the ribbon and used it as a decor piece instead.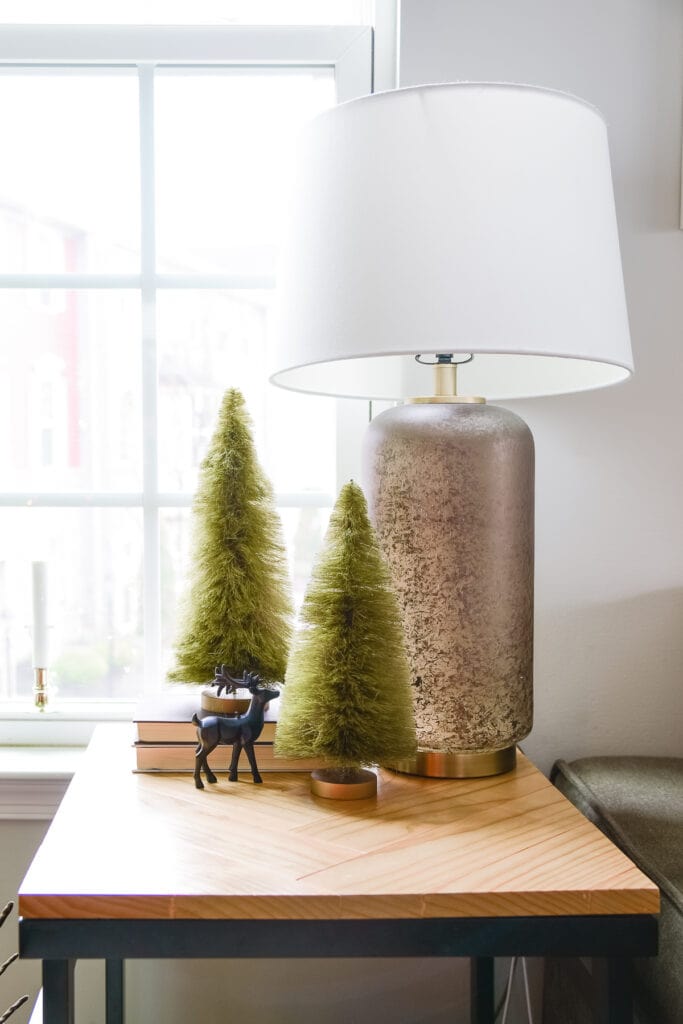 On the other end table, I created a different seasonal vignette.
The white ceramic house is a piece I've had for years. I used a few decor books as risers to prop up the house and give it a little more height. Then, I added a vintage looking vase with some seasonal greenery.
Finally, I completed my styled look with a nutcracker figurine. This is another new ornament I found this year. I just removed the ribbon and used it as a decor piece instead. I love the warmth that the wood tone of the nutcracker brings to this small space.
Classic Christmas Decor
This year I wanted my Christmas decor to feel timeless and classic. My goal was to bring in some warmer colors and textures to contrast with a lot of the white I have in my home. This can help to warm things up and make it feel cozy while also keeping things neutral.
I pulled out this cozy red throw blanket to use as an accent in the living room. It is both practical as a warm cozy throw blanket and decorative in the living room.
Using a throw blanket is a great way to add in some colorful accents in your space. This season, I'm loving the classic Christmas reds and deep burgundy.
Plaid patterns are also great for holiday decorating. They are a timeless and classic pattern that fit perfectly with seasonal decor. Plaid pieces like throw blankets and pillows can layer in a subtle pattern in your space which helps to make things feel collected, intentional, and cozy.
Create a Christmas Vignette
One of the areas that I love to decorate the most for each season is the media center over on the other side of our living room.
I wanted to create a holiday vignette on top of the media center to showcase some of my favorite decor pieces and help to tie everything together in the space.
The first piece I added to this vignette was the large statement "Joy" artwork. I like to prop pieces of decor like art against the wall. It helps to give my styling a casual feel and provides a nice backdrop for the rest of the decor pieces.
I used a few decor books as risers again to add some visual interest to this vintage vase. Inside the vase I added a few holiday greenery stems.
Create a Designer Look with Ribbon
To add a most festive feel to this space, and introduce some of that deep, classic Christmas red color, I added this beautiful chiffon ribbon around the vase. I just tied a long piece of it into a bow around the top of the vase.
Adding ribbon is a great way to add layers to your decor and make it feel a little more designer.
If you invest in some pretty accent ribbons, you can use them in so many different ways around your home. They help to tie in any accent color throughout a space and help to dress everything up a little for the holiday season.
Brass Accents for Christmas
There was just enough room next to the vase to layer in my new vintage looking brass bell.
One of my favorite accents to use when decorating for Christmas is brass. Brass details like vintage looking bells and muted gold tone decor pieces are classic accents that will add so much warmth to your space. They're perfect for holiday styling because they have such a timeless look.
Try to look for pieces that have warm, brass tones to decorate with this Christmas season.
I found this vintage looking bell this year. It's actually an ornament, but it's another piece where I removed the ribbon that it came with and replaced it with this rich, velvet ribbon instead. I think it's a great dupe for the McGee and Co vintage Christmas bell.
These reindeer figurines were another great way to incorporate brass into my vignette decor and coordinated well with the brass bell.
To balance the other side of the vignette, I added this beautiful wooden Christmas tree in a dark rich wood tone. It has a lot of height so it added just the right amount of balance with the vase on the other side.
I finished the area off with one of my favorite candles for the season – Tree Farm from Antique Candle Co.
Christmas TV Artwork
I also added some TV art to our smart TV. I think this is a great way to dress up your TV and help it blend with your Christmas home decor.
You don't have to have Frame TV to display TV art. You can do this with just about any smart TV. Check out this post from Caitlin Marie Design for how to display TV art.
This specific Christmas tv artwork was found on Etsy. You can find so many beautiful art options for very affordable prices.
Every year I love to display my Christmas village houses on the shelves above our TV. I've collected different houses throughout the years from thrift stores and just painted them all white to create a consistent look.
To create that magical vibe and holiday ambience, I added a strand of fairy lights to each shelf. These help each of the houses to glow at night and it just looks so beautiful!
Christmas Garland Decor
One way to make your staircase the focal point of your home during the holidays is to add garlands.
Look for real touch greenery garlands for the most realistic look and feel.
The garland that I have on our stairs was one that I invested in years ago. It's still my favorite, but it's no longer sold. The best part is it already came with lights so I don't have to add any to my garland to make it glow at night.
I layered the cedar garland with a faux eucalyptus garland.
I anchored the garland to the staircase using black zip ties. Then, I draped the garland in two sections to create movement. Finally, I let the ends hang along the banister to make the garland look long and luxurious.
To add another layer and festive touch I added a DIY dried orange garland that I made last year. I love the contrast of the rich orange colors and the wood tones on the beads with the classic greenery.
To elevate the look overall I added this vintage looking bell strand to the banister and draped it along the greenery. It's just another brass element to help tie in with the rest of my holiday decor. And I love how the gold bells look when the garlands are lit up at night.
Since my garlands are pre-lit I didn't need to add lights. But if you are creating your own garland look, make sure to add fairy lights to create ambience and that magical Christmas vibe in your home.
The shelves got an updated look for Christmas. I swapped out a bunch of my decor pieces for some more seasonal pieces and artwork.
At the top I have a "Merry Christmas" DIY sign that I made years ago. I added in a few other decorative pieces.
Then on the next shelf down, I layered a pretty Christmas art print with a bowl of Christmas ornaments. I also have a styling group of three with a few vases and this matte black Christmas tree figurine.
We also have our nativity displayed on one of the lower shelves and a few other traditional decor pieces from my childhood.
Decorating a Real Christmas Tree
This year we again got a real, fresh Christmas tree. This year's tree was beautiful and was so full and dense! It's perfect for our home because we have so many ornaments to display.
I like to decorate our main Christmas tree with our family ornaments and pieces that we've collected over the years.
There's combinations of my own ornaments from my childhood, my husband's childhood ornaments, ones we've bought together, and now more ornaments that are my daughters. It's fun to see all of the different pieces we've collected over the years.
That wraps up the tour of our living room for Christmas. Let's move on to a few other spaces I want to share with you this holiday season.
Christmas Powder Room Decor
Since we'll be hosting more guests over the holiday season, I decided to change up the decor in my powder bathroom. This small bathroom is on the main level between the living room and the kitchen.
One of my favorite areas to decorate in this space is the shelves. I like to play around with different decor for each season.
Christmas Vintage Artwork
An inexpensive way to change the look of a space for the season is to swap out the artwork. By switching the artwork in your frames, you can add to the ambience and create a completely different feel.
The best part about this kind of decorating is that it doesn't have to be expensive at all!
First, search on Etsy for some printable artwork. For only a few dollars, you can get a number of art prints to use throughout your home for each season.
Christmas Vintage Artwork
Once you've got your downloads, just print out your artwork at home on your normal printer. I used regular printer paper, but if you want to take it up a notch you can also print on watercolor paper.
For just a few dollars you can help bring in the cozy holiday vibes in any space of your home. Switch out your artwork each season to help things feel fresh and festive.
Christmas Dining Room Decor
Now let's go over to the dining room.
Because the stairs are in the center of our home, the staircase garland continues from the living room into the dining room.
Looking across the house at the staircase and to the Christmas tree is one of my favorite views in our home especially during the Christmas season. At night everything is lit up and it's just so magical!
On the console table, I decided to create another holiday vignette. This one is I think my favorite spot this year.
I knew I wanted to use these glass Christmas trees that I got from the Target Studio McGee collection a previous year. They are so beautiful and if you put a little battery powered candle under them they glow at night!
How to Make a Tabletop Tree Look More Designer
I added a tabletop tree to the left side of the console table. This little burlap tree is one that I've had forever, but I found a new way to use it this year.
To give a basic tabletop tree a more designer look, try placing it inside of a crock or vase. This will help to make it look a little more styled and intentional.
I continued the red chiffon ribbon from our living room into this space by adding a simple bow to the vase with the tabletop tree. I love the coordination of the classic red and green in this space.
To style the console table, I tried to stick with groups of threes. That seems to be the most pleasing to the eye when you are styling any space in your home.
I paired the tabletop tree in a vase with a beautiful wooden "Joy" figure. This is another piece I love to use year after year. The wood tones help to ground everything and bring in a more natural organic feel. It also brings in a lot of warmth to contrast with the bright white vase.
Then, I completed the grouping with a votive vase filled with a battery operated tea light candle. Candles are an easy way to complete a styling group of three. You can use a pretty candle alone or use a candle inside a votive vase like I did here on the console table.
Under the console table I swapped out my throw blanket for another one of those beautiful rich red cozy throws.
To make a blanket look intentionally styled, try to hang the edge over the side of a basket. This creates an effortless look and also invites your guests to use the blanket if they want to.
On the other side of the dining room I made a few swaps to some of the shelf decor.
I added these cute vintage Santa mugs for a festive touch.
This was also another location where I swapped my artwork for a more seasonal piece. This beautiful vintage tree print fits perfectly on these shelves.
A new piece that I found this year was this adorable snowman family. It was a HomeGoods find and I knew my daughter would absolutely love it! I placed it on the shelf next to a pinecone Christmas tree to complete the snowy, wintery look.
I also swapped out some of my floral stems for more Christmas greenery. To bring in a natural, organic feel to the space, I added some dried orange to a simple glass vase. This is an inexpensive and easy to decorate and fill a styling group.
These dried oranges were a DIY that I did last year. I saved them to use year after year because oranges look beautiful with Christmas decor.
I have one extra festive Christmas pillow that is pretty bold. So I decided to style it in the dining space on the bench. I think it adds just enough color and fun to this area.
We don't have a fireplace in our home, so we've always hung our stockings on this ladder. My husband made it for our family years ago, but you can use just about any blanket ladder in a similar way.
I have stocking holders, but if you use a blanket ladder, you can hang stockings from simple "S" hooks.
Now that we're finished in the dining room, let's head upstairs to the primary bedroom.
Christmas Bedroom Decor
The last stop on our Christmas home tour is the primary bedroom.
If you are familiar with some of my past home tours, you'll notice one major change in this space for the season. I finally upgraded our bedding!
Cozy Christmas Bedding
We've needed new bedding for so long, but I've been trying to hold off because it can get so expensive.
I realized that our old duvet cover had shrunk after washing (we've had it forever) and it was compressing our duvet. It made it feel like we were actually sleeping with queen bedding on a king bed.
So this year, I saved up and finally splurged on a beautiful new duvet cover and a super cozy textured blanket. I love how cozy everything feels now and how luxurious quality bedding can make your space feel.
On top of the bed, I layered this beautiful olive green throw blanket from Arhaus. It has a waffle texture and is just the right amount of accent color on top of the neutral bedding.
I swapped my throw pillow covers for some holiday neutrals. The large euro pillow covers are a plaid in muted green and beige. And the accent pillow cover in the front is a deeper green color with a textured fringe edge.
Over on our shelves, I didn't switch out too many things. But I did add a few seasonal decor pieces to change the look just a little bit.
On the top I kept the minimal branches in a large vase that I had from fall. I think they still work for winter. Someday I would love to have tons of Christmas greenery branches in here, but this year it just wasn't in the budget.
I placed a neutral wooden reindeer figure in front of some layered artwork to add a Christmas feel. And I placed a small votive with a battery operated tea light on top of the book stack.
I have two sets of these beautiful glass trees from a few years ago at Target. So I knew that I wanted the other set in our room for Christmas. They're grouped together on a small wooden riser and are perfect to fill the space in the shelves.
Each tree has a small battery operated tea light candle inside so they glow at night.
Over on the other side of the shelves I just added a couple more seasonal elements. The large hurricane candle holder was a gift from my husband years ago and I love bringing it out each year.

To dress up a simple bowl that I keep on the shelves year round, I added some shatterproof ornaments that I already had in my collection.
Bedroom Christmas Tree
This year I decided to upgrade our bedroom Christmas tree. In previous years, I had a flocked tree from Walmart that worked well, but was starting to drive me crazy. The flocking was always a mess and I bought it unlit, so every year I had to add a ton of lights.
I wanted to find something slightly slimmer for our room and also already pre-lit so I don't have to worry about adding any lights.
During Amazon's Black Friday sale this year I found this beautiful slim Christmas tree. I also had Amazon reward points, so I got it for a steal! It was the best time to find a new tree.
I decorated the tree with all new ornaments this year. I decided to do a more styled tree in this space instead of a traditional tree with family ornaments.
I ended up using a mix of three different sets of ornaments to create this look. All of the sets were also from Amazon.
The large clear balls with gold accents look so beautiful. They were the base for my tree design. Then I filled in with smaller copper colored ball ornaments. Finally, I added a different shape with these glitter snowflake ornaments.
I used a tree topped that I had already from a previous Target Hearth and Hand with Magnolia collection. And I accented the ornaments with some tree picks that I also had in my collection from previous years.
Instead of using a real tree skirt, I just placed a fun fluffy white throw blanket under the tree.
This year we moved the tree location to the other side of the room and I absolutely love it! This is the view when I walk into our room every day. And every night, the tree just glows, welcoming me into this cozy space after a long day.
I also created this pretty swag above our mirror this year. I combined two greenery stems together and attached them to the wall with command hooks. Then, I wrapped some scrap fabric in a festive red and white pattern around the middle to cover the stems.
Finally, I added more of the scrap ribbon to the arrangement in a large, oversized bow. I love how this dresses up and elevates a simple space in our room.
You can find scrap fabric at any craft store, but I found this remnant piece in Walmart's scrap fabric section for only $6! It came with a ton of fabric that I can use in the future around my home.
Above our bed, I hung a simple greenery wreath. I love to add greenery around our home for the holiday season.
On our nightstands, I added a few pieces to style the space for the holidays.
First, I swapped out the artwork in the front frames for some printable art from Etsy. This snowy evergreen tree print feels so cozy and helps to make the space feel like a cozy cabin.
I also swapped out the floral stems in this vase for some Christmas greenery.
On my husband's nightstand I also swapped the artwork for another print from Etsy. This one is a beautiful cabin in the snowy winter woods.
Then, I swapped the decor piece that I had on top of the books for this metal reindeer figure.
I love how cozy, calm and peaceful this space feels. It's perfect for the Christmas season.
Also, I'm not sure if you noticed, but our cat Widget was sleeping on our bed during the entire photo shoot. She looked so cozy that I didn't want to move her! So once I was done getting all my design shots, I also had to get some cat glamor shots!
Merry Christmas!
---
I hope you enjoyed this Christmas home tour and feel inspired to decorate your home for this holiday season.
Remember, you don't have to go out and buy all new things. You can use Christmas decor you already have and make it a tradition to bring out those pieces every year.
Christmas is about celebrating the reason for the season. And that's that Jesus Christ was born to be our Savior.
I hope that you and your family have a wonderful Christmas season and a happy new year!
More Christmas Decor Inspiration
Inexpensive Christmas Decorating Ideas for 2022