A Modern and Cozy Summer Outdoor Porch
Come take a tour of our newly redesigned modern and cozy summer outdoor porch. This space is perfect for relaxing outside and spending time together enjoying the beautiful weather!
Want more room reveals? Check out our Modern Classic Master Bedroom reveal, my Modern and Bright Creative Home Office reveal, and our Fresh and Modern Powder Room Reveal.
It's our porch reveal day! I'm so excited to share how we've updated our small outdoor space.
First, let's look back at where we started.
The porch was in a decent state before. We did a small update to the space after we moved in. I wanted to get some furniture out there so we could actually enjoy the space.
You can see the full reveal of our initial porch design here.
We loved that space and it served us well for a long time. But, there were some things about it that we didn't love as much.
Our porch gets really hot at certain times of the day. And there's pretty much no shade out there. I did love the half umbrella that we had but it barely provided any substantial shade. We really needed a full awning to give the porch the shade necessary to actually enjoy the space
The table with the fire pit in the center was really cool. We had many summer nights with a mini campfire out there. And we liked being able to have somewhat of a backyard, even though we are in a townhome.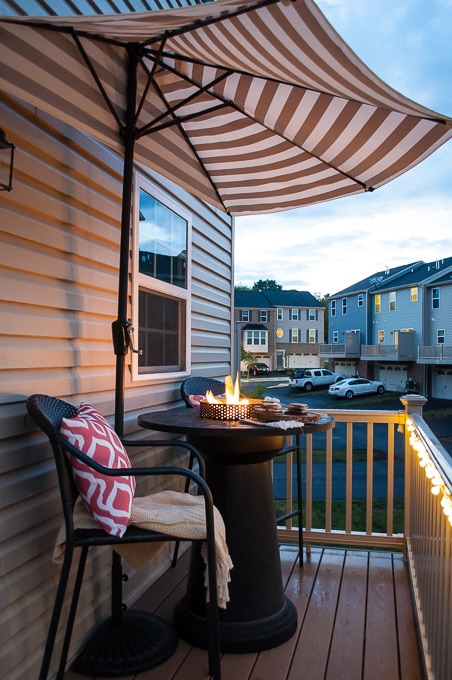 But the table was really large, and it basically took up all of the space on the porch. It's a bar height table, so the chairs were also bar height. I like them, but on our porch, it just always seemed like we were sitting up really high and I couldn't actually get comfortable.
The table also started to rust in certain areas and needed a little TLC. We decided it was time for the table to come off of the porch and move to another area. We didn't want to get rid of it, so we actually moved it to our "side yard" (if you can call it that) and built a small patio. I think it fits much better in that space.
For the porch update, I was craving a change and some new furniture that fit the space better. I came up with an initial design plan and pretty much followed it exactly. You can see my porch design plan here.
The idea was to create a space to relax, read, and spend time outside. Ben and I both like to sit outside on the porch and have coffee in the morning. Sometimes I'll even bring my computer out there and work on the blog for a while. We needed a more comfortable space where we could do all of that and enjoy the small outdoor area that we have.
Now it's time to show you the final results. Welcome to our new outdoor porch!
PS: All of the sources will be linked at the end of this post. Now onto the pretty pictures!
The biggest change to the space is really the awning. It covers the side of the porch where we have our chairs only, but I love how it completely changes the feel of the space.
It makes our porch feel somewhat enclosed and more like another room in our house than just a small outdoor space.
We looked at a ton of different options for awnings, many of which were really expensive. But ultimately, we decided on this one. It's perfect for what we needed and also really affordable compared to most awnings.
The awning can extend 10' over the side of our porch, which is much larger than the actual space. We don't normally extend it that far though and it still works perfectly for our needs.
The next big change was obviously the furniture.
I saw these chairs at the beginning of the spring season and I knew immediately that they would be perfect for the porch.
I love the clean lines and modern design. But I also love that they are super comfortable!
I would highly recommend these – especially for the price! They give that Restoration Hardware vibe but for a much more reasonable price.
We added some tall planters to the porch with even taller plants.
Before, I just had some short little planters with flowers. But I think the taller planters and plants make the space feel more like a backyard, even though it's not. It has the nature vibe now!
These bushes are actually peony bushes, and I'm hoping they live long enough to bloom next year! My record with plants isn't exactly the best. #blackthumb.
Most of the accessories are new finds from this year's summer collections. I love these new pillows!
They are outdoor pillows, but they feel like indoor pillows. They're super soft and squishy and are comfortable to sit against. But they still have all the waterproofing and protection. It's the best of both worlds!
And because I'm me, and I have to have blankets wherever I go, I bought some pretty outdoor throws. It's a little too hot to use them right now, but I'm expecting some nice cooler late summer and fall nights where we'll be able to sit out here and relax.
I can't wait to keep using our new updated outdoor porch this summer. It's been pretty hot so far, but as the summer goes on and it starts to get cooler, I think we'll be spending more time out there together!
All of the sources for our updated outdoor porch are linked below. Click on any photo to shop!